Miami Heat 2012: Is This the Year LeBron James Finally Gets His Championship?
April 12, 2012

LeBron James will lead Dwyane Wade, Chris Bosh and the Miami Heat to the 2012 NBA Championship.
Spare me. I know LeBron choked against the Dallas Mavericks in the 2011 NBA Finals.
And there's no need to re-litigate his Cavaliers' collapses in the playoffs.
LeBron has come up short before. That doesn't mean it will happen this season.
He Took His Talents to South Beach
Nearly two years ago, LeBron informed the world that he'd be taking his "talents to South Beach." Pat Riley's ability to unite Chris Bosh, Dwyane Wade and LeBron altered the NBA's balance of power.
The summer of 2010 was dominated by foolish championship predictions. Jeff van Gundy even suggested that we'd witness record-breaking performances.
NBA fans across the country were furious at the spectacle.
To top it off, the Heat got off to a poor start, going 9-8. Suddenly, Miami's world seemed to be crashing.
NBA fans reveled in it.
LeBron stirred the pot when he infamously bumped into Coach Erik Spoelstra. The team appeared to be in a death spiral.
Some even called for the coach's head.
But from that trouble emerged a Heat team that fully dominated the NBA. Miami would go on to win 21 of their next 22 games.
As the season progressed, the Heat came back down to earth. Miami struggled to win close games. They failed to secure wins against the other leading contenders in the Eastern Conference: the Boston Celtics and Chicago Bulls. They went on an ugly 5-0 losing streak after the All-Star break.
Basketball pundits and fans alike boldly declared that Miami couldn't make it out of the East. The Heat looked to be floundering, and everyone loved it.
To the surprise of their critics, James, Dwyane Wade and Chris Bosh took Miami to another level in the playoffs. They easily beat the Philadelphia 76ers in the first round.
After dominating the Heat in the regular season, Boston and Chicago were not up to the challenge when it really mattered. They mustered only two wins between them.
And for the first time, many began to acknowledge that Derrick Rose was not the true MVP. Many began to point out that writers' disdain for LeBron's decision handed the award to a less-qualified choice.
When Miami went on to the finals, LeBron promptly made them all look silly.
The King, who closed out the Bulls and Celtics with an assortment of clutch shots, now looked inept—even in first quarters.
To some, it was a shocking and appalling performance.
Regardless of your view, Miami ultimately fell to Dallas, 4-2.
LeBron heard the talk. He knew that many would say that his terrible performance in the 2011 NBA Finals shows that he crumbles under pressure.
But he didn't sit around and sulk. He went to work on his game.
A New Season, A New King
LeBron James has always worked efficiently in the post. But to take his game to another level, he made the pilgrimage to Texas.
He spent some time with Hakeem Olajuwon in the summer. Olajuwon helped LeBron improve his low-post game. And it's showing this season.
James looks much more fluid and comfortable when operating in the post, and that added comfort has James playing at near-historic levels.
It's clear that King James came into this season to prove his critics wrong.
So far, he's made a convincing argument.
LeBron is averaging 26.9 points, 7.9 rebounds, 6.4 assists and nearly two steals. He's shooting 53 percent from the field and 36 percent from behind the arc—both career highs. His player efficiency rating is an astounding 30.6, a number within striking distance of the single-season record.
In short, LeBron is playing at an MVP level. And if the voters are honest, they'll give him the hardware.
LeBron's summer workout with the Thunder's Kevin Durant is also paying dividends. Battling against a great one-on-one player like Durant has helped LeBron hone his defensive skills.
It's showing this season.
James is also a strong contender for the Defensive Player of The Year award.
But, the reason LeBron James will lead the Heat to the title this season has at least as much to do with his teammates as it does his own brilliant play.
Yes, Miami's bench is deeper this season. Yes, the Heat are healthier.
What's most important, however, is that his teammates now recognize that LeBron, not Wade, will need to be the best player on the floor if they're to win the Championship.
Wade said, "I realize and understand where [LeBron] is at this point in his career," according to Ethan J. Skolnick.
Wade continued, "I understood that, at certain times in this league, Coach Riley has felt I was the best player. But it don't change the way I approach the game and what I think of myself at all, by saying [LeBron] is the best player in the world right now. No, it's not a sensitive subject with me.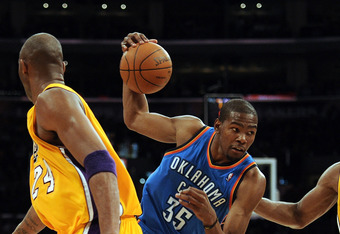 Harry How/Getty Images
"I get it."
Spoelstra said, "Without even being biased I think he's the best two-way player in the league," according to Ira Winderman. "The fact is he must play on an MVP level, on both ends of the court for us."
This is good.
LeBron sometimes cruises through games as if he's on autopilot. That's a big reason the Heat fell to Dallas last year; we watched as LeBron left Wade to lead the fight.
For the Heat to win it all, James has to be wholly engaged in the moment. When he is locked in, the Heat are nearly unstoppable. Knowing that he's expected to carry such a heavy burden will only serve to motivate him.
Yes, I know that the Heat haven't looked great since the break, but they're still in contention for the league's best record. And the Heat's struggles this season pale in comparison to their struggles last year.
In addition, LeBron is playing what is easily the best basketball of his career.
He's motivated. He's determined. He has his team playing better basketball.
He's going to win the 2012 Finals MVP. 
Disagree? Share why in the comments.