Washington Nationals Walk off on a Wild Pitch in 10th Inning vs. Cincinnati Reds
April 12, 2012

Rob Carr/Getty Images
It was an exciting home-opener for the Washington Nationals on Thursday afternoon. Gio Gonzalez was poised to record his first win for his new ball club but could only watch as it disappeared in the ninth inning.
Brad Lidge was unable to close out the Cincinnati Reds after entering the game with a 2-0 lead. Ryan Ludwick sliced a ball under Ryan Zimmerman's glove in the ninth inning off of Lidge to tie the game at two.
The Washington Nationals did not let the game get out of hand, however. After the Ludwick single, Lidge was able to record the next two outs to allow the Nats to have a chance to win the game.
After Washington loaded the bases in the bottom of the ninth, Danny Espinosa hit a ball to the pitcher that resulted in an out at home and a close play at first for an inning-ending double-play.
In the top of the tenth inning Craig Stammen was called upon to shut down the Reds. Stammen did just that, striking out the side on just ten pitches. The Nats executed in the bottom of the inning to win the game.
After Zimmerman was hit by a pitch, and Adam LaRoche fouled out, Jayson Werth singled. With two outs, Xavier Nady moved the runners to second and third.  The Reds elected to pitch to Roger Bernadina, and Alfredo Simon threw a sinker that sunk too much, resulting in a wild pitch.
Zimmerman broke from third and slid into home, scoring the winning run and giving the Nats a walk-off win in thrilling fashion.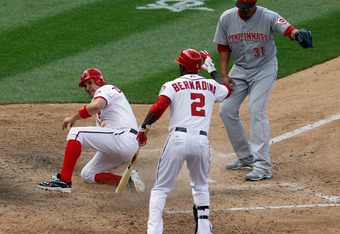 Rob Carr/Getty Images
Gonzalez pitched a great game in his first home start. With Oakland, he was always a better pitcher at home, so this was a step in the right direction in his new home at Nationals Park. He pitched seven innings while allowing only two hits. He struck out seven while not giving up any walks or runs.
Ian Desmond had three hits for the Nats on the day, and LaRoche had two hits and two RBI.
The Nationals will face the Reds again on Friday night as Jordan Zimmermann will take the mound against Bronson Arroyo.
Washington now sits alone atop of National League East with a 5-2 record.