Boston Red Sox: "It's the Offense, Stupid!"
April 12, 2012

Jim Rogash/Getty Images
One of the elements of Bill Clinton's successful 1992 presidential campaign to unseat George Bush was his effective use of the phrase "It's the economy, stupid!" to remind the American public that it was the recession, not the war in Iraq, that voters should be concerned about.
Given the breast-beating and gnashing of teeth by Red Sox Nation this past week regarding Boston's bullpen woes, I think it's high time to put the pitching issues in perspective.
Why are so many fans giving the dead-on-arrival offense a pass for their first week of non-performance? After all, they've lost two one-run games and one two-run game.
The team never scored first until Wednesday, their sixth game, and Toronto came right back in the bottom of the inning to take a lead they never relinquished.
The Red Sox have scored a total of 22 runs in six games—that's 3.67 per game. Take out the 12-run explosion/disaster last Sunday, and the team has averaged only two runs in their other five games.
In 2011, the team averaged 5.4 runs per game. 
Granted, offense so far in 2012 is down throughout baseball, according to HighheatStats.
After the first 172 MLB games of 2012, everyone's offense is down (from 4.55 runs per game for the same period last year to 4.06 this year)—but not as much as Boston's. 
They have only two home runs—tied for next to last in the MLB (Seattle has just one HR). The Cardinals have 12 home runs.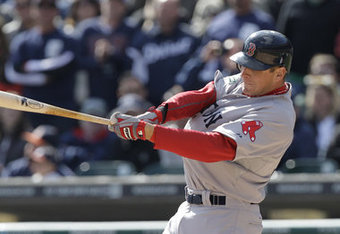 The league average is just a tick under one per game.
The team's triple stat line for the first six games is a very poor .236/.300/.341. Those numbers are bad enough to send a player to the minors, but what does one do about an entire team sporting those numbers?
It gets worse. 
Four hitters are below the Mendoza line (.200): Youkilis and Ellsbury, plus the two catchers. Salty is batting a woeful .077 with six strikeouts in 13 AB. Only Ortiz, Pedroia, Punto and Sweeney are hitting over .300. Cody Ross, who hit so well in spring training, has lost that swing and is bailing out.
Kevin Youkilis has really scuffled, and if there is anyone who is being TOO patient at the plate, it's Youk. He has not been swinging at the first pitch, and if that's obvious to me, it's obvious to opposing pitchers as well. He's taking first strike pitches right down the middle.
Case in point: in Wednesday's ninth inning, with two runners on and the Sox down by two runs, he took the first two pitches for called strikes, and eventually went down swinging. He's now hitting an even .100, with six strikeouts in 20 at-bats.
Perhaps most importantly, clutch hitting has been virtually absent in five of the last six games. When the game has been tied, Red Sox batters have managed to hit .176/.233/.250. One run down, and those numbers drop to a woeful .165/.212/.248.
A superficial look at how they've done with runners in scoring position (RISP) will show the Red Sox are ranked 10th in MLB. They are hitting .250 (14-for-56). Not too bad, right?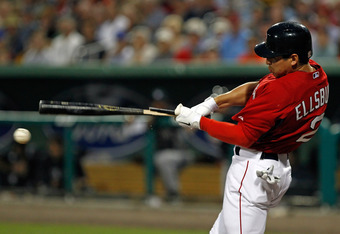 J. Meric/Getty Images
Yes, bad. Eight of those hits came in the 12-run game. In the five other games, Boston is hitting only .171 with RISP—ranking them 24th, behind the Orioles.
They went 2-for-12 with RISP in their Tuesday loss, and one of the hits did not produce a run. On Wednesday it was more of the same: 1-for-7.
The bottom line is that if the Sox had reached the league average in runs scored in every game this year, they would now be 4-2 instead of 1-5.
Yes, there are problems in the bullpen. But we knew there might be.
It's of far greater concern that the team is not hitting. That is unexpected.
The team heads home to Fenway for the Friday home opener with a 1-5 record. That's halfway to their miserable 2-10 start for 2011. If home cooking does not jump-start this offense, we may be in for a long season.