MLB Trade Rumors: Could the Yankees Go After Justin Morneau at the Deadline?
April 12, 2012
J. Meric/Getty Images
Justin Morneau used to be one of the best young hitters in the game.
His stellar 2006 season (.321/.375/.559, 34, 130) resulted in the first AL MVP award of his career. In 2008, he finished second in the AL MVP race.
Unfortunately, numerous injuries have limited Morneau since 2009, and he's played in just 285 games in three seasons since (not counting the games he's played this season).
A host of injuries have slowed down Morneau over the past several seasons, the most notable being neck surgery and issues with concussions.
In an effort to keep Morneau on the field more in 2012, the Twins have moved him to designated hitter. Just focusing on hitting may help him get back into form this season, as he could still play first base in the future if he can prove he's back to his old self.
Morneau signed a six-year, $80 million deal with the Twins in 2008 and will make $14 million in each of the next two seasons.
The Twins may look to move Morneau and his albatross of a contract if he can prove that he's healthy by the deadline, and the Yankees may be among the teams interested, speculates Jim Bowden of ESPN.com.
The question, then, is simple—should the Yankees go after the slugger if he's healthy?
Well, several things would have to happen prior to a trade.
First off, Morneau would obviously have to prove that he's healthy.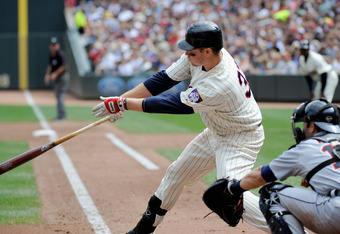 Hannah Foslien/Getty Images
It seems that the days of reckless spending are gone for the Yankees, as Hal Steinbrenner would like to see his payroll dip below $189 million by 2014.
There's no way that the team would want to take on $14 million for the next two seasons if they're unsure if Morneau will even be able to stay on the field.
Secondly, Derek Jeter and Alex Rodriguez would have to prove that they're both healthy enough to play everyday.
With Morneau at DH—and presumably healthy—it would be very difficult to give Jeter or Rodriguez half-days off. Morneau and his rejuvenated bat would have to take a seat on the bench, as Mark Teixeira is clearly firmly in place as the first baseman.
Jeter and Rodriguez's age and health would be big factors in a potential deal.
Finally, the performance of Raul Ibanez will play a huge role in trade talks.
Ibanez is not owed a large amount of money, so the Yankees could very easily release him if he's not producing at a high enough level come July.
If that's the case, a trade for Morneau becomes easier.
But if Ibanez is hitting .260-plus and providing good power with a high on-base percentage, it's very unlikely that the Yankees will just cut him loose.
With a healthy Morneau on the team, there's no doubt that the Yankees would have an even more potent offense. However, the long-term effects of the deal could be detrimental to the team's overall health.
Although the prospect of acquiring a former MVP sounds nice, I think the Yankees would be better off by sitting back and letting somebody else take a shot on him.
He's a great player when healthy, but he just doesn't fit well into the Yankees roster.