2012 NFL Draft: Future Rookies on What They Offer Dallas Cowboys in Need Areas
April 14, 2012

The Dallas Cowboys have always been masters of the draft process. And innovators.
At the 1960 Olympics, then-Cowboys GM Tex Schramm had been introduced to the use of IBM computers, which gathered information and calculated record times and statistics, among other things. Schramm contacted IBM and began a sophisticated computer system to scout college players. At the time, no other NFL team was using computers to gather information about talent. In the years to follow, other teams began using technology for scouting purposes.
And the club's draft success cannot be denied. Players such as Roger Staubach, Emmitt Smith, "Bullet" Bob Hayes, Troy Aikman, Tony Dorsett, DeMarcus Ware, Bob Lilly, Michael Irvin, Sean Lee, Ed "Too Tall" Jones, Larry Allen, Mel Renfro, Randy White and Jay Ratliff were all taken in the draft.
This year's college draft should instill more youth into the fold. After almost making the playoffs last season, several "need" positions became apparent.
The most glaring need area appears to be in the defensive backfield. And with a new position coach in Jerome Henderson, last year's starters don't necessarily calculate to starting positions in the future.
And changes have already been made with the addition of CB Brandon Carr (Chiefs) and safety Brodney Pool (Jets), while the team cut ties with CB Terence Newman on March 13. Pool started just six games for New York last season with only one interception. Carr was a four-year starter with Kansas City after being drafted in the fifth round of the 2008 draft. Interesting enough, his amount of tackles per season has decreased each season since his rookie campaign, yet every season his interceptions have risen.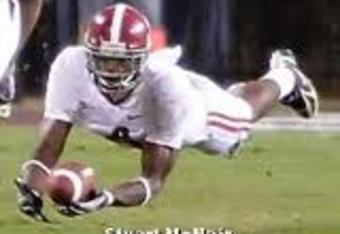 The club spent plenty on Carr but was convinced that he was the best free-agent cornerback on the market.
The Cowboys own the 14th pick in the first round of the upcoming NFL draft, slated for April 26-28. With this pick, two Alabama players should be available: safety Mark Barron (6-2, 218 lbs.) and junior cornerback Dre Kirkpatrick (6-3, 192 lbs.).
Barron had 38 career starts in the powerful SEC and was a first-team All-American last season and All-SEC his final two years. An excellent player who is aggressive against the run in a safety-thin draft, Kirkpatrick is a huge, strong and physical athlete that is surprising quick and fast for a player his size.
In the second round, the club drafts at number 45. Several secondary players to look at are cornerbacks Casey Hayward (5-11, 188 lbs.) of Vanderbilt, Montana's Trumaine Johnson (6-3, 197 lbs.), Alfonzo Dennard (5-10, 205 lbs.) of Nebraska and Notre Dame safety Harrison Smith (6-2, 214 lbs.).
Johnson brings versatility and athleticism to the defense. Smith is a monster in run support, evidenced by his 183 tackles in his final two seasons. Hayward is best described as a playmaker and ballhawk.
"I consider myself an instinct corner," offered Hayward. "I'm just a ball hog. I do need to work on some technique, but I work hard and stay with the fundamentals."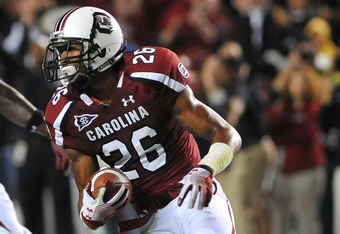 Al Messerschmidt/Getty Images
Dennard has become known as a very physical cornerback.
"You can't let a receiver bully you," he said. "You have to use techniques, like getting low on your backpedal, when you come out of your break stay level, and keep the same pad level. Go hard or go home."
For Round 3 at pick number 82, look for cornerbacks Brandon Boykin (5-10, 183 lbs.) of Georgia, Leonard Johnson (5-11, 180 lbs.) of Iowa State and South Carolina safety Antonio Allen (6-2, 202 lbs.).
Boykin has 4.45 speed and is known for his ability to close on receivers. Johnson was second team All-Big 12 his final two seasons and is proficient against the run. Allen is a straight-handed player with no off-the-field problems.
"I am a laid back guy who makes his own decisions," Allen said. "Guys are going to catch balls and occasionally you are going to get beat. It's what you do and learn to do after that. I consider myself a sure tackler and make the big hit when it needs to be made."
While focusing on the defense, the defensive front could use a compliment to DeMarcus Ware. This year is an exceptionally good draft for defensive ends.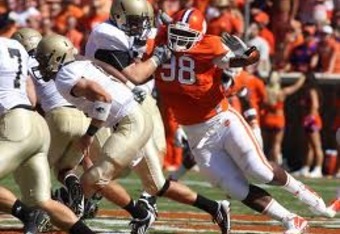 Right defensive end Kenyon Coleman has been solid for the Cowboys but not spectacular. Last season he only netted 36 tackles, one sack and zero forced fumbles. His backup, Sean Lissemore, had two sacks and 28 tackles. Lissemore has more flexibility in that he can play inside or slide outside. Plus, he is a young player.
South Carolina's Melvin Ingram (6-2, 276 lbs.) is an excellent pick in the first round. There is one word to describe Ingram: versatile. He excels on the pass rush as a DE but can also play outside linebacker or move to the inside and play defensive tackle. A great natural athlete, Ingram just seems to have a knack for being around the ball carrier. Although he could become a top-10 pick, if he slides down four slots, then the Cowboys can complete their vision for two dynamite pass rushing ends for years to come.
"I have played a lot of positions while in college, whatever the needs were I just plugged in," Ingram explained. "I feel like it's going to be a wonderful experience just to showcase what I can do at the next level."
In Round 2 several defensive front players are interesting prospects. Brandon Thompson (6-2, 310 lbs.) of Clemson, Connecticut's Kendall Reyes (6-4, 295 lbs.), Chandler Jones (6-5, 265 lbs.) of Syracuse and Vinny Curry (6-4, 263 lbs.) of Marshall all have what the franchise is seeking.
Thompson's cousin was former Cowboys RB Tashard Choice.
"The Cowboys were always my favorite team growing up. As a player you have to stay focused, work hard and strive for greatness," he said. "You have to dominate at the line of scrimmage and get into the backfield. And when my playing career is over, I would like to own a few car dealerships."
Jones is a pass rushing specialist who could start immediately. Curry has long rangy arms that helped his 171 tackles during his junior and senior campaigns. He is definitely a player on the rise in the draft. Reyes is a natural defensive tackle and registered 23.5 tackles for loss in his final two seasons at UConn.
"Emmitt Smith and DeMarcus Ware are two of my favorite players," Reyes said. "In college, we played both defenses. On first and second down we would play a 4-3 and third down a 3-4. You have to be versatile these days."
In the third round, Boise State's Billy Winn (6-4, 295 lbs.) is a body that will earn and learn.
"I make great decisions on the field, and feel I am agile. And I have the speed to back up my size," he offered.
Although the Cowboys offensive line is relatively young, the guard positions could see an infusion of youth. In the season finale against the Giants, QB Tony Romo was sacked almost half a dozen times, and some of that responsibility lies at the feet of the guard position.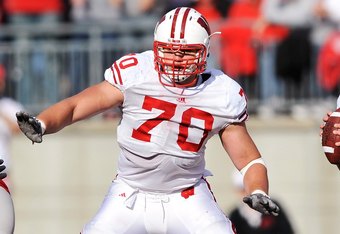 Jamie Sabau/Getty Images
Back in January, the club took measures to help the O-line with the hiring of Bill Callahan as the offensive line coach/offensive coordinator. Right away, Callahan targeted two free-agent guards in Nate Livings and Mackenzy Bernadeau. Both of these veterans signed in mid-March and are expected to solidify a weak area.
Shortly after, incumbent right guard and 10-year NFL veteran Kyle Kosier, age 33, was cut by the team on March 19. His backup all season long was rookie David Arkin, who was drafted in the fourth round in the 2011 draft. Arkin is very talented and aggressive and played mostly right guard while at Missouri State.
One can't-miss prospect in this year's first round is David DeCastro (6-5, 310 lbs.) of Stanford, who would be an immediate upgrade over Cowboys starting left guard and journeyman Derrick Dockery. DeCastro is a huge man with a nasty disposition, both aggressive and physical, and he is agile enough to play the inside game and be effective with plays which require a guard pull. Couple him with last year's first round gem Tyron Smith, and the Cowboys will have two players set to play for a decade.
The second round is just as promising. Kevin Zeitler (6-4, 315 lbs.) of Wisconsin and Florida State's Zebrie Sanders (6-6, 307 lbs.) are each well-conditioned athletes. Sanders, who also plays tackle, is a sculpted man with long arms. A smart player with good foot quickness, he was a four-year starter while at FSU.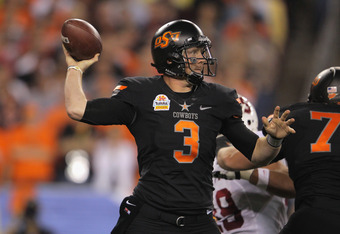 Doug Pensinger/Getty Images
"I think I've been described as playing well in space. Technique is a big part of football, so just correcting those things is helpful," Sanders said. "I enjoy being a physical player and like to get after it in the run game."
Zeitler is a pure guard.
"I played mainly on the right side but have gotten reps on the left side. The difference is my muscle memory. It's more set for the right," he said. "Just a matter of getting used to the feeling. My work ethic will help me learn and be in a position to help the team early."
In the third round, the Cowboys should consider Midwestern State's Amini Silatolu (6-3, 320 lbs.) or guard/tackle Mitchell Schwartz (6-6, 318 lbs.) of California. Schwartz was selected as Cal's most valuable lineman three years in a row and also earned a rare distinction: first team All-Pac 12 in football and in academics.
"Football is so time consuming, especially with weight training. You have to be good at time management to excel at both," Schwartz explained. "Our coaches were very supportive. But a place like Cal is more demanding as far as excelling academically. It was tough to juggle both, and now on to the next thing."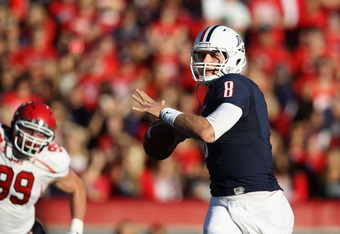 Christian Petersen/Getty Images
While the quarterback position may not necessarily be a position of great need, the club should seek a young signal caller to nurture in this year's draft. Romo will continue to lead the team, but his backup, Jon Kitna, retired. The club subsequently signed Kyle Orton as a veteran backup to Romo. That leaves Stephen McGee as the heir if either veteran goes down to another injury.
Last year, McGee was forced into action against the Eagles when Romo went down with yet another injury. He has played in only three NFL games (in three seasons) with three TDs and no interceptions.
The second round is a great area to seek new talent. Brandon Weeden (6-4, 218 lbs.) is already a Cowboy—an Oklahoma State Cowboy that is. He has tremendous field vision amidst his 72.3 pass completion percentage last year. At age 29, he is already older than a lot of starting NFL QBs, but he is very talented. In his final two seasons at OSU, he threw for 9,004 yards with 71 TDs against 26 INTs. Weeden displays outstanding arm strength and has the ability to squeeze passes between pass defenders.
"We had a pro style offense at OSU. I am ready to compete as soon as I can get into someone's training camp this summer," Weeden stated. "And I consider my age to be a plus, a non-issue. I have already matured and will be focused and ready for the next challenge."
Another young QB in the second round is Brock Osweiler (6-8, 240 lbs.) of Arizona State. He brings tremendous athleticism and size to the position and is actually quite mobile. Osweiler set a new ASU school record for completion percentage with his 63.2 average and threw for 4,036 yards his senior season.
An excellent young buck should be available in the third round. Nick Foles (6-5, 240 lbs.) of Arizona was a three-year starter, completed 935 passes on 1,394 attempts, 10,047 yards with 67 TDs and 33 INTs. Foles notes his three years as the starter is a plus at the next level.
"My biggest strength is that I have improved every season," Foles said. "I will work hard to be a starter, but at the same time it is my position to work and learn."
The Cowboys are like every other team in the NFL - they have holes and need improvement in specific areas. The franchise is long known as innovators in the college draft. Tex Schramm once built the club with speed and athleticism. Today's draft process is similar, but different. But whatever the process, the ideals are the same: to build the team into its own exacting specifications.
Barry Shuck is a Contributor for Bleacher Report. Unless otherwise noted, all quotes were obtained first-hand.