UNC Misses on UConn's Alex Oriakhi, Opens Opportunity for Incoming Freshmen
April 14, 2012

Jonathan Daniel/Getty Images
The decision by Connecticut transfer Alex Oriakhi to spurn interest from UNC and opt for Missouri surprised many Carolina fans who had already penciled in the senior big man as a starter in next year's frontcourt.
While the decision is, no doubt, a blow for the Heels' 2012-13 prospects—Oriakhi is a veteran and former national champion—it will ultimately reap a benefit by jump-starting the development of incoming freshmen Brice Johnson and Joel James, both of whom will play integral roles in the frontcourt rotation.
From an outsider's perspective, Oriakhi's decision is indeed a puzzling one. North Carolina seemed to offer the ideal pairing of his two stated goals: to find a team ready to win now and to find one that truly needed his services.
While Kentucky, another team on the center's original list, will enter next year with higher expectations than the Tar Heels, the signing of Nerlens Noel by the Wildcats left only Carolina able to offer a virtual guarantee of a starting position and a chance to contend for another trip to the Final Four.
After losing Ricardo Ratliffe to graduation, Missouri has a hole to fill down low, which Orakhi cited as one of his reasons for choosing the Tigers. However, the return of veteran forward Laurence Bowers from injury means Oriakhi will be second in line for touches in the post.
Perhaps more importantly, Missouri also loses senior leaders Kim English and Marcus Denmon and will enter a rebuilding year on the fringe of the top 25. Though a deep run in the tournament is certainly possible, and Oriakhi may enjoy the prospect of the challenge, the Tigers will enter their first SEC season as a second-tier team to perennial powers Kentucky and Florida.
It isn't obvious how Missouri presents an opportunity to raise his NBA stock or compete for a title, and it is likely his relationship with returning guard Phil Pressey impacted the decision significantly. Nonetheless, it is easy to see his snub of North Carolina as a positive for the Heels.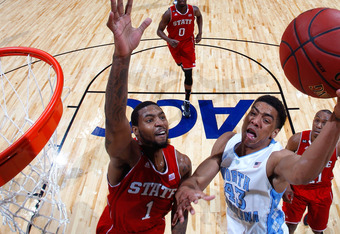 Kevin C. Cox/Getty Images
Carolina faces a lack of experience in the frontcourt next season that motivated Roy Williams to contact Orakhi. Lack of talent and depth, however, were not an issue after the decision of James Michael McAdoo to return.
McAdoo, a future lottery pick in the NBA draft, will start alongside any one of three other viable post players, sophomore Desmond Hubert, Johnson or James, the latter two top-100 recruits. All three will now earn crucial minutes in a young, but deep rotation.
For a team that returns enough talent to compete at a high level next season, resorting to a sparingly used sophomore and two freshmen was not the ideal option for Williams. But it will pay dividends the following season, after which McAdoo will likely turn pro. Carolina will return one seasoned frontcourt starter and its top two reserves for 2013-14.
While it is premature to look entirely past what is a promising forthcoming season, it is worth acknowledging that the Tar Heels begin next year in a rebuilding phase. In that case, it is fruitful to begin the future as soon as possible, especially when it is one that should be bright.
Johnson and James are both highly regarded recruits, both of whom appear ready to contribute immediately as role players. Neither, however, is so highly regarded as to present a looming threat to leave after his first or second season for the NBA. These two are pieces around which Williams will build future Carolina title contenders.
Starting opposite McAdoo, whoever earns the other position in the post will mostly serve as a strong presence on defense and on the boards, not as one to carry the scoring load inside.
Johnson, in particular, is well-suited for this role immediately as a long and skilled shot blocker, and as a consensus top-40 recruit, he is more than capable of filling the role Carolina hoped to fill with Oriakhi. If he does it effectively, it will have been a fortunate surprise that he began his Carolina career as a starter.