TNA Impact Wrestling Results for April 12, 2012
April 14, 2012

Last week on TNA IMPACT Wrestling, Hulk Hogan returned as the General Manager. His first order of business was to make matches for the Lockdown PPV and that night's matches.
His second order of business was to speak with Eric Bischoff. Hogan told Bischoff that he was going to talk to his son Garett Bischoff and create teams for the Lethal Lockdown match.
If Eric's team won, then Garett would no longer be on the TNA roster and if Garett's team won, Eric would not be in TNA and he was not allowed to use the Bischoff name in wrestling any more.
Fast forward to tonight, Eric Bischoff was the first person to come down to the ring. The first thing out of his mouth was an insult to a member of the audience. He then introduced team Eric Bischoff that features Bully Ray, Gunner, Christopher Daniels, and Kazarian.
Team Garett Bischoff has Mr. Anderson, Austin Aries, AJ Styles, and the fourth man remains unknown for now.
Match 1: Mr. Anderson vs. Gunner
Mr. Anderson had the offense from the start of the match. Gunner eventually got the offense and tried his best to keep Mr. Anderson down. Mr. Anderson eventually drove Gunner's head into the metal ring post and into the metal barricade a few times, but Gunner kept coming back for more.
Gunner rolled Mr. Anderson for a pin but Anderson kicked out at the two-count. Both of these men did not want to lose, but it was Gunner who won due to a disqualification on Mr. Anderson.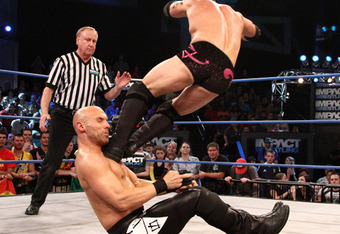 Match 2: Christopher Daniels vs. Austin Aries
Austin had a majority of the offense in the beginning but Christopher was not going to let that last long. There were a few near falls in this match. Austin Aries delivered a successful Brain Buster to Christopher Daniels which won the match.
Steel Cage Wedding: Eric Young and ODB
The first ever steel cage wedding took place tonight between Eric Young and ODB. Eric wore a blue tuxedo and ODB actually wore a dress for once. They each said their vows. Sarita & Rosita come out. They do a strip tease to entice Eric. ODB wipes her tears.
ODB tells Eric she gets it and takes off her dress revealing her bra and panties. Eric tells ODB she's perfect and everything he's ever wanted. Eric says he knows what will make this wedding perfect.
Eric disrobes to his underwear. They make the reverend strip too. They are pronounced man and wife and they fall to the mat, and on top of each other.
Match 3: Bully Ray vs. AJ Styles
The members of both Eric's and Garett's team surrounded the ring. AJ Styles tried to get the offense only to be slammed by Bully Ray. Both of these men did some of their signature moves, but none of them were effective.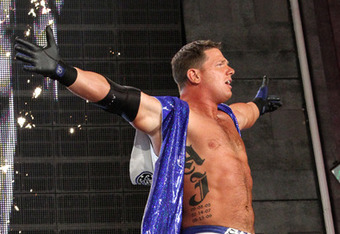 Kazarian grabbed AJ's foot from outside of the ring and both of the teams got into a brawl. Bully Ray was given his chain by Eric Bischoff and Bully wrapped it around his hand. AJ Styles jumped off the top rope but was caught in the face with the chain. Bully Ray pinned AJ Styles for the win.
After the match was over, Hulk Hogan came down to the ring to make an announcement. He said that the Lockdown match between the teams of Eric and Garett Bischoff was going to be a 5 on 5 match and gave Eric three minutes to pick a fifth member.
Eric ended up picking himself to be the fifth man. Garett picked Rob Van Dam to be his fifth man.
Match 4: Madison Rayne & Gail Kim vs. Mickie James & Velvet Sky
Mickie James started the match with Madison Rayne. Madison Rayne kicked Mickie James in the face and then tagged Gail Kim into the match. Velvet Sky came in and took control. Mickie James tagged back in followed by Gail Kim.
Mickie made the tag to Velvet Sky who dominated Gail Kim. Velvet covered but Madison Rayne saved Gail. Velvet hit a Sit Down Face Plant to Gail Kim for the pin and won the match.
After the match Bobby Roode and Cowboy James Storm came down to the ring to do a little face off before their match on Sunday at Lockdown.
Bobby Roode recapped his road to the title and said that while that was going on James Storm was doing nothing. James said that he was actually winning the title.
Bobby went on to say that they were never friends and the only thing keeping them together was the love of the business. Bobby said that James is jealous of him.
James Storm said that Bobby Roode sold him out for money. Storm said that in Nashville this Sunday, he will kick the crap out of Bobby Roode.