Pac-12 Basketball: Utah Utes Pressure Signed Recruit into Decommitting
April 14, 2012

Stephen Dunn/Getty Images
In the same week in which UCLA got No. 1 recruit Shabazz Muhammad, the Utah men's basketball team got commit Josh Hearlihy to sign a release from its program. Both teams underwhelmed in the Pac-12 this season, though unlike UCLA, Utah may continue that trend.   
During his first season (2011-2012) as the Utah men's basketball head coach, Larry Krystkowiak led Utah (6-25, 3-13) to its worst season on record while making $950,000. Utah's previous record worst season (2006-2007) had six fewer losses. In addition to losing players to injury and suspension during the season, Utah had six players leave the squad at the end of this season.
Krystkowiak didn't have much to work with at the start of the season due to players leaving after former coach Jim Boylen was fired. Only four players at the start of the season were returners.
Then Krystkowiak suspended Utah's leading scorer Josh Watkins (15.6 points per game) and ultimately kicked him off the team. Watkins was fourth in the Pac-12 both in points per game and assists. The dismissal reportedly stemmed from issues like sleeping through class and showing up late for practice.
97.5 FM/1280 AM The Zone interviewed Krystkowiak on April 12. True to his personality, Coach Krystkowiak was open and upfront about all things Utah Utes basketball during the interview.
On the Utes' main focus Krystkowiak said, "That's what the lifeblood of the program is going to be about, the recruiting…it's all about the recruiting more than anything."
However, you have to question the current staff's ability with that focus when Coach Kryskowiak showed up to watch Harvard-Westlake player and signed Utah commit Josh Hearlihy play, only to find Hearlihy not in the game.
The 6'7" Hearlihy missed 14 games his senior season from medical issues related to his rapid growth. Where was the communication on the part of Utah's coaching staff during all of this? Coach Krystkowiak claimed to not have been informed of all of Hearlihy's medical issues prior to signing the forward and said while he knew some of Hearlihy's medical issues, he did not ask to see his medical records.
Regardless of the extent to what was or was not mentioned, the Utah coaching staff admittedly had enough information on Hearlihy that it should have done a full medical investigation prior to giving an offer.
Regarding the situation, Krystkowiak told 97.5 FM/1280 AM:
Josh is one of the kids that we signed in November. Saw him play over the summer.  A nice wing, got some skill and some length, and had had a couple of years of some health problems, knees and broke his back. And I was in a position where I knew, you know I grew many inches as well. So Josh is about 6'7" now and a lot of those problems were due to some fast growth, different things…

 …We had some physicians' reports all of his doctor/medical records be sent to us so we could examine them…

 …Our physicians/ourselves we just got cold feet…it's a crossover of trying to do the right thing for the commitment and the signed scholarship and also trying to do the right thing for your program.
Coach Krystkowiak also mentioned that dialogue had been going on with the Hearlihy family since February, so this was not a right before signing-day surprise.
On the matter of being ask to sign a release from Utah, Hearlihy told the Los Angeles Times:
I was very excited about going to Utah when I signed my Letter of Intent in November. However, the coaching staff has reconsidered their commitment to me and has asked to be released from their obligation. I turned down scholarship offers and stopped exploring other options when I signed. Given the situation at Utah, I'm concerned about putting myself in an environment where I'm not wanted.
Hearlihy was put in a catch-22. That's not to say Krystkowiak's opinion of the situation was incorrect. Clearly here is a player that raises serious doubts about his ability to play. An additional year in prep school may help—or prove to be the end of his playing career. However, this player did have a signed commitment from Utah.
The right thing to do would have been to explain to Hearlihy the benefits of taking on a year of prep school and what coming to Utah with his medical issues could mean. If he wouldn't get play time due to his medical status not being approved by the team physicians, then that would be his risk to take. Putting him in a situation where he feels pressured to decommit, however, does not speak highly of the program.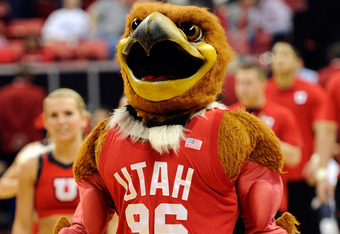 Ethan Miller/Getty Images
The Utah coaching staff appears to be handling the recent exodus of players (Chris Hines, George Matthews, Kareem Storey, Dijon Farr, Javon Dawson and Anthony Odunsi) the same way it handled the Hearlihy situation. That is to essentially tell them they don't think Utah is the program for them next season.
With Utah winning only six games this season, that may very well be the case. Krystkowiak mentioned that these players are in the Utah gym or office prepping to go elsewhere. In other words, they're not being thrown out in the cold, and it may ultimately benefit their playing careers. 
It is, however, only fair that the entire Utah Utes basketball coaching staff be judged the same way they have judged nearly an entire squad. Krystkowiak is bringing in an essentially new squad for the second straight year next season. If his way of building a program does not pan out soon, Utah should find a staff that can do just that.
Krystkowiak said that leaving Ute Javon Dawson could be good/great at a mid-major. The same may be true for the coach as well. Krystkowiak took Montana to the NCAA tournament both years that he coached the Grizzlies before taking an NBA coaching job with the Milwaukee Bucks. 
What are the Utes' goals for next season? Krystkowiak did not want to give a number, but said, "We'll just keep plugging along. As a goal its hard to say it, but I can tell you we're going to be significantly better than a six-win team."
Coach Boylen had 13 wins in his last season at Utah before being fired, so defining just how significant seems to be important.
Krystkowiak should be commended for his commitment to demanding his players have solid character and academics, but the basketball side of the equation cannot be ignored. A good coach can attract talent, but a great coach can bring the talent out of the players he has, which in turn will attract future top talent to the program. Utah has had 19 players leave in the last three years. 
A major appeal of the Pac-12 Conference is its winning history and stability. While Utah fits well within the conference, the Utes' basketball program should take note of these attributes and quickly implement them in their rebuilding program.