Fantasy Football 2012: 5 Free Agents Who Should Have Signed with Other Teams
April 14, 2012

Andy Lyons/Getty Images
The NFL has had a busier offseason than Sean Payton, with teams signing free agents faster than Roger Goodell hands out suspensions.  
Free agent players should go to teams where they fit in, where they do not have to battle with others for touches or targets, where they do not have to sit behind someone else on the depth chart, where their talents can be used optimally.
Why would a running back sign with a team that passes the ball 90 percent of the time? Why would a wide receiver sign with a squad who employs a run-first offense? Why would a kicker sign a deal with the lowest-scoring team in the league? 
When a free agent chooses money or the chance at a Super Bowl ring over what is best for his stats, fantasy owners cry like Dick Vermeil. So this offseason has been frustrating for us because several players signed with the teams that are not going to enhance their fantasy values.  
Here are five free agents who should have signed with other teams this offseason: 

Mario Manningham, San Francisco 49ers (WR)
I know Manningham could not remain the third banana in the New York Giants passing game. It was ruining his fantasy value as badly as Nicholas Cage ruins the movies he stars in. But with all of the NFL teams that were shopping for receivers during the offseason, why did Manningham have to sign with San Francisco?
Couple problems for Manningham here...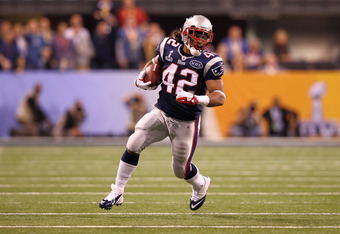 Al Bello/Getty Images
49ers quarterback Alex Smith is not known for boosting the fantasy value of his receivers. He prefers to throw to tight end Vernon Davis and check down to his running backs. Michael Crabtree led San Fran wideouts last year with 874 yards. No other WR on the roster had more than 250. 
While most of the NFL is filled with pass-happy offenses, the 49ers are one of the few ground-and-pound teams around. And when they do throw, they do not normally throw long. Maybe this will change with Manningham and Randy Moss now in the fold, but there were still loads of better options out there if Manningham wanted a chance at a 1,000-yard year.   

Brandon Jacobs, San Francisco 49ers (RB)
Jacobs was not going to get starter's money and a starter's spot anywhere in the NFL, so he had to settle for whatever millions he could grab. But did he have to sign with a team where he is probably the third-best running back on the roster?
San Francisco's main man is Frank Gore. Just listen to disgraced defensive coordinator Gregg Williams' audio tapes. But Jacobs will not even be the No. 2 RB with the 49ers. That honor belongs to speedy, shifty Kendall Hunter, who really shined last season when Gore missed some games. 
Jacobs might supplant Gore as the goal line guy, but he had fewer rushing touchdowns than Gore in 2011 and was commonly clobbered on third-and-short plays. So I am not sure what Jacobs' real role is other than as an insurance policy in case Gore tweaks his ankles again. 
Running behind San Francisco's line, Jacobs could rush for 600 yards and six touchdowns or just 400 yards and four scores, depending on his playing time. He could have been a better fantasy performer if he signed with a team lacking depth at RB like the New York Jets, Pittsburgh Steelers or Green Bay Packers. 

Mike Tolbert, Carolina Panthers (RB)
Tolbert was one of the most underrated running backs in fantasy football when he was with the San Diego Chargers. He quietly scored 21 touchdowns over the past two years, had a career-high 433 receiving yards in 2011 and routinely rolled over defenders like a bowling ball Pete Weber threw.
So with many teams at his disposal, this multi-talented, multi-dimensional running back signed with a team that already had DeAngelo Williams and Jonathan Stewart at the position and arguably the best rushing quarterback in the league in Cam Newton. That is when Tolbert owners in dynasty leagues reached for their heart medication.
Remember Le'Ron McClain? He rumbled for 902 yards and 10 touchdowns for the Baltimore Ravens back in 2008 during a breakout season. He was a big, powerful back who was built like a linebacker. McClain seemed destined to be a decent fantasy RB for years to come.
McClain then shifted to fullback because Baltimore had a plethora of tailbacks. In the three years since, he rushed for all of 316 yards and three touchdowns. That could be the fate of Tolbert, who has a fullback's body and mentality, because Williams and Stewart will receive more carries than he will unless a blockbuster trade sends one of them somewhere else.    

BenJarvus Green-Ellis, Cincinnati Bengals (RB)
Green-Ellis had it good with the New England Patriots. Sure, there were games where he only had single-digit touches when the Patriots decided to have Tom Brady throw 60 times. But because defenses had to back off and help their secondaries fend off Brady and his terrific tight ends, Green-Ellis was often allowed to run wild on shotgun formation draw plays. 
Green-Ellis scored 24 touchdowns over the past two seasons thanks to Brady and the offense setting him up near the gold line on endless occasions. There goes that gravy train, though. While Andy Dalton and A.J Green are an outstanding young QB-WR tandem, it is highly doubtful they will provide Green-Ellis with as many scoring chances as Brady and Wes Welker did.    
Look for Green-Ellis to have a workmanlike 900 yards and six touchdowns in 2012. Not bad, but not as good as he could have had it if he re-signed with the Patriots or a different team. 

Jason Campbell, Chicago Bears (QB)
I thought Campbell, who was solid during his pre-Carson Palmer stint with the Oakland Raiders last year until an untimely injury derailed his season, would have inked a deal with a team where he had a chance to start or was going to be backing up a shaky starter. Well, the Chicago Bears are not that team.
Unless Jay Cutler breaks his thumb tackling an interceptor again or is concussed due to a series of sacks, the only time Campbell will be on the field is for fourth-quarter hand-offs and kneel downs.
Campbell's fantasy worth is limited to just being Cutler insurance. We saw how well that worked out for Caleb Hanie owners in fantasy leagues last season, although if Campbell is pressed into duty, he will not be the fantasy fiasco Hanie was. 
Campbell is an average-at-best fantasy quarterback when he is starting. Now his mediocre fantasy worth has tumbled like a punter chasing Devin Hester after a long return.