Toronto Maple Leafs Draft 2012: Holes They Can Fill at the NHL Draft
April 15, 2012

Bruce Bennett/Getty Images
Ever since the lottery draft earlier this week, there has been a lot of speculation from not only fellow writers on Bleacher Report, but from writers all over the web as to whom the Maple Leafs and every NHL team should pick in June.
For the Maple Leafs, the NHL entry draft could possess more solutions to their many problems. Aside from just picking up a young and (hopefully) talented player, the Leafs could fill a few more holes in their roster with some moves at the draft.
Getting a No. 1 centre is a priority. I wrote here that picking Alex Galchenyuk with the No. 5 overall draft pick would be a possibility. He is an outstanding young player and the potential he has presents an upgrade over any of the players that played that position this past season.
However, it may not be the number one answer this season. Galchenyuk is only 18 years old and the Leafs will not only need a skilled player on the top line, but a knowledgeable one as well.
They will need someone that knows what it takes to win at the NHL level—someone that can take Galchenyuk under his wing and show him what is expected out of an NHL top-six centre man. It is very rare that a teenager can jump to the NHL level and find instant success. Even Crosby had Mario Lemieux for a little while.
So even if the Leafs draft a potential star player, I don't think it fills the need right away. What they could do is trade for one. They have depth at defense and could use that to put together a package for a number one centre.
Especially if a team who is currently in the playoffs fails and decides it's time to go back to the drawing board. That team may decide they need as many draft picks as possible and the Leafs could put together some of their expendable defensive players and some draft picks and see who takes the bait.
Although the cost for a Rick Nash, Ryan Getzlaf or Eric Staal kind of player will be steep, it may very well be worth it at this point. Kessel and Lupul are not getting younger and the Leafs need to make the most out of their chemistry while it lasts.
Getting a backup for James Reimer is also important. Brian Burke stated here that he thinks goaltender James Reimer is the "real deal" and will be the number one guy going into next season. This means that Jonas Gustavsson will be gone as his contract his expired. It also means that Ben Scrivens and Jussi Rynnas will start the season again with the Toronto Marlies.
Looking at the free-agency market, there are some names that jump out as solid veteran goaltenders: Dwayne Roloson, Antero Nittymaki, Tomas Vokoun, Brian Elliott and Cristobal Huet. What they all have in common is experience.
But that's almost the exact same situation the Leafs had two years ago, when they thought J.S. Giguere could be the mentor that Jonas Gustavsson needed. Giguere lasted just over a season and while he put up decent numbers, his injury and the arrival of "Optimus Reim" made him expendable. The Leafs did not re-sign him for this past season (for those wondering, he went 15-11-3 with a stingy 2.28 GAA in 32 games for the young Colorado Avalanche).
So now the Leafs have just Reimer, who has the most NHL experience. There is a thought that Tomas Vokoun would be the ideal candidate to back up Reimer. My thinking is that the Leafs need a legitimate starting goaltender and let either Reimer or Scrivens be the backup.
Again, in using their draft picks and their depth of defensive talent, they could put a package of Luke Schenn, Nazem Kadri, Tyler Bozak and James Reimer or Ben Scrivens and a draft pick for a quality number one goalie.
There were murmurs of Ryan Miller not being happy in Buffalo at the beginning of the season. Of course, the Sabres bounced back and had a decent run at the playoffs and Miller is the backbone of that team, but we saw Jeff Carter and Mike Richards moved from Philadelphia last summer, so anything can happen.
There's also Jaroslav Halak and Brian Elliott, who have both proven they can be the number one guy for the Blues at various points this year.
The Flames may finally be looking to rebuild and Mikka Kiprusoff may be a guy they want to move. Again, these are all speculations and I'm looking at goaltenders that have proven for at least a couple of years that they can be a number one goalie. The Leafs have needed someone of that calibre for a while now and exploring trades on draft day can help them in that regard. I don't think drafting a goalie such as Malcolm Subban or Brandon Whitney would help the team immediately.
Getting bigger: Another area Burke wants to address is the team's physical stature. He feels the team needs to get bigger in order to play Randy Carlyle's style of hockey. This sounds very familiar, as this was something Burke tried to accomplish his first few years here. Burke went out and acquired players such as Jamal Mayers, Brad May, Garnet Exelby, Colton Orr and Mike Brown to fit that role.
While some of these guys filled out their roles nicely at times, it didn't do enough to help the Leafs get to where they want. I'm not saying the Leafs don't need to be bigger, but they need to get the right tough guys to fit in. When Colton Orr and Mike Brown do their jobs, they can be very effective, but it was not on a nightly basis.
I don't think this is something the Leafs can or should do through the draft. There are always these kinds of players on the free-agent market every year and it would be a waste to look for these types of players through the draft.
However, if the Leafs want to look at bigger wingers and centre men who can score, then they should do that. You can't teach size, but you can teach skill. I like the idea of having bigger guys who can score come up through the draft, but not bigger guys who can just throw around their weight. That is what the Leafs should look at during the free-agency period.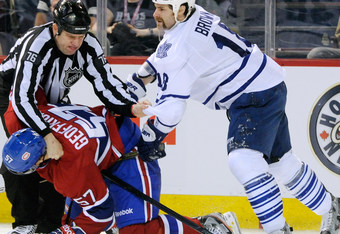 Richard Wolowicz/Getty Images
Burke says that the Leafs are in the process of retooling and not rebuilding. I understand that philosophy because he is starting to see some of his plan come together. His plan is to win a championship, which is what Leafs fans want to hear.
What they don't like hearing is the phrase "I don't want to just make the playoffs." For long-suffering Leafs fans, just making the playoffs would be a godsend at this point. I don't believe you can take a young team with very little playoff experience and have them go all the way to the cup.
Almost every NHL player says that the playoffs are a different kind of hockey and a lot of these young Leafs have never experienced a sniff of it, which is showcased in their inability to win down the stretch. I love that Burke is trying to build a winning team, but I don't like that it hasn't come together yet.
This upcoming draft and offseason represents a big turning point in the franchise of the Maple Leafs. This summer could determine whether the Leafs take a giant leap forward or a big step backward in their development and pursuit of the playoffs and the Stanley Cup.
Follow Matthew on Twitter @MatthewSookram