San Francisco 49ers: Super Bowl or Bust in 2012
April 15, 2012

Have you ever seen the '90s classic Tommy Boy starring Chris Farley? There's a funny quote in the movie about guarantees. 
"But why do they put a guarantee on the box?"
"Because they know all they sold you was a guaranteed piece of (expletive). That's all it is, isn't it? Hey, if you want me to take a dump in a box and mark it guaranteed, I will. I got spare time. But for now, for your customer's sake, for your daughter's sake, you might wanna think about buying a quality product from me."
The point is, the buyer ends up buying pads from Farley because he was right. What is a guarantee?
We see it in sports all the time; players and coaches guaranteeing victories but most of the time coming up short...Rex Ryan. These guarantees are meaningless. They only hold weight when you're a huge underdog, guaranteeing victory and backing it up, such as the infamous Joe Namath guarantee against the highly favored Baltimore Colts in Super Bowl III. 
Now I'm sure the San Francisco 49ers aren't going to guarantee a Super Bow in 2012, neither am I. But I am sure that will be their mindset entering these preseason workouts. 
Last season, they had a 13-3 record with a rookie head coach after an offseason that consisted of no mini-camps, no OTAs and a shortened preseason, only to come up a muffed punt short by a backup punt returner in overtime from heading to the Super Bowl.
Fast forward to now.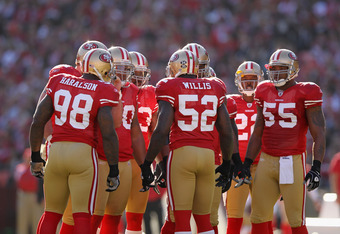 Ezra Shaw/Getty Images
They bring back all 11 starters on a defense that was overall a top-three defense.
Patrick Willis leads a defense that led the league in fewest rushing yards allowed. Not to mention, they only gave up one rushing touchdown in the first 15 games of the regular season—an NFL record. 
The 49ers have also upgraded an offense that led the league with the fewest turnovers. 
Prior to last season, Alex Smith wasn't a San Francisco favorite, but when Jim Harbaugh came into the picture, Smith's potential shined.
He led the 49ers to the NFC Championship game by making smart decisions and only throwing a league-best five interceptions. 
Coming into 2012, Smith will have a plethora of weapons at wide receiver with newly acquired Randy Moss and Mario Manningham. Those guys will complement Michael Crabtree and tight end Vernon Davis very well.
The 49ers also boast a potent running game already dubbed Shake, Rattle and Roll. Veteran running back Frank Gore (Shake), newly-acquired Brandon Jacobs (Rattle) and second-year back Kendall Hunter (Roll) are all the perfect formula for one another.
Gore has great vision and can shift through the holes. Jacobs brings in Super Bowl experience and is a powerful beast at 6'3" and 250 lbs. He is a hole buster and downhill runner. And Hunter is a little speedster with explosive quickness and great hands.   
This offense has all the intangibles of being a top-10 offense. That will complement very well with a defense that is favored to be the league's best, in a mediocre NFC West division. 
Oh, let's not forget; Jim Harbaugh was NFL Coach of The Year as well.
I can only imagine what he and his staff are capable of in year two.
Jim Harbaugh and general manager Trent Baalke are probably very confident in the team's potential coming into the 2012 season.
Which leads me to the question: Is it Super Bowl or bust for the San Francisco 49ers?