New York Giants: Linebacker Corps Is Built for Success
April 15, 2012

Al Bello/Getty Images
The New York Giants may have won the Super Bowl in a large part due to their top-end defense, but management isn't sitting on their laurels this offseason.
After a 2011 season that saw New York burn through linebackers at a worrying rate (every week it seemed like another linebacker was sidelined), the Giants have beefed up the linebacker corps with the intent of creating a dominant front seven to attack opponents.
On Thursday, it was announced that New York had re-signed playmaking linebacker Chase Blackburn to a one-year deal. A part-time player during the 2011 season, Blackburn had several key interceptions in the regular season and in the Super Bowl.
New York management pulled another move to boost the linebacker corps, trading a fifth-round pick for linebacker Keith Rivers. Rivers, who played for the Cincinnati Bengals over the past four seasons, is a former first-round pick with talent that has been a bit derailed by injuries. If Rivers can stay healthy, he's a quality addition to New York's defense as a weak-side linebacker.
The addition of Rivers became necessary with the departure of defensive end Dave Tollefson, who signed with the Oakland Raiders in early April. Tollefson had five sacks and 21 tackles as a rotational pass-rusher, and his departure makes it necessary for Mathias Kiwanuka to take more snaps at end in 2012.
Injury-prone linebacker Jonathan Goff has not been re-signed, and there's little indicating that New York will make an offer in the future. Although Goff has plenty of upside, injuries ended the 2011 season prematurely for the 26-year-old player and limited play in his rookie season.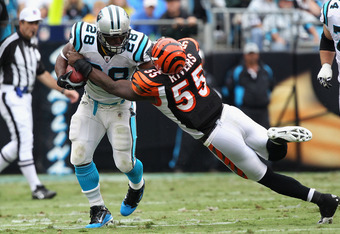 Streeter Lecka/Getty Images
A 16-game starter in 2010, Goff has visited with numerous teams while looking for a more substantial role elsewhere rather than take on a limited role with New York in 2012.
Three-year starter Michael Boley is returning, although with the addition of Rivers, he will be required to move inside in 2012. Boley totaled 93 tackles, one sack and a forced fumble in 2011 as a 13-game starter. Turning 30 heading into the 2012 season, Boley is still a solid starter and should provide stability to the linebacker corps.
Also returning are rotational players Jacquian Williams, Greg Jones and Mark Herzlich. Williams played extensively off the bench, tallying 72 tackles and a sack as a two-game starter. Jones and Herzlich both saw time as special teamers and backups with the numerous injuries in 2011.
The group is rounded out with special teamer and two-time Pro Bowler Zak DeOssie. Entering his sixth season as a Giant, DeOssie is a dependable special teamer and will see time in all 16 games in 2012.
The Giants have put together a young, talented linebacker corps going into 2012. Even before the NFL draft, the front seven of New York's defense looks set for success in yet another season.