NFL Trade Speculation: Who's on the Block Heading into the 2012 NFL Draft?
April 16, 2012

Scott Cunningham/Getty Images
With the 2012 NFL draft kicking off in less than two weeks, there's unfinished business left on the trading block.
Some teams will attempt to tie off their loose ends before draft day, but others will decide what trades make sense during the draft itself.
Here are three players who could get dealt heading into the 2012 draft.
It is no secret that veteran cornerback Asante Samuel is on the trading block.
The Philadelphia Eagles are getting a bit overcrowded at corner with last season's additions of Nnamdi Asomugha and Dominique Rodgers-Cromartie, and Samuel has publicly voiced his frustration with the franchise.
Further, Samuel is owed a base salary of $8.4 million in 2012.
Trading the four-time Pro Bowler is a palatable move for the Eagles who already have two solid corners and could save some valuable cap space in the deal.
A trade would also be a win for Samuel who has felt disrespected by the Eagles and is looking to move on from the City of Brotherly Love.
If a deal isn't worked out soon, Samuel could get dealt from the war room on draft day.
Matt Moore
Minnesota Vikings general manager Rick Spielman confirmed that he's open to trades involving their No. 3 overall pick in the 2012 draft.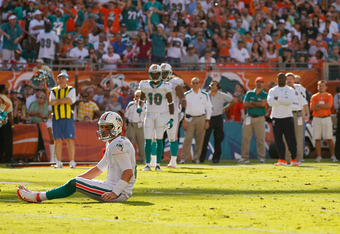 Mike Ehrmann/Getty Images
Meanwhile, the Miami Dolphins have had their eye on Texas A&M quarterback, Ryan Tannehill.
But Miami's No. 8 overall pick may no longer cut it for Tannehill, whose draft stock is on the rise.
This has led to speculation that the Fins may trade up for Minnesota's pick in order to snag who they hope can be their future franchise guy.
If Tannehill does come off the board to Miami, it would make sense for Matt Moore to hit the trading block.
Though Tannehill would not likely start in 2012, there would be no reason for the Fins to keep both Moore and former Jacksonville starter David Garrard on the roster, especially since the decision to acquire Tannehill would indicate that Miami is looking to use 2012 as a rebuilding year for teaching the 23-year-old quarterback.
Trading Moore would allow Miami to fill one of the many gaping roster holes on its long list of player needs.
Of course, all of this could be a horrible mistake for the Dolphins if Tannehill does not end up becoming their franchise guy under center—which he may well not.
Felix Jones
While Dallas Cowboys executive vice president Stephen Jones has denied the Felix Jones trade rumors, don't be surprised if the Cowboys deal him out of Dallas—depending on what they do with their 2012 NFL draft pick, of course.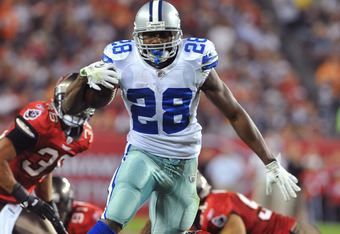 Al Messerschmidt/Getty Images
The role of feature back looks to be anything but up for grabs on America's Team.
DeMarco Murray has likely earned that job after his breakout 2011 season, meaning that Felix Jones will be backing him up in the backfield.
While Jones would compliment Murray nicely in this role, the Cowboys may still be looking to draft someone younger and cheaper to hold down the second running back slot.
Dallas indeed has looked at running back prospects, including Boise State RB Doug Martin.
Martin has killer instincts coming out of the backfield, racking up over 1,200 yards rushing in each of his last two seasons as a Bronco.
He is an exceptional athlete with college experience in all three phases of the game.
If Martin winds up on the Cowboys, Jones is likely to get offered up for trade.