How Will Bud Selig Solve the Giants-A's Territorial War over San Jose?
April 16, 2012

Patrick McDermott/Getty Images
The San Francisco Giants and Oakland A's are mired in a territorial fight over the rights to the lucrative San Jose market. The A's are floundering in Oakland and have their eyes set on building a new stadium in San Jose.
There is just one problem. The Giants own the territorial rights to San Jose and are desperately fighting any encroachment by the A's into what they deem as their market.
In reality, the largest portion of the Giants' fanbase is south of San Francisco down the peninsula and into Silicon Valley in San Jose and Santa Clara. There is huge money in these areas, and the Giants do not want the A's taking any of that away from them.
The San Francisco 49ers have acknowledged the same financial dynamic. Their new stadium is being built in Santa Clara, which just happens to be in the heart of Silicon Valley and right next to San Jose.
In the early 1990's, the Haas family, who owned the A's, allowed Major League Baseball to grant the Giants and their new ownership the territorial rights to San Jose. Based on that, the fair thing would be for commissioner Bud Selig to declare it an open market, allowing the A's to move there.
However, if Selig made that decision, he knows he will have a long and protracted legal fight on his hands, as the Giants would not go down quietly. They have vowed to do everything in their power to retain the rights to San Jose.
The A's have virtually no chance to consistently compete in Oakland any longer. Their fanbase does not come out to the ballpark, and the A's routinely have one of the lowest payrolls in all of baseball.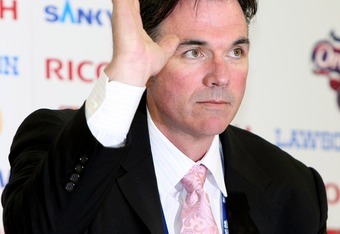 Junko Kimura/Getty Images
With all due respect to Oakland GM Billy Beane and "Money Ball," the A's simply do not have the money to compete consistently.
The A's have tried to build through their farm system, but whenever a player becomes a good big league talent, they cannot sign him and are forced to trade him away for more prospects. This becomes and endless circle of mediocrity.
A case in point is the fact that the A's just traded three young Major League pitchers, Gio Gonzalez, Trevor Cahill and Andrew Bailey, this past winter for prospects. These were their three top pitchers, all young and under contract.
Beane was making a statement that the A's cannot compete in Oakland in today's economy. They will set themselves up to compete in three or four years once they are able to move into their new San Joe ballpark.
In essence, Beane is trying to force Selig to allow the A's to move to San Jose. There had been rumblings that Selig would have a decision this spring on the issue. However, with the absolutely glacial pace at which Selig moves, do not expect this to occur.
Selig appointed a "blue-ribbon committee" to study and make a recommendation on the issue back in 2009. Roughly three years later, there still has been no decision.
The Giants, on the other hand, are totally happy with the status quo. They are in a beautiful ballpark on the shores of McCovey Cove. If you have never been to a game here, make the effort whenever you're in the Bay Area, because it is arguably the most beautiful park in baseball.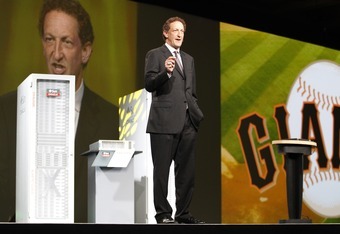 Stephen Lam/Getty Images
The Giants set a club record in 2011 with well over three million in attendance. This is a very healthy and prosperous franchise, and they aim to keep it that way. Sharing the San Jose market with the A's would be a big step in the wrong direction.
The hardcore fans already have their allegiances to either team, but a new stadium in San Jose for the A's would entice casual fans to check it out. The big corporate money in Silicon Valley will also have another outlet for sponsorships and season tickets for their executives and clients.
In addition, young kids would grow up as A's fans and then take their kids to A's games, which is something the Giants can foresee happening. An A's move to San Jose would ultimately harm the Giants, and they know it, which is why they are fighting so hard to maintain the territory.
The Giants even moved one of their minor league teams into San Jose a few years ago to further entrench themselves in the area.
Selig wishes to avoid a legal battle with the Giants and really just hopes this issue would go away. Ideally for Selig, owner Lew Wolff would sell the team and the A's would find another home, whether that be a new stadium in Oakland or somewhere else, but not in San Jose.
There are other potential options in the Bay Area for the A's, including a new park in Oakland, a move to Fremont or the San Ramon-Walnut Creek area. In addition, Sacramento, Portland and Las Vegas have been mentioned as possible locations if the A's were to move.
The bottom line is, the A's cannot survive in Oakland under the current conditions.
Based on prior history, I do not think Selig will make a decision on this issue in the near future, although he should. It's more likely he will now wait until the offseason to revisit the issue.
Even if Selig were to grant Oakland permission to make the move, three-quarters of the Major League teams would have to vote to approve this. If eight other franchises voted against it, the A's would still not be able to move. The Giants may have enough clout to get those additional eight votes.
This entire saga is like watching paint dry, which is sad because the A's have one of the most exciting young players in baseball in Yoenis Cespedes. As long as he is in Oakland, very few people will ever get to see him play.
At one point, I was fairly confident that the A's would be granted the ability to move and the Giants would be paid off to the tune of around $50 million. Now, I am not so sure.
I now believe even if the payout were doubled to $100 million, the Giants would still be adamantly opposed. That is how valuable and lucrative this market is.
My gut feel is that the A's will ultimately never get to San Jose. There are three major hurdles for the A's to overcome. First, Selig must grant the move. In addition, there would be a lengthy legal process and the Giants could prevail. Finally, there is still the matter of the vote by the other teams.
Lew Wolff is in his mid-70's, and he cannot wait forever for this decision to come down. The glacial speed of Selig's decision or a negative outcome may ultimately force him to sell the team.
If Wolff were to sell and the issue were to just go away, Selig would be so much happier. It seems as though Selig is trying to wait it out so he ultimately has to make no decision. Would you expect anything different from him?