Fantasy Baseball Sleepers 2012: 6 Players Whose Slow Starts Shouldn't Worry You
April 17, 2012

Al Bello/Getty Images
The 2012 MLB season is now approximately two weeks old and has not started off the way most people would have predicted. No one would have predicted that the Los Angeles Dodgers would start out 9-1, or that the New York Mets would start off 7-3. Speaking of the Mets, no one would have projected that their shortstop, Ruben Tejada, would lead the National League in doubles right now.
As far as individual performance goes, some of baseball's best superstars like Matt Kemp of the Dodgers and Miguel Cabrera of the Detroit Tigers have both gotten off to great starts, but that is expected of them at this point. On the other side, there are players who have gotten off to very slow starts, which could make fantasy baseball owners rather worried. Here are six underachieving players that will perform a lot better in a reasonable amount of time.
1. Ike Davis (1B; New York Mets)
Ike Davis, the Mets' power-hitting first baseman has gotten off to a very slow start. In fact, it took him 19 at-bats just to get his first hit of the season, which occurred Wednesday April 11th against the Nationals. Since then, Davis has hit two home runs and collected five RBI. Hopefully, he can turn around his slow start and have the great season that the Mets are expecting of him.
Look for Davis to continue hitting for the rest of the month and have it carry over through May and June. By early July, he should have well over 20 home runs and at least 65 RBI. If Davis produces such numbers by then, the only thing stopping him from starting at first base for the National League in the All-Star Game would be if Joey Votto of the Cincinnati Reds has an even better first half. Regardless, Davis will be a perennial All-Star first baseman for years to come.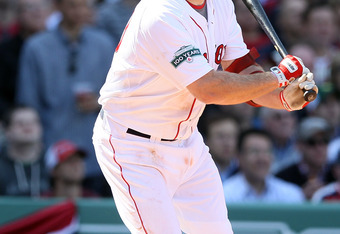 Elsa/Getty Images
2. Neil Walker (2B; Pittsburgh Pirates)
The Pittsburgh Pirates this year are determined to have a winning record since the days when Barry Bonds, Bobby Bonilla and Andy Van Slyke led the team in the early 1990s. In order to do that, they will need to get great seasons from their young players and second baseman Neil Walker is one of them. The switch-hitter has gotten off to a terrible start with just a .188 average through his first 10 games. Hopefully, Walker can get his hitting together and be the big run producer that the Pirates will need in order to score a good number of runs per game.
Walker is one of the most promising second basemen in the National League, which is an area of baseball that has been through a big transition ever since Chase Utley of the Philadelphia Phillies began to decline. While Brandon Phillips of the Reds and Dan Uggla of the Atlanta Braves are widely considered the best second basemen in the National League, Walker could make some noise as a potential All-Star for years to come. Hopefully he breaks out of his slump and gets back to driving in runs as teammates Andrew McCutchen and Jose Tabata make the Pirates one of the better offense in the league.
3. Kevin Youkilis (3B; Boston Red Sox)
Veteran third baseman Kevin Youkilis of the Boston Red Sox is off to a slow start so far this season. This led Red Sox manager Bobby Valentine to question whether Youkilis still had the same passion for baseball compared to past seasons in his career. Youkilis of course denied all the rumors and even some of his teammates came to his defense.
Youkilis is notorious for being one of the most patient hitters in all of baseball. His overall career track record has been solid for years, so it will only be a matter of time before he breaks out and goes on a hot streak. If anything, fantasy owners can be assured that the "Greek God of Walks" will keep living up to his name.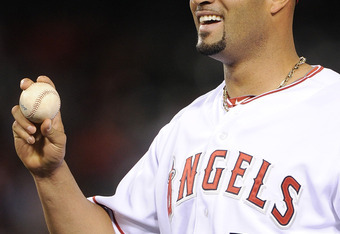 Harry How/Getty Images
4. Albert Pujols (1B; Los Angeles Angels of Anaheim)
Arguably baseball's best hitter of the aughts, Albert Pujols signed a 10-year $254 million contract in the offseason. He was expected to immediately contribute the same numbers that made him a legend in St. Louis. So far though, Pujols has not been hitting particularly well and only has a .268 average and four RBI to show for.
Despite this slow start for Pujols, fantasy owners should not be worried because no other active player has hit as well as him for the past 11 years. He will find his swing shortly and get back to being the same player he was for the St. Louis Cardinals.
5. Mark Teixeira (1B; New York Yankees)
For years, Mark Teixeira has been one of the most productive power hitters in all of baseball. However, he has also been very well known for his consistent slow starts to each of his seasons. 2012 has not been any different. Teixeira is currently batting .250 with just three RBI.
By May, if not later this month, Teixeira will break out of his annual April slump and get back to being the same hitter that has averaged 37 home runs and 114 RBI within the last three seasons. Hopefully his average will improve this year, but fantasy owners can at least count on over 30 home runs and 100 RBI from Teixeira once again.

6. Tim Lincecum (SP; San Francisco Giants)
One pitcher that has gotten off to an unusual slow start to his season is San Francisco Giants ace Tim Lincecum.
The two-time NL Cy Young Award winner has gone 0-2 with a 10.54 ERA in his first three starts, which included a poor outing yesterday against the Philadelphia Phillies. In just 13.2 combined innings, he has given up 16 earned runs and 22 hits.  
Fantasy owners should not get too worried just yet on Lincecum. He has been one of the best pitchers in baseball since his breakout season in 2008 and at just 27 years old, it would be fair to speculate that his best seasons are still to come. Regardless, Lincecum will turn in another very strong season and finish in at least the top 10 in NL Cy Young Award voting once again.