Bobby Valentine Is Doomed as Boston Red Sox Skipper
April 18, 2012

Jim Rogash/Getty Images
*update 4/18/12: It has come to my attention that I am using the story of Brian Clough as told by ONLY the writer and filmmakers of The Damned Utd and not based on historical fact. This article is to reflect the stories, whether fictional or fact-based fiction, of Clough's tenure with Leeds United and Bobby Ventura's tenure with the Boston Red Sox. The spirit of the story The Damned Utd, while under scrutiny, is the inspiration behind the comparison of Clough/Valentine. Please see the comments for updates on the real story behind Brian Clough.
As beautifully (yet nerve-wrackingly) depicted in the 2006 book The Damned Utd by David Peace (and then later as a feature film The Damned United in 2009), Leeds United, the once dominant soccer squad in the English First Division, went through a maddening journey with near-legend and quite talkative skipper Brian Clough.
Clough was hired by Leeds to bring glory back to the club, glory that Clough stole at points by bringing lowly Derby County, his prior team, into the discussion of contention at Leeds' expense in the '60s. Clough, leading one of the most widely heralded and most discussed teams in all of England (and in parts of Europe) lasted 44 days.
The Clough story, somewhat romanticized in The Damned Utd, is eerily similar to what I feel is happening (or has happened) to Bobby Valentine. There are distinct differences between Clough and Valentine. Clough was a proven winner, taking his team Derby County, relatively the lowest of the "minor league" teams in soccer and bringing them to the top of the "majors." He had repeated success as manager of Nottingham Forest years after the Leeds debacle as well, having success at home and abroad.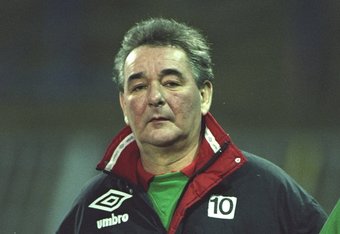 Mike Hewitt/Getty Images
Valentine has flirted with success, even bringing the Mets to the World Series, but he has never been a championship-caliber manager in the major leagues. Clough was also a dominant player before he was a manager, scoring well over 200 goals in his career. Valentine was a nominal player with 441 total hits and 157 RBI while batting .260 in 10 years as a utility man.
But the differences seem to end there. Both Clough and Valentine were outspoken men, prone to misunderstandings and a good laugh. Clough and Valentine got under the skin of their fellow players and their charges, often making headlines. And their mouths were constantly going, sometimes in aid of their clubs but often at odds with them.
And when they went to their "big" assignments, Clough with Leeds and Valentine with the Red Sox, both were seen as unable to adapt to present day situations or, in the case of Leeds legend Don Revie and Red Sox curse-beater Terry Francona, unable to replace those who came before.
Valentine has certainly lasted longer then Clough's 44 days...but in baseball years, Valentine seems to be right on track to meet an undignified end.
The real question is: Is this fair?
Clough met opposition, if not outright mutiny, from players who worshipped previous manager Revie. Valentine couldn't get Carl Crawford to talk to him in the offseason. Clough's practice styles pissed Leeds off, as did his tactics, being far different from Revie's. Valentines pre-spring workouts made headlines for getting all the wrong responses, and already his handling of pitching has come into question.
Lastly, Clough was seen as going against the system at Leeds, his style and personality unwelcome. Valentine faces the same dilemma in Boston. Already lambasted for criticizing a Red Sox stalwart in Kevin Youkilis, another Sox legend in Dustin Pedroia made clear "that's not how we go about our stuff here," siding with the player and not bowing to authority.
While Pedroia's attitude is symbolic of the rather babyish ways of the modern day athlete, it is absolutely correct in terms of how factual it is. In the last few years, the Red Sox have basically imploded, allowing once-awful Tampa Bay to steal some of their thunder and, in the process, also see their most hated rivals in New York lift another World Series trophy in October.
Pedroia's comment certified the Red Sox have problems and that Valentine is not the answer. After beating division rival and contender Tampa Bay three games out of four, the main story wasn't the impressive victories or the surging offense...it was how Valentine did the boys wrong.
Do we live in an era where managers aren't allowed to manage or criticize? It seems a few on-the-mark comments (Youk hasn't been sharp so far) are good enough to put him out on the street.
Are the players really so powerful that they can demand a manager to be fired, or, as is the case so far, rendered irrelevant? Pedroia's comments made this much clear: Valentine's authority is now gone.
So, I ask, what is the point of managing then?
This can't be good. I sense a nasty future ahead for Red Sox Nation when it comes to Valentine. The shadows of Clough are hanging over Valentine. While a few Boston friends of mine expect Valentine to last the year and then get axed, I wouldn't be surprised if Valentine was forced (or chose to) "resign" before season's end.
If it is Game 44, that would be especially Clough-like.