Alabama Football 2012: Get to Know Tide Running Back Eddie Lacy
April 18, 2012

Butch Dill/Getty Images
Eddie Lacy projects to be Alabama's starting tailback for the 2012 campaign, a monumental task considering he is following in the footsteps of two first-round draft picks that made the trip to New York for the Heisman presentation in Mark Ingram and Trent Richardson.  In addition to being great backs, Ingram and Richardson also made headlines with numerous personal storylines including Ingram's incarcerated ex-NFL father and Richardson's two young daughters.
As it stands now, most people really don't know a lot about the Tide's new starter.  Sure, they know he likes to use a spin move and has a very annoying big toe, but outside of Bryant Denny on Saturday afternoons he remains much of a mystery to the Crimson faithful.
So let's get to know Eddie Lacy a bit shall we.
Lacy spent a large part of his childhood just outside of New Orleans in Gretna.  Unfortunately, Lacy and his mother Wanda were displaced from their home by Hurricane Katrina and had to move away from the storm ravaged city.
The family wound up in Geismar, Louisiana near the southeastern corner of the state where he played for the 5A Dutchtown High School Griffins and Coach Benny Saia.  Dutchtown is a large high school with a student body approaching 2,500.
In Lacy's junior year, he was first team all state rushing for 1800 yards and 27 touchdowns.  He followed that up with an injury filled senior season, but still managed to top 1,000 yards rushing and score 17 touchdowns.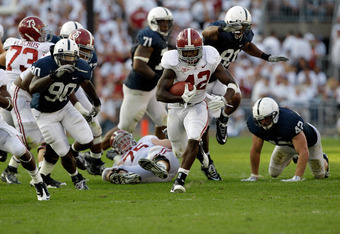 Rob Carr/Getty Images
The injuries in his final year at Dutchtown impacted his ratings with recruiting services as the analysts basically just didn't have the chance to see him play as often higher profile recruits like Bryce Brown and Christine Michael (both prime examples of 5-star busts), likely the reason that Bama was able to handcuff the 4-star Lacy in the same recruiting class as Trent Richardson despite offers from many top tier programs including in state LSU.
Coach Nick Saban and his staff had concerns about Lacy's academic eligibility at the time of his commitment and the young running back had to attend summer school to meet NCAA clearinghouse requirements before being able to enroll at the Capstone in the fall of 2009.
After redshirting in 2009, Lacy worked his way to third on the depth chart behind returning Heisman winner Mark Ingram and his very capable back up Trent Richardson.
Playing primarily in mop up duty, Lacy managed to gain over 400 yards and score six touchdowns in helping the Tide to a 10-3 record and a Capital One Bowl spanking of co-Big Ten champs Michigan State.
In Lacy's sophomore season he was given a much more meaningful role as Richardson's primary back up.  He produced a solid season of 631 yards and seven touchdowns despite fighting a nagging turf toe injury all season.  Ball security concerns from his freshman season seemed to no longer be a factor as he did not lose a fumble on the season.
Unfortunately, the junior had to miss all of spring practice after undergoing surgery to hopefully correct the most famous toe in Alabama, but nevertheless the starting gig appears to be firmly in his grasp.
We will likely learn more about the personal life of Eddie Lacy as this season progresses as major networks always want fans to feel a connection to the star players televised on their stations.
After all, if you fork over billions of dollars for broadcasting rights you expect strong ratings.
But as it stands, Lacy enters the biggest six months of his young life as a very talented football player who has bought into the Nick Saban process and done the things expected to succeed in the system.
No troubles with the law.  No collegiate academic probation.  No. 42 just does his work and comes ready to perform on Saturdays.
And while we all love the personal interest story, Tide fans hope to be primarily reading stories about how Lacy is leading Bama to victories against SEC competition this season.