NC State Basketball: C.J. Leslie's Return Builds High Expectations for Wolfpack
April 18, 2012

Andy Lyons/Getty Images
North Carolina State announced Wednesday afternoon that star forward C.J. Leslie will return for his junior season—rather than enter the NBA draft—a decision that solidifies the Wolfpack's roster for next season. This places them among the favorites to advance to their first Final Four since their famous unexpected run to the 1983 national title.
For a player who becomes the centerpiece of his team's most highly anticipated season in two decades, he sounded remarkably calm and casual announcing his decision.
"I just figured we started a good thing last year. We might as well finish it."
The move comes as a pleasant surprise for many Wolfpack fans, who experienced an excruciating wait as Leslie let the NCAA's meaningless April 10 deadline pass without making a final decision. Earlier this week, ESPN's Chad Ford listed Leslie among college players with "one foot in the door" on their way out to the NBA, but Leslie chose not even to delay until the NBA's April 29 date before announcing he will stay in school.
Leslie averaged a team-leading 14.7 points per game with 7.3 rebounds, and improved upon those solid numbers as he came on strong late. Leslie had 19 points and 14 rebounds in NC State's ACC quarterfinal upset of Virginia, a win that likely earned the Wolfpack its berth in the NCAA tournament.
He will join UNC's James Michael McAdoo on the watch-list of ACC Player of the Year candidates as the best player on a team that should contend for the ACC regular season title. Many pundits were already placing the Wolfpack among the nation's top teams for next season, even with the persistent worry that their roster would not include Leslie.
Leslie's return nearly guarantees NC State a spot in the top ten of the preseason polls. It also gives them a massive burden to fulfill a decade's worth of unmet expectations. A team other than North Carolina or Duke has not won the ACC regular season title outright since 2003. It has been since 2004 that such a team advanced to the Final Four.
No team in that span has had a more defensible claim to expect those accomplishments than NC State will this season.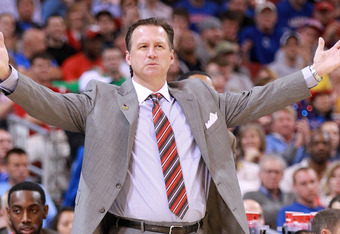 Andy Lyons/Getty Images
Leslie returns alongside frontcourt mate and fellow double-double threat Richard Howell, in addition to Lorenzo Brown, the ACC's top returning point guard after the departure of North Carolina's Kendall Marshall. Sharpshooter Scott Wood is joined on the wing by McDonald's All-Americans Rodney Purvis and T.J. Warren, who headline the recruiting class that placed NC State in an unusual position among the nation's top hauls.
Leslie cited Purvis, whom he has known for several years, as actively pushing him to return, referring to the Raleigh recruit as his "little brother" and saying Purvis texted him nightly as a part of the effort.
Only North Carolina can make a claim to match the Wolfpack's talent next season, and even the Tar Heels, who return only one starter, surrender a significant edge to their rivals in experience.
The ACC has suffered the past decade as the nation witnessed the once proud college basketball conference slowly dwindle to a league dominated by two teams. That process culminated in a major turning point after last season, when coaching changes left only four coaches—UNC's Roy Williams, Duke's Mike Krzyzewski, Florida State's Leonard Hamilton, and Virginia Tech's Seth Greenberg—with longer than three seasons tenure at their schools.
The ACC desperately needed one of its formerly competitive programs to escape the decline, and with the return of Leslie after a late push to the Sweet Sixteen in 2012, head coach Mark Gottfried and the Wolfpack justifiably can expect to be the first of those programs out of the gate to seriously challenge North Carolina and Duke.