Pat Summitt Retires: Despite Dementia, Legendary UT Coach Still Has Role to Play
April 19, 2012

Ezra Shaw/Getty Images
For the first time since the early 1970s, the Tennessee Lady Volunteers basketball team will begin next season with somebody other than Pat Summitt calling the shots.
It was announced by the university on Wednesday that Summitt is stepping down as the head coach of the Lady Vols. She will now be the team's head coach emeritus, with longtime assistant coach Holly Warlick taking over as the team's head coach.
We'd known for a while that this day was coming. Summitt revealed in August that she had been diagnosed with early onset dementia, Alzheimer's type, which was a stunning revelation at the time. Despite the diagnosis, Summitt insisted right away that she planned on coaching during the 2011-2012 season.
And coach she did. She let her assistants, particularly Warlick, take on many of her usual responsibilities, but she remained on the sidelines while the Lady Vols won 27 games and made it to the Elite Eight of the women's NCAA tournament.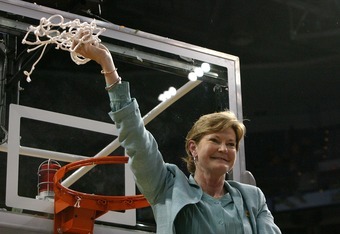 Doug Benc/Getty Images
This season was Summitt's 38th season at Tennessee. All told, she won 1,098 games and eight national championships. She is stepping down with absolutely nothing left to prove.
But Summitt is not done with the Lady Vols, nor should she be. According to GoVolsXtra.com, Summitt doesn't know exactly what her new "head coach emeritus" position is going to entail, but a few specific tasks have been outlined.
Summitt will be able to attend Lady Vols practices, and the school noted that she will serve as a liaison between the women's basketball program and the director of athletics. Most importantly, she'll be able to reach out to recruits.
In a nutshell, it sounds like Summitt is going to be a kind of ambassador for the Lady Vols. She'll do anything and everything, with the exception of coaching, of course.
It remains to be seen what kind of effect Summitt's condition is going to have, if any. It is easy to assume, however, that performing her new duties will be a lot easier than managing a major basketball team for 30-plus games spaced out over several months. 
One thing that's for sure is that the Lady Vols program will be glad to have Summitt still involved. It's hard to picture Tennessee basketball without her at this point. At the very least, she'll be in a position to help make sure the program she built doesn't crumble. She'll be around to help hold it together.
As long as Summitt is around, the Lady Vols dynasty will remain intact.