Pros and Cons of the San Francisco 49ers 2012 Schedule
April 19, 2012

Thearon W. Henderson/Getty Images
The schedule is out and ESPN is running a marathon of coverage that has dug its heels into the neck of every other sport known to man.
It was already announced last year that the 49ers would be facing a doozy of a schedule in 2012.
And although we were warned, for some reason that still wasn't enough to prepare us for what officially became tangible as of this last Tuesday.
One can break down a schedule a thousand times a thousand different ways and it will continue to be broken down until the very last game of the season is finished.
So, for now, just upon the eve of a week away from the draft, let us dive into the pros and cons of the San Francisco 2012 regular-season schedule.
Week 1:  @ Green Bay
Pros:  Yes, no weather to deal with.  Yes, it gets this game out of the way early.  Yes, for all intents and purposes this situation could've been down the road when the stakes might have been a bit higher.  In short, if there was ever a time to play Green Bay, this would be it.
Cons:  It's still the Green Bay Packers at Lambeau Field.  And anyone who knows anything knows that this is never an easy place to play.  The 49ers haven't won there since 1990.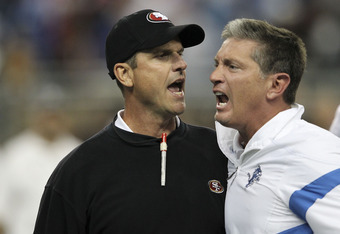 Leon Halip/Getty Images
Week 2:  vs. Detroit
Pros:  Here's another one to get out of the way early on.  The inevitable hoopla that will be "handshake-gate" will be played out in replay nausea leading up to the final whistle and midfield greeting between coaches.  The press will also be down the coaches throats about "what happened last year" leading up to the game as well.  But the biggest pro here is, the game is at Candlestick and the 49ers would hopefully be able to get in control of this one early as opposed to last year when they had to win with a fourth-quarter comeback.
Cons:  Detroit looks to be improved from last year and would be the second high-flying offense the 49ers see in back-to-back weeks.  Emotions might also be running high for Detroit who would aim to improve their tenacity on the road against what would be a new NFC rival for them.
Week 3:  @ Minnesota
Pros:  The Vikings are not very good.  They have a run-first offense.  Teams can't run on the 49ers.  Game, set, match...?
Cons:  If the roof doesn't fall in—literally—the stadium formally known as the Metrodome would be rocking.  And if there's one sound that's one of the most ominous in all of sports, it's that echoing Viking horn that seems to bellow at the most auspicious moments from my television speakers...I mean, we do recall what happened the last time here when the Dingletary led 49ers faced Bret Favre.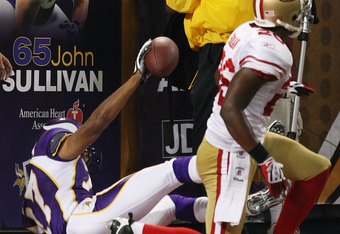 Jonathan Daniel/Getty Images
Week 4:  @ New York Jets
Pros:  The Jets are staying true to form by being one of the most awkward teams in the NFL.  Just when they appear to have an identity and a vision for the future, they pull one of the most bizarre publicity stunts of all time and trade for Tim Tebow.  That being said, this seems like a very favorable matchup for San Francisco on, dare I say it, all sides of the ball.
Cons:  Would the 49ers be staying in Youngstown again as opposed to rolling back and forth from Minneapolis to San Francisco to New York?  If not, the back and forth might stiffen the legs of the 49ers just enough to open the door for some Tebowtime.
Week 5:  vs. Buffalo
Pros:  Although the Bills might be a fun team to use in Madden, they still seem to suffer from being the Buffalo Bills which results in being a streaky, poorly traveled team.  
Cons: Possible trap game with the Giants heading into town the week after and a tuned up Bills defense.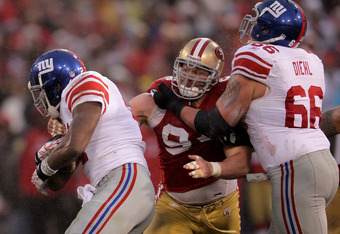 Doug Pensinger/Getty Images
Week 6:  vs. New York Giants
Pros:  The 49ers will be better than they were last year in both the regular-season game and the playoff game against the hated Giants.  It's also that time of the year that the Giants are still the lazy kid in class that has a few weeks before his homework is due and isn't really trying very hard or paying attention in the meantime.  
Cons:  If the 49ers were to lose this game, it would undoubtedly be huge kick to the stomach.  This is one the fans, players and franchise want more than any other...sadly, no matter what happens in this game, it doesn't erase what happened in that infamous last matchup...
Week 7: vs. Seattle
Pros:  49ers get their third home game in a row to face their first division opponent of the season.  The 49ers needed a little special teams help last year in Week 1 to beat Seattle but this year the 49ers should be tuned up and ready to go.
Cons:  It's a Thursday night game...which means a short week...after the 49ers just came off what would be an emotional game against the Giants...this could all add up to trouble.
Week 8: @ Arizona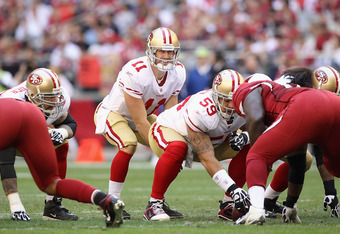 Christian Petersen/Getty Images
Pros:  Arizona is not very good.  Or at least, on paper in mid-April, they're not very good.  The 49ers typically mop the floor with these guys, even during the former bumbling regime. 
Cons:  Arizona might in fact be better than last year and San Francisco did sink to their level for a loss last year.  Arizona would be at home and although the 49ers would be on a long week they're probably going to run into a motivated Arizona squad who wants to show off on Monday Night Football.
Week 9:  Bye
Pros:  The 49ers get some R'n'R.
Cons:  Can't think of any.  Can you?
Week 10:  vs. St Louis
Pros:  Here's another example of a team that's not very good.  The 49ers will be coming off the bye, they should be ready to chalk up what should be an easy win.
Cons:  If the 49ers look past this game, that could bode doom.
Dilip Vishwanat/Getty Images
Week 11:  vs. Chicago
Pros: It's at home.  The 49ers match up well against the Bears.  Shouldn't be too difficult for San Francisco to handle this one.  Also, the Bears seem to be another one of those teams that can't get a handle on what it wants to do.  With their above-average defense, they're built to run the ball and work off play action yet, Mike Martz is their offensive coordinator.  Cutler gets flustered under pressure.  Aldon Smith should have a field day against what is otherwise an average offensive line for the Bears.
Cons:  If the Bears can stuff the 49ers run, the ball would be in Alex Smith's hands and then how does Peppers match up against Joe Staley?  
Week 12:  @ New Orleans
Pros:  Can't really think of too many pros other than if the 49ers can win this game, it would be a huge statement.
Cons:  Nobody wins in New Orleans except the Saints.  Bountygate would be more annoying in the press than anything else.  I don't see it impacting the field play as obviously neither Sean Payton or Gregg Williams will be around.  Be sure that the Saints will do their diligence to cover Vernon Davis this time too.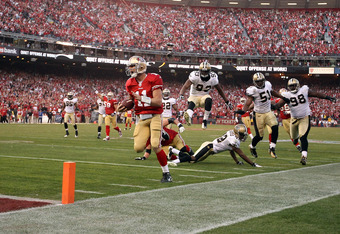 Ezra Shaw/Getty Images
Week 13:  @ St Louis
Pros: Again, it's the Rams.  And the Rams aren't very good.
Cons:  Possibly another long-winded road trip for San Francisco...going from SF to New Orleans back to SF then halfway across the country to face St. Louis.  This would also probably be the big "come to Jesus" game for the Rams on the season. 
Week 14:  vs. Miami
Pros:  Miami could be described as pesky but I doubt they'll be described as "good."  I think the 49ers defense should be able to handle a Miami offense that doesn't really seem to know how to do anything well.
Cons:  These are the spooky games where players get dinged up.  End of the season, non-conference opponent, at home.  The 49ers might be slightly relaxed...and looking ahead to Week 15.
Week 15:  @ New England
Pros:  Again, hard to think of some pros to this scenario other than the 49ers making a huge statement if they win.  Also, if it came to pass that the 49ers had to travel to Green Bay for the playoffs, some cold weather/snow action might be good practice for them.  For what it's worth, though, I think the 49ers have a solid, if not favored, shot at beating the Patriots.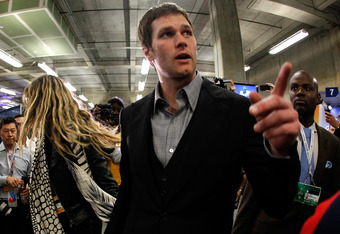 Rob Carr/Getty Images
Cons:  Basically the opposite of everything I said above.  If the 49ers lose, it would be a reverse statement.  
Week 16: @ Seattle
Pros:  The 49ers would probably need to win this game to wrap up the division, so they would be prepared and motivated to do so.
Cons:  Seattle is a different team at home: They're better.  The 49ers will need to play tough and play strong to beat a Seattle team that will want to win very badly. 
Week 17: vs. Arizona
Pros:  Considering the strength of the 49ers schedule, which seems to be very tough, it's a good thing to wrap up the last game of the season at home.  The proverbial "it" (whatever "it" might be at the time, home field, division, etc) might come down to this game.  It's a short trip back from Seattle and the 49ers should be ready to beat up on the Cardinals in Candlestick.
Cons:  The stakes of the game could dictate the 49ers play.  Heck, if by some miracle Arizona breaks out of its shell during the season, this game could have a lot more riding on it that it feels like it would in mid-April.  
Thoughts?  Record predictions?  
I'm guessing somewhere between 9-12 wins for San Francisco depending on how the ball bounces...