Philadelphia Phillies: Giving Ruben Amaro a Failing Grade for the Offseason
April 19, 2012

Jeff Zelevansky/Getty Images
It's April 19, it's early. The Philadelphia Phillies are 5-7 and 4.5 games behind the first-place Washington Nationals. The offense has been pathetic the majority of the time, while the starting rotation has not won a game if the Phils give up more than two runs.
In the San Francisco series that just wrapped up, the Phillies scored four runs in the first inning of the first game. They only scored three runs in the next 28 innings.
So how did we get here?  First off, we all knew Ryan Howard blew out his Achilles last season and that he would miss the first couple months of the season. Next, Chase Utley's chronic knee issues flared up again and the timetable for his return is still unknown.
Those are your No. 3 and No. 4 hitters. Any team is going to struggle taking those guys out of their lineup. How would the Detroit Tigers be without Miguel Cabrera and Prince Fielder? Think the Miami Marlins would survive very long without Hanley Ramirez and Giancarlo Stanton? Are the Los Angeles Dodgers off to a great start if Matt Kemp and Andre Ethier are on the shelf? 
No way. So we understand the Phillies are basically playing with one hand tied behind their back.
General manager Ruben Amaro Jr. had a full offseason to figure out what he was going to do at first base without Howard. He had versatile John Mayberry coming back from a promising 2011 season.  Amaro signed future Hall of Famer and former Phillie favorite Jim Thome to help out at first and off the bench.
He traded for Ty Wigginton, who can play first, third, outfield and even some second. Then he signed Laynce Nix to a (gulp) two-year contract which probably even surprised Nix. Finally, speedy veteran outfielder Juan Pierre was invited to spring training.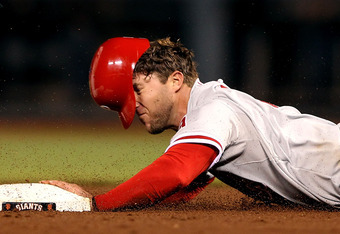 Ezra Shaw/Getty Images
Let's start with first base. Amaro never signed a first baseman. Thome hasn't played there in five years.  Without a doubt, Jim is an upgrade over last season's Ross Gload, but he is not a first baseman anymore.
Wigginton is a versatile player but a defensive liability wherever he plays. His error at third Wednesday night cost the Phillies the game (besides their absent bats, of course). Nix has always been an outfielder who played eight games at first last season. And Mayberry never played first until last season as insurance for Howard. 
Amaro created a lot of options, but none of them seemed smart. Utley has started a couple of games at first in his career and if he's back before Howard, Chase should play first and leave Freddy Galvis at second. But still, you have a non-first baseman playing first.
With the thought of Mayberry playing first base some more, Pierre was brought in as an option in left field. I was okay with that (or Scott Podsednik), but if you are going to play Pierre in left, Mayberry must play first. Otherwise, you put together a lineup with one threat to hit the ball out of the park—Hunter Pence. 
Sure, Jimmy Rollins and Shane Victorino will hit a few each year, but don't ever confuse them for being a home run threat in opposing team's minds. 
Next, there's the decision to bring in closer Jonathan Papelbon to a record-breaking deal for a relief pitcher. Amaro was bidding against no one, miscalculated the free agency compensation situation, which cost the Phillies a draft pick, and broke the bank. 
Papelbon is an elite closer, but there were so many closers available. Was it really a desperate need?  Not nearly as much as grabbing a bat either in free agency or through a trade. Michael Cuddyer is sure off to a good start.
And to just pile on some to this "F" of a grade: Placido Polanco is done...finished. He should be the highest-paid late-inning defensive replacement for the rest of the season, since he is just another pitcher in the lineup.  Giving him a three-year contract was not necessary.
So far, the Phillies have not won a game this season when they have given up more than two runs. Yes, it's very early. No, this is not "knee-jerk".  But can you honestly say at this point that Amaro has done a good job constructing this team? 
The answer is an extremely confident "no".  Amaro's offseason grade is a very confident "F"!