5 NFL Coaches and Players Who Need to Step Up Their Twitter Game
April 19, 2012

Joey Foley/Getty Images
Let's face it: Some football players and coaches just shouldn't have Twitter accounts.
Don't get me wrong, it's great that there are a handful of entertaining guys in the wide world of football that can deliver us a chuckle-worthy tweet for us to mull over while we sip our morning coffee and skim the sports pages.
And as one enthusiastic blogger from BustedCoverage.com notes, "That is what makes Twitter such a treat to have."
But between the fights, the threats, and the all-round bad posts, Twitter needs to have a filter to keep some of these NFL-ers out.
Here's a look at a couple figures around the NFL that need to up their Twitter game:
Jeremy Shockey: Carolina Panthers
The last thing tight end Jeremy Shockey needs is another media outlet for his bad-mouthing.
Especially at the start of this off-season's free agency market when he was trying to woo the New York Giants into re-signing him.
Shockey would've already needed to do some major sucking up to get the Giants to be interested in signing him, since he and the team did not part ways amicably back in 2007.
And upon hearing the news of Shockey's interest in the 2012 Super Bowl champions, former Giants teammate Amani Toomer took to Twitter to display his dislike in the idea of Shockey's return.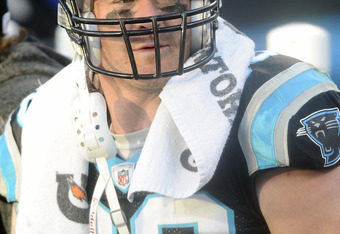 Jared C. Tilton/Getty Images
This would've been a good time to take the high road and show no-ill-will towards a disgruntled former teammate. But Shockey—of course—chose to tweet back the following response: "Go get a bucket of rocks and start throwing them at your glass house."
Jumping at the chance to Twitter battle a fellow player? Probably not a good idea.
Antonio Cromartie: New York Jets
Antonio, I'm not hating on your 252 career tackles, or your 22 career interceptions.
But I'm not a fan of this tweet from the 2011 season:
U all remember when u was growing up and u would get a spankin by the ppl in your community and then they told on you and u got another one…Now ppl in the community don't care about nothing but themselves…it's a crazy crazy world that we live in...
We're not quite sure what that's supposed to mean. Maybe you should keep away from trying to be philosophical and stick to being a quality corner for your team.
Jim Harbaugh: San Francisco 49ers
It's not so much that there's anything wrong with what Jim Harbaugh has posted on his Twitter page.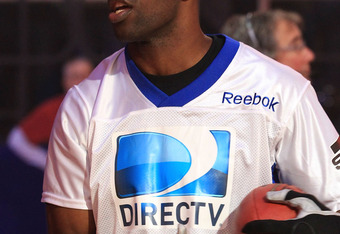 Christopher Polk/Getty Images
It's just that he hasn't updated it since November of 2010 when he was still coaching college ball at Stanford.
The 49ers head coach quotes YouTube's honey badger video and still reps Hootie & The Blowfish. So you'd think that he'd have all sorts of quirky quotes and tidbits to tweet.
But Harbaugh's Twitter page hasn't been touched for a full season. Which is kind of sad, especially when you look at the great run San Francisco had in the 2011 season.
It would have at least been entertaining to see what he would've posted about his near-fight with Jim Schwartz, playing his big brother John's Baltimore Ravens on Thanksgiving, or the Monday night game at Candlestick when the lights kept going out.
Terrell Owens: No Current NFL Team

Maybe I'm missing something if this former professional wide receiver has 1,208,195 Twitter followers.
But if you're the one having to give yourself props on your own Twitter feed?!
Here's an entry from just a week ago: "My day hasn't started out so good but nt gonna let the devil steal my joy!! Stay strong T!! Stay strong!! (Talking 2 myself)"
Good for you for giving yourself props. Too bad we can't all do the same for you.
Jim Irsay, Indianapolis Colts
You're probably wondering why I put the Indianapolis Colts owner and CEO on this list, especially since he posts more comments on Twitter than the Colts posted points all of last season.
Here's my reasoning: If Irsay is going to bash on Peyton Manning, and try to fool football fans into believing that he isn't going to draft Andrew Luck with the first pick in the draft, and whatever else he feels inclined to talk about. . . would it kill him to at least spell properly?
I know, I know: It's an empty threat, because literally nobody capitalizes or spells anything properly on Twitter. It's a world full of run-on sentences and text-speak.
But if you're worth millions of dollars and the owner of an entire football franchise, you should at least type articulately and look like you're intelligent enough to have your job.
One tweet: "I want 2 thank all ColtsFans..here,throughout the country n abroad,4ur tremendous,loyal support all year long. Ur feedback is heard n noted."
Whether or not millions of other people tweet like that, you can certainly do better. Grab yourself a thesaurus, and spell out your words like you mean business.