2012 NFL Draft: Will the Steelers Surprise Everyone in the Draft?
April 20, 2012

Over the last decade, not many teams have drafted as well as the Pittsburgh Steelers.
The Steelers have been a team that haven't drafted out of necessity and gone for positions of need and, instead, have built for the future.
Pittsburgh has always had guys waiting in the wings to take over for aging veterans—something not many teams have the luxury of doing.
In the upcoming draft, Pittsburgh may have to go against this way of thinking and draft for a position that needs addressing now—not in the future.
For the last few years, the Steelers have had a sub-par offensive line. Ben Roethlisberger has taken beatings that would have knocked lesser quarterbacks out for long periods of time.
This year, the Steelers will have no choice but to attend to the line, after a season where it was depleted with injury, saw its running performance down and Big Ben take numerous big hits.
With players like Stanford's Jonathan Martin, Ohio State's Mike Adams, and Georgia's Cordy Glenn possibly still on the board at No. 24, the Steelers could instantly sure up their line with one of these players.
Most experts see the Steelers taking Alabama linebacker Dont'a Hightower with their first-round pick, with the thinking he would instantly step in and fill the position left vacant with the departure of James Farrior.
While this may be the popular pick, many forget the Steelers have the young Stevenson Sylvester waiting for his shot to play.
Sylvester has been working on his game for a few years, learning the system and bettering his play, waiting for the chance to break into the starting lineup. Sylvester has earned his chance to play for the starting job and should perform well if given the chance.
Another pick is defensive tackle Dontari Poe of Memphis.
Poe was the big winner at the NFL Combine, posting numbers better than some linebackers, but has been falling down draft boards lately due to questions about his skill. Poe never really produced at Memphis, even against the lower talent level of the teams that Memphis played, and that worries some people.
Given the right system, Poe could be dominant.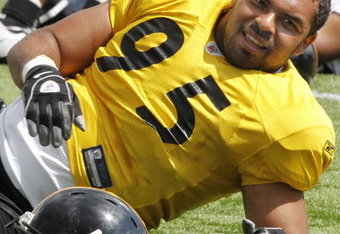 Other experts have the Steelers taking Hightower's Alabama teammate, Dre Kirkpatrick, and solidifying their starting cornerback positions with veteran Ike Taylor on one side and Kirkpatrick on the other.
Pittsburgh did draft Cortez Allen and Curtis Brown last year, but competition and depth is never a bad thing.
The Steelers need to do well in this draft, but don't be surprised if they go with a pick that no one sees coming.
One that makes us all wonder where it came from.