Roger Goodell Makes Minnesota Vikings an Offer They Can't Refuse
April 20, 2012

Jamie Squire/Getty Images
Roger Goddell is flying to Minnesota with mad Michael Corleone eyes.
The NFL Commissioner is going to make the Governor and the state of Minnesota an offer they can't refuse.
Lacking a pet horse, the governor might wake up to find the Minnesota state bird, the common loon, sleeping with him sans its fowl head.
Goodell warned the state of Minnesota of "serious consequences" if the state did not approve funds for a new stadium for the Vikings.  
Can the Commissioner take a state's first-round draft picks? Can he suspend the Governor for next season? 
The Commissioner's tone was Corleone serious. To send a warning that the NFL's minions might be rounding up famous Minnesotans at this very moment.
Is a tequila drunk Jesse Venture having his hands pinned like Luca Brasi to a creaking Catina table in Mexico by a solemn Gene Washington?
Are grim men in long, NFL-approved overcoats following an unsuspecting Madden cruiser down a side street in Oakland? 
Are Bob Dylan and Prince being locked in a dark, dank dungeon beneath NFL headquarters beside a trapped, mumbling Garrison Keillor?
How much power does the NFL Commissioner really wield?
The NFL has more power and treasury then a lot of Third World countries, it likely could cause a coup in Belize, but can it intimidate states within the Union? 
It is not the Bonfire of the Vanities world of a decade or so ago, when cash-filled cities could toss hundreds of millions of dollars around for new sports palaces as political favors for preferred friends.   
Many of the masters of the universe, and most American cities, teeter on the brink of vast financial nightmares, and the impending pension assault of retiring baby boomer employees lurks like a rogue asteroid laughing above them. 
Roger Goodell can crow and cajole, but how many American towns have the big-time dime, and the political clout, to drop giant cash on an entertainment act that plays eight times a year?
Los Angeles seems the best, or perhaps the only, option with NFL stadium plans, despite California's dire financial straits. After all, the City of Angels just had some folks drop a billion for the old Brooklyn Dodgers. 
At that price, Texas could swap the Houston Texans for Greece, Ireland or Iceland.  
But the Vikings' dreams of following the purple brick road to La Land like their brethren, the Lakers, did long ago seem a long shot.
The San Diego Chargers want that new stadium in their old LA home. The gypsy-like Oakland Raiders have rumbled about moving back to LA too. One would think California would want to keep their cash in state.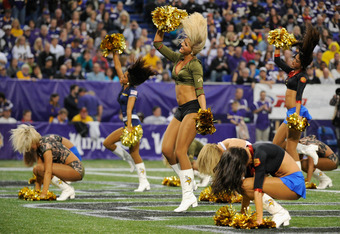 Hannah Foslien/Getty Images
And Hollywood already made the Vikings. The fine film has Kirk Douglas as one-eyed Einar and Ernest Borgnine laughing death by a ravished wolf pit. It's doubtful, with their quarterback situation, that the Los Angeles Vikings could top it for excitement.
The Jacksonville Jaguars, the most boring team in sports, seem like they want out of their college football hot spot. Some whisper the old Los Angeles Rams, now relaxing in St Louis, dream of going back west.
Will we have LA Rams the sequel? Who knows. Hollywood loves remakes.
And then there's the Buffalo Bills with Toronto on their brain. 
A lot of teams have movement on their minds but, besides Tinseltown dreams, what other place has the cash to carry a team?  
Does the NFL like the sound of the London Vikings or the Mexico City Jaguars, because not a lot of faded American cities have a few billion laying about.
What about the Rio De Janeiro Jaguars? 
Did Roger Goodell, and the Vikings, overplay their hand with a veiled threat of serious consequences?
What if Minnesota, and other states, say: "Sir, show me the serious consequences?" What if citizens, senators and governors do not liked to be warned of serious consequences from sports teams and organizations?
What if they tell the Vikings to jump in their dragon ships and sail?
Will they wander like vagabonds, like barnstorming NFL teams of yore, and play a few season on the road and hope for a wondrous economic windfall on some happy horizon?  
The law of unintended consequences can cause the Commissioner a lot of issues. And so can some angry anti-trust-eyed politicians. 
The NFL is an empire and, often, empires overreach.
The James Younger Gang, deeming themselves invincible, once rode into Northfield, Minnesota with dreams of routing and robbing Minnesotans.
The prideful rebel robbers ended shot full of holes, shattered and scrambling for a safe place to scramble.
Woody Guthrie once sang that some rob with a six gun, and some with a fountain pen. Roger Goodell comes seeking cash in a kinder, gentler way then Frank and Jesse James did, but they both wished to empty a bank in Minnesota. 
Say what you want about the darkness of the James Gang, but they never dreamed a robbery as brazen and insidious as personal seal licenses and full-priced exhibition games.
Will Roger Goodell fare better in Minnesota than the James and Younger brothers did, or has the NFL hit its high water mark?