Manchester United: Time for Wholesale Changes at Old Trafford, Part 1
April 20, 2012
Jamie McDonald/Getty Images
We are on the verge of massive change at Old Trafford.
For a few years now, the supporters have been agitating for change and new signings, particularly in midfield.
During the same period, the media have been increasingly expecting United to come unstuck. Some have described this United team as one of the worst ever.
Meanwhile, Sir Alex has rightly eschewed any new signings in January. Even if he was tempted, he must surely have looked at the folly of hasty decisions in the case of Torres and Carroll.
In these three articles I shall be examining three aspects of the fundamental change that Sir Alex is in the middle of, which I expect to reach their culmination this summer, starting the instant the season is finished.
The first of these is to do with the players who will be leaving Old Trafford.
Here, he has a strong hand, because many of them will have value elsewhere, largely because of their inherent value, the exposure they have had or the length of their remaining contracts.
In this latter respect, he is a wily old fox. He knows it is hard to get good squad players for reasonable money when you are mid-table, struggling to survive or newly promoted.
Take Southampton and Reading for example. The former have been excellently managed by Nigel Adkins and keep producing top talent, such as Alex Oxlade-Chamberlain and Theo Walcott. But in the Premier League, you need a mix of experience and youth; and you need a bigger and more robust squad.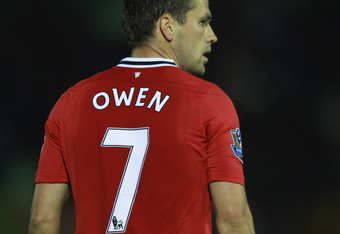 Ian Walton/Getty Images
Meanwhile, abroad, apart from the same considerations, there is a growing number of clubs like Malaga, newly enriched by wealthy owners, who also need to build a big enough squad of quality players.
Sir Alex also gets good fees because his players have experience in the Premier League, there are videos available and they have had the right exposure. Good examples would include John O'Shea, Wes Brown and Darron Gibson.
Departures from Old Trafford
There are two types of departure to consider: sales and loans. Let's start with those who would command a fee.
We already know that Dimitar Berbatov will leave. He still has at least three to four years in him at the top, if you look at Ruud van Nistelrooy, for example, or some of the Italian strikers. I shall personally be very disappointed to see him leave, as he is one of the classiest and most stylish players ever to ghost across the Old Trafford turf.
The game is as fast as it has ever been, however, and although Berbatov has deceptive speed, he looks languid. He is a great target man—especially on the deck and hardly ever gives the ball away. He is also an asset in defence, especially for corners and set-pieces. Amusingly, he thinks he could play sweeper.
Whatever, he could command a fee of as much as £12 million, or be a very tempting bait in a player exchange. I would be happy to see him part-exchanged for Fernando Llorente, for example. Also, he would make a tempting makeweight in a deal for Wesley Sneijder. Dimitar would flourish in Spain or Italy.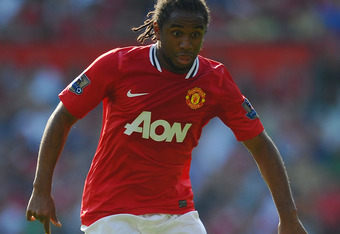 Laurence Griffiths/Getty Images
Another striker on his way will be Michael Owen, unless he accepts an offer of a 'pay as you play' deal, at say £80,000 a match. Mind you, there are managers who would take a risk on buying him for a modest fee, such as David Moyes and Harry Redknapp (if he's still at Spurs), who have both gambled on the injury-prone Louis Saha.
And yet a third striker on his way will be Federico Macheda. While he has had some bad luck—especially with injuries—he has never fulfilled the potential we saw three years ago as a raw 17-year-old. Will Keane will make a more than adequate replacement. He scored four this week against Newcastle.
Also to be sold or exchanged, I expect to see Anderson go; probably to Brazil, or possibly Spain or Portugal. Irrespective of his injuries, he has been a terrible waste of money. There's something wrong with him. Someone will give United £6 million or more of value.
United had at least one approach for Patrice Evra last summer and while there will again be interest, I believe Sir Alex will persuade him to stay for at least one more season, as part of the experienced backbone of the squad, as new players come in and younger ones mature.
Fabio has gone on loan and he'll be back; Zeki Fryers will get many more chances next season.
Nemanja Vidic may be club captain, but he has had a bad injury and will not be fit until July at the earliest, Ferguson is canny. There was interest from Italy last summer and a host of German or Spanish clubs would be interested. I expect the manager to let his captain go to warmer climes, where he could fetch as much as £10 million in cash or part-exchange.
Rio Ferdinand is definitely wanted by a host of clubs on three different continents, but I believe he will stay and eventually join the United coaching staff. He has a fantastic rapport with the younger players and may have been a material factor in Pogba staying.
Scott Heavey/Getty Images
Ryan Giggs and Paul Scholes will be given a one-year contract renewal for as long as they want—but on the Boss's terms. That means next season, they will clearly understand they are squad players. Indeed, both may feature strongly in next season's European campaign, as well as bolstering the Cup sides. If Owen chooses to stay he will also.
I believe  Park Ji-Sung will be invited to find a club of his choice if the fee is right and he may return to Korea. Sadly, I would not be surprised to see Darren Fletcher retire, because of his chronic bowel condition.
As to loanees, Fabio is already known to be going; Pogba will probably be retained if he does, as expected, sign a new contract. Michael Keane, Larnell Cole, Michele Fornasier and Marnick Vermijl are all players for the future and they may well continue their personal development in the championship or even such as Reading.
Brian McDermott sought Sir Alex's advice when he took over at Reading. His reward may well be to have the pick of United's talented youngsters who are farmed out on loan.
Other players I expect to be sold include Tomas Kuszczak, Ritchie de Laet, Oliver Norwood, Scott Wootton, Josh King, Liam Brady and Bebe, some of whom may only merit a modest fee. I'm not ruling out a departure for Ben Amos, who was on the verge of leaving a year ago, due to lack of first-team opportunities. If he goes this time, Sam Johnstone will make an adequate replacement as third-choice keeper.
So, all in all, as many as 15 players may depart from this year's first team squad as listed on the Manchester United official website. 
In the remaining two articles, we shall first consider the ramifications for the squad—especially in terms of the flexibility this gives Sir Alex in terms of numbers he can bring in, both internally and externally; together with the effect on the total transfer funds he may have available.
Then in the final article, we shall project which players he could sign, including where the needs are, to form the basis of a long-term new dynasty and to set out to win a possible 21st Premier League title.