TNA Impact Wrestling: RVD vs. Jeff Hardy vs. Mr. Anderson Results April 19, 2012
April 21, 2012

This week's TNA Impact opened with a video recap of Bobby Roode and James Storm's match at Lockdown. After the video, Bobby Roode made his way out to the ring.
After limping his way into the ring, Bobby Roode began to talk about the match at Lockdown. Sporting a new haircut, he said that even though his look is different he is still the same. The whole time Bobby Roode was talking, you could hear the crowd chanting "You suck" and "Shut the hell up." Bobby Roode went on to say that he beat James Storm, Sting, Jeff Hardy and AJ Styles and as far as he was concerned, he beat everyone's heroes. Before he could say anything else, Mr. Anderson's music played and he made his way down to the ring.
Mr. Anderson said "Not a soul left to beat huh? Please shut up." Mr. Anderson went on to say that he was going to beat Bobby Roode's ass, bloody his face, take his title and that he most certainly won't need a beer bottle to do it. Bobby went on to say that there is a long list of guys in the back who wanted a title shot and Mr. Anderson needed to get a number and head to the back of the line. Jeff Hardy's music played and he made his way to the ring.
Jeff Hardy told Bobby Roode that the only reason he was still the World Heavyweight Champion is because of Kurt Angle and Angle was out of the picture. Mr. Anderson said that he was out there first so Jeff Hardy needed to get a number and get in line. Anderson went on to say that he loves Jeff like a brother but he didn't want to do to him like he was going to do to Bobby Roode. Mr. Anderson and Jeff Hardy started arguing which led to two referees coming out and breaking them up.
Hulk Hogan appeared on the big screen and told everyone to stop. He told Bobby Roode to check the schedule because he wanted all of the champions in the ring later. Hulk then turned his attention to Mr. Anderson and Jeff Hardy. Hulk told them they would be in a number one contenders' match to determine who will face Bobby Roode at SACRIFICE for the World Heavyweight Championship. The match would be the main event of the evening.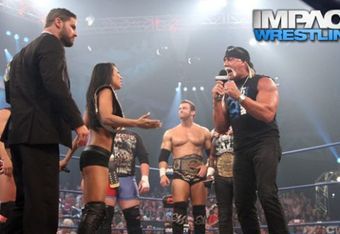 Match 1: Crimson & Bully Ray vs. Austin Aries & Matt Morgan
Before the bell could finish ringing, Matt Morgan went after Crimson and Austin Aries went after Bully Ray. Matt Morgan dominated the match. Matt Morgan and Crimson traded punches. Matt Morgan gave Crimson a clothesline followed by a kick to the mid-section and a knee to the chin. Matt Morgan connected a wind-up slam to Crimson. Crimson and Bully Ray then worked on the right leg of Matt Morgan. Crimson hit a suplex to Matt Morgan and dragged him to the corner and tagged Bully Ray in. Bully Ray continued to work on Matt Morgan's leg.
Matt Morgan tried to make a tag to Austin Aries but Bully Ray delivered a punch to the back of Morgan's head. Bully Ray continued the assault on the now-injured leg of Matt Morgan. Bully made the tag to Crimson who continued the assault of Morgan's leg. Crimson applied a leg bar but Matt Morgan grabbed the bottom rope forcing Crimson to release the hold. Crimson tagged in Bully Ray who continued the leg assault.
Tags went back and forth between Crimson and Bully Ray who continued working on the injured leg of Matt Morgan. Crimson sat on Matt's chest and delivered a series of punches to Morgan's head. Morgan managed to get to his feet long enough to deliver a clothesline to Crimson. Morgan finally tagged in Austin Aries as Crimson tagged in Bully Ray.
Aries dodged Bully Ray and knocked Crimson off the apron. Aries got Bully Ray into the corner and delivered a series of punches and kicks. Crimson tried to save Bully Ray, but Aries gave Crimson a series of kicks. Aries jumped off Crimson's back and Bully Ray caught him. Aries gave a series of punches to Bully Ray's head. Aries hit Crimson in the head.
Crimson went for a spear on Aries, but Aries moved. Crimson hit Bully Ray with the spear instead. Matt Morgan clotheslined Crimson out of the ring. Aries gave Crimson a suicide dive through the ropes which knocked Crimson into the steel barricade. Aries gave Bully Ray a drop kick in the corner. Aries went for the brain buster but Bully Ray countered and rolled Aries for the win.
Team Garrett Bischoff made their way to the ring as a video recap played of their match at Lockdown with Team Eric Bischoff. Garrett said that the match at Lockdown was definitely the biggest night of his life. Garrett congratulated his team and told them that with their help they got rid of his dad once and for all. AJ Styles got the mic and told Garrett he has balls for taking a beating, getting back up and for putting a guitar over Eric's head. Ric Flair's music played.
Ric Flair told the crowd to stop talking while he was talking. He told Garrett that he is so nervous he was stumbling all over himself and that the only reason his team was standing in the ring is because of Eric. Ric Flair said that next week he is having a party for Eric on TNA Impact. Ric told Garrett and his team that they needed to find something else to do because they are not invited.
Match 2: Kurt Angle vs. AJ Styles
AJ Styles went for an arm bar but Kurt Angle gave AJ a few elbows. AJ slung Kurt across the ring and into a corner. AJ charged at Kurt but he got his leg up. AJ went for a punch, Kurt moved and tried to do a German Suplex but AJ broke the grip. AJ went for the German Suplex but Kurt broke free.
AJ had the offense giving Kurt a series of clotheslines and a spin kick. Kurt Angle threw AJ Styles into the corner. Kurt Angle then charged at AJ, but AJ got both legs up and and jumped over the top rope to the apron. AJ then jumped off the top rope and gave Angle a springboard flying forearm to the head. AJ kicked Angle in the mid-section and tried to do a move but Angle countered. Angle tried the Angle Slam Hip but AJ countered with an arm drag. AJ connected a clothesline on Angle. Kazarian and Christopher Daniels distracted AJ Styles long enough for Kurt Angle to roll AJ for a pin. Kurt Angle won the match.
All of the TNA Impact champions made their way down to the ring to hear Hulk Hogan's big announcement. Before Hulk came out to the ring, we see him talking to RVD and he decided to make the match between Anderson and Hardy a triple threat match with RVD.
Hulk Hogan came out to the ring. Hulk said that change is in the air. Hulk said that starting next week there will be a special TNA Impact episode once a month called Open Fight Night. Once a month someone outside the TNA roster will get their chance to come to the show and wrestle. If Hulk and his panel of judges like what they see, the person will get a TNA Impact contract. On Open Fight Night, if any wrestler on the roster gets challanged, they have to come out to the ring and fight.
Hulk got interrupted by Bobby Roode who told Hulk that this was his show and Hulk needed to shut up. Roode then said that he is the World Heavyweight Champion and nobody tells him what to do or when to do it. Hulk interrupted and said that he called the champions to the ring for a reason. On Open Fight Night all the champions need to be ready to defend their titles. If they get called out, they need to be ready to fight. Gail Kim interrupted and asked who gets to decide when they defend their titles on Open Fight Night and Hulk said that he decides.
Devon interrupted and said he agreed with the Hulk. Hulk told him that for as long as he could remember, the T.V title was defended every week and starting tonight and Devon has to defend the title every week.
Match 3: Gail Kim, Madison Rayne, Rosita & Sarita vs. Tara, Brooke Tessmacher, Mickie James & Velvet Sky
Sarita and Velvet Sky started the match. After a few minutes Rosita was tagged in and she tagged in Gail Kim. Gail completely dominated Velvet Sky. Both women traded some kicks. Velvet got the offense. As Velvet was about to make a move, Gail Kim tagged in Madison Rayne. Velvet had control over Madison and tagged in Mickie James. Mickie and Velvet double-teamed Madison and then Velvet got out of the ring.
Mickie James ran over and knocked Gail, Rosita and Sarita off the apron. Mickie James picked Madison up and gave her a face plant. Mickie James climbed to the top rope but Sarita cut her off. Madison ran over and covered for a two-count. Madison drug Mickie over and Rosita tagged in. Rosita took control over Mickie and covered for a two-count. Mickie James tagged in Tara.
Tara gave Sarita a few punches and a Suplex. Tara tagged in Brooke and double-teamed Sarita. Sarita went for the tilt-a-world but it was turned around by Brooke. Gail Kim tagged in. Brooke gave Gail a few punches to the face. Brooke then connected with a clothesline to Gail. After Brooke got Gail to the canvas and went for a pin, all of the knockouts began fighting. Brooke somehow rolled Gail for a pin and won the match.
Match 4: Gunner vs. Devon
Before the bell, Gunner hit Devon in the back of the head. After the bell, Gunner continued hitting Devon and drag his face down the top rope. Gunner then hit Devon with an elbow to the back of the head. Gunner got Devon in the corner and continued his assault. Devon got the offense and gave Gunner a series of punches. Gunner hit Devon with a clothesline and covered for a two-count. Gunner gave Devon a series of punches and stomped on his chest. Gunner covered for another two-count.
Devon made a comeback with a series of punches to Gunner's head. Gunner had another clothesline and covered for a two-count. Gunner jumped onto the bottom rope and dropped his foot on Devon's chest. Gunner then delivered a knee drop from the bottom rope. Gunner then covered for another two-count. Gunner slung Devon into the ropes and Devon quickly hit Gunner with a spear. Devon delivered a few punches to Gunner's stomach. Devon gave a few clotheslines. Devon delivered a few shoulder blocks off the ropes. Devon then gave Gunner a Spine Buster and covered for the win.
James Storm made his way down to the ring. James Storm apologized to everyone because he felt that he let everyone down at Lockdown. James said that his ego and emotions got the best of him. James also said that he wasn't fighting because of what Bobby did but because he wanted to hurt him. James said that when he got home and put his daughter to bed, she asked him "Where's the World Heavyweight Championship and can I look at it?" James went on to say that Bobby may have won the match but he did not beat James Storm. James said that he beat himself at Lockdown. James also said that maybe Bobby was right and he is out of luck and dropped the microphone and exited the ring.
Match 6: RVD vs. Jeff Hardy vs. Mr. Anderson
Mr. Anderson went after Jeff Hardy, Hardy moved and Mr. Anderson hit RVD. Anderson hit Hardy in the head. Hardy crawled to the corner and Anderson gave him a few kicks and punches. RVD then hits Anderson with a clothesline. RVD then hit Jeff Hardy with the clothesline. RVD with a kick to Anderson's head. Hardy went after RVD, but RVD countered with a kick.
Mr. Anderson tried to kick RVD and RVD countered with a kick to Anderson's head. RVD hit Jeff Hardy with a monkey flip, climbed the ropes, jumped off and hit Anderson with a boot to the head. Hardy then knocked RVD off his feet, rolled and covered for a two-count. Hardy hit a front Suplex and covered but Anderson broke it up. Anderson threw Hardy shoulder first into the steel ring post. Anderson then covered RVD for a one-count.
Anderson put RVD into a rear chin lock. RVD broke free. RVD went for a move but Anderson kicked him and then went for a DDT. Anderson covered and Hardy broke it up. Hardy did a move off the top rope and hit Anderson feet first in the head. Anderson gave Hardy a swinging neck breaker and RVD took Anderson down. RVD hit Hardy with the rolling thunder. Hardy hit Anderson with the Twist of Fate. Hardy climbed the ropes and hit Anderson with a Swanton. RVD knocked Hardy off his feet. RVD climbed the ropes and hit Anderson with a five star splash. Hardy was set up for the Twist of Fate on RVD, RVD countered with a backslide on Jeff Hardy for the win.
What are your thoughts on the Open Fight Night?