SEC Football 2012: Which Six Teams Will Be in the Top Tier?
April 21, 2012

Al Messerschmidt/Getty Images
We now have every starry-eyed enthusiast in the nation making predictions for the coming college football season. Most are not based on knowledge of the teams, but hype generated for ratings at outlets like ESPN. These are almost never right or we would have watched Oklahoma or Oregon contend for the BCS Championship in 2011.
| | |
| --- | --- |
| 2011 Preseason AP Rankings | Final BCS Rankings 2011 |
| 1. Oklahoma | Ranked 14  |
| 2. Alabama | Ranked 2 |
| 3. Oregon | Ranked 5 |
| 4. LSU | Ranked 1 |
| 5. Boise State | Ranked 7 |
| 6. Florida State | Not Ranked |
| 7. Stanford | Ranked 4 |
| 8. Texas A&M | Not Ranked |
| 9. Oklahoma State | Ranked 3 |
| 10. Nebraska | Ranked 20 |
| 11. Wisconsin | Ranked 10 |
| 12. South Carolina | Ranked 9 |
| 13. Virginia Tech | Ranked 11 |
| 14. TCU | Ranked 18 |
| 15. Arkansas | Ranked 6 |
| 16. Notre Dame | Not Ranked |
| 17. Michigan State | Ranked 17 |
| 18. Ohio State | Not Ranked |
| 19. Georgia | Ranked 16 |
| 20. Mississippi State | Not Ranked |
| 21. Missouri | Not Ranked |
| 22. Florida | Not Ranked |
| 23. Auburn | Ranked 25 |
| 24. West Virginia | Ranked 23 |
| 25. Southern California | (Unranked due to NCAA Sanctions) |
A whopping 20 percent of the AP preseason top 10 ended the season unranked. A dubious 40 percent ended the regular season outside the top 10. An atrocious 35 percent of the original AP preseason top 25 ended the regular season unranked in the BCS.
Preseason hype looks to have played a major role in the inaccuracies of these Associated Press voters. Teams like Notre Dame, Florida State and Oklahoma have always received more than their share of preseason hype and are thus usually overrated.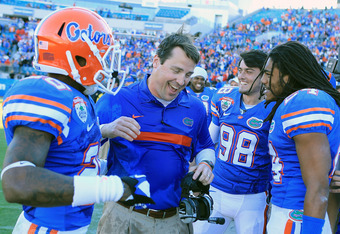 Scott Halleran/Getty Images
Other teams like Florida and Mississippi State were driven into the preseason hype by entertainment outlets like ESPN. A close look reveals little logical reasoning behind the preseason hype behind these teams.
Fans can expect a similar result from preseason polls in 2012. This is not a new trend, but one that has been apparent for decades in college football. It is also the reason the original BCS concept was brought to life. The goal of the original BCS was to devise a system that delivered more accurate results than the human polls.
While the BCS is embattled, there is little question it has evolved into a substantially better system than the polls ever were. In the case of preseason polls, it is a case of reader beware.
With this in mind, there is simply no logical way to predict what teams will land where in the preseason polls. The polls will more than likely not be accurate to a degree better than a grade of D as is illustrated above. An analyst can simply use logic to deduce where a team should be if these polls were actually accurate.
The SEC finished the 2011 regular season with six teams ranked in the BCS. Historically, the SEC has six teams ranked in the top 25 in winning percentage all time. One can deduce that the SEC will end 2012 with close to six teams ranked in the top 25 again. With conference expansion, this could increase, but it is unlikely to be much fewer than six.
With the addition of Texas A&M and Missouri, the SEC added teams that are capable of making a top 25 run in a given season. It is unlikely that will occur in 2012 for either team.
Alabama, LSU, Arkansas, South Carolina, Georgia and Auburn are the six teams that finished the regular season in the BCS top 25 in 2011. For another team to move into one of these top six slots, one of these would have to take a step back in 2012.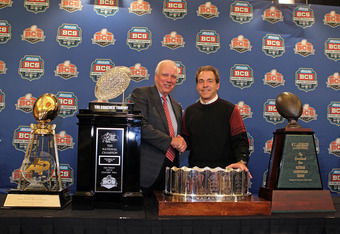 Andy Lyons/Getty Images
Teams like Tennessee and Florida would like to climb back into their traditional position in the top tier of the SEC. Teams like Arkansas and South Carolina would like to hold onto their newly found position.
Team Analysis
Alabama:
The Crimson Tide ended the year with a surprise revenge upset of LSU in the BCS title game. They lost a ton of talent and leadership. Early spring indicators point to them taking a clear step back in 2012, but not a step large enough to find them outside the top tier of the SEC in 2012.
Alabama is likely to end the season in their traditional place among the six top-tier teams in the conference. Fans can expect another solid year from this Alabama team.
LSU:
LSU ended the year with a bitter loss to Alabama. The Tigers were outplayed and out-coached in their biggest game of the decade. This was a blow to a team that also lost a ton of talent and leadership. The LSU offense did not look improved in the spring, but its trademark defense looked to have potential.
LSU looks to be taking a step back, but it should not be a big enough step to see them fall outside the top tier of the SEC in 2012. Fans can expect another solid defensive year from this LSU team.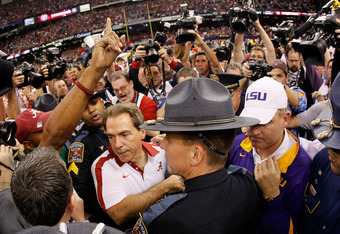 Kevin C. Cox/Getty Images
Arkansas:
Ending the season with an impressive domination of a decent Kansas State team, things appeared to be coming together for this Arkansas team. That was before their head coach literally blew up the offseason and threw the future into disarray.
It will be very difficult for Arkansas to hold on to the position they had carved out in the top tier of the SEC in 2011. Seldom do first-year head coaches do well in the SEC.
South Carolina:
This is a team that had a very impressive spring. The Gamecocks have momentum moving into the 2012 season and are looking to move up in the SEC. Indications are that South Carolina could do exactly that in 2012. With a solid defense and hard-nosed offense, they will be a favorite in the East this season.
Georgia:
Georgia was a solid, but not exceptional team in 2011. The Bulldogs did not have the team depth to compete with elite teams in the SEC and nationally. They ended the season by giving away a game in their bowl appearance. Nothing since then has indicated that the problems that kept them from being more successful in 2011 have done anything but get magnified for 2012.
Georgia was a team on the cusp in 2011 and could give up their spot in the SEC top tier in 2012. Fans can expect the offensive line and defensive backfield to become major issues against tougher competition.
Auburn:
After winning a BCS Championship in 2010, this team fell into disarray in 2011. Overwhelming talent kept them in the win column against all but the top 16 teams in the nation in the regular season. This team picked up momentum through discipline during the bowl season. They appeared to come back together as a team instead of play as individuals to end the season.
Auburn has no obvious problems in talent or depth moving ahead for 2012. They lost very little talent or leadership after last season. It is very unlikely this team will take a step back in 2012. Fans can expect this team to hold onto their top tier position in the SEC for 2012.
Contenders
Florida:
Florida was a team with a completely new scheme and coaching staff in 2011. This team will take a step ahead in 2012. The Gators had a solid spring and it appears their offense is coming to life. This is a team that could contend and take over their traditional spot in the SEC elite in 2012.
Prognostication
Expect Alabama, Arkansas, Auburn, LSU, South Carolina and Florida to end the 2012 season as the top tier teams in the SEC.