Let Them Pitch: Strasburg Looks Like Cy Young as Nats Win Despite Blown Save
April 21, 2012

Patrick McDermott/Getty Images
The absence of Drew Storen at the end of ballgames is beginning to weigh on the Washington Nationals.
Trying to avoid using flamethrower Henry Rodriguez in consecutive days is also beginning to cost the Nats as Brad Lidge blew a 2-0 lead and a victory for Stephen Strasburg on Saturday.
There are not many words to describe Strasburg this season besides pure dominance. Every game that he has pitched has been nothing short of brilliant. 
Strasburg continued his incredible start to 2012 against the Miami Marlins on Saturday afternoon. He threw six innings of scoreless ball while only allowing four hits and striking out six.
Although Strasburg did not get a win, the Nationals still did.
The Nats picked up Lidge in the 10th inning when Wilson Ramos singled to begin the inning. Adam LaRoche followed with a ground ball to first base that Gaby Sanchez threw to second in order to get the lead runner. The ball deflected off of Jose Reyes' glove however and Ramos scampered to third.
Ian Desmond ended the game with a deep fly ball to center field resulting in a sacrifice fly to send the Nationals home with a 3-2 win and improve to 12-4 on the season.
Leaving games in the hands of the bullpen might not be the ideal situation when Strasburg takes the mound and the Nats are going to have to rethink their innings limit for Strasburg.
An ace like Strasburg has to be allowed to pitch deeper into games in order to give his team every chance to win. Fellow aces Justin Verlander and Felix Hernandez seem to throw over 120 pitches in many of their outings. Strasburg however does not get that opportunity.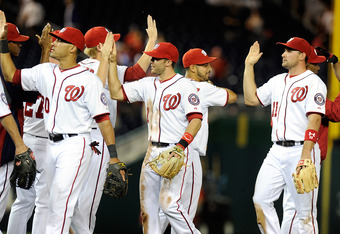 Greg Fiume/Getty Images
The Nats are going to be in the playoff hunt this year, but if Strasburg is limited then what kind of message does that send to fans? That their team will play hard until the end of the summer and then shut down one of the best pitchers in the game?
That does not seem logical.
Washington needs to let their young pitchers off their leashes and allow them to develop naturally.
Whether is means allowing Rodriguez to pitch on back to back days or allowing Strasburg to pitch deeper into games, something has to be done for them to be legitimate contenders in the National League.
For now the Nats are winning ballgames despite the limitations that are on their young arms. The longer they continue the win however, the more their fans will be calling for the limitations to be eliminated.
Washington will go for the sweep on Sunday afternoon when they send Gio Gonzalez to the mound to take on Josh Johnson.