2012 NFL Draft Rankings: Top 10 Wide Receivers
April 23, 2012

Al Messerschmidt/Getty Images
As I pointed out recently, the ever-rising importance of the passing game in the NFL has degraded the value of running backs, and that's easy to see in recent drafts. Of course, someone has to benefit from this movement, and in my opinion, it's wide receivers and cornerbacks.
Since it's a below-average year for cornerbacks, the wideouts will really be pushed up draft boards. This year's crop may be the deepest I've ever seen. There's a good chance we'll see five go in the first round, and up to 15 between Thursday and Friday.
It's no surprise that Justin Blackmon and Michael Floyd are the top two rated receivers in this class, but I believe the true value will be with the receivers that follow. Don't get me wrong, I like Blackmon and Floyd, but I think there will be better value players in the top 15 than those two. Blackmon reminds me a lot of Anquan Boldin, and while he's been more than an effective wideout for Arizona and Baltimore, I wouldn't take Boldin in the top 10.
I like LSU's Reuben Randle as my third receiver because I think he's the best combination of size and speed in this draft. The reason I have him ranked third is that he lacks the consistency that the top two have displayed their entire college careers, not only in the statistical categories, but with focus and effort as well.
Here are my rankings for the top 10 wideouts in the 2012 NFL draft class:
1. Justin Blackmon, Oklahoma St.
2. Michael Floyd, Notre Dame
3. Reuben Randle, LSU
4. Stephen Hill, Georgia Tech
5. Kendall Wright, Baylor
6. Mohamed Sanu, Rutgers
7. Chris Givens, Wake Forest
8. Alshon Jeffery, South Carolina
9. Juron Criner, Arizona
10. Alfred "A.J." Jenkins, Illinois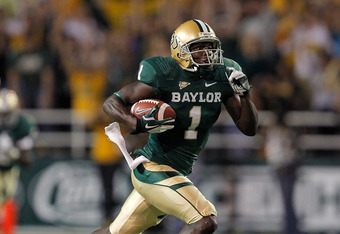 Sarah Glenn/Getty Images
I know that most people are not used to seeing Kendall Wright in the fifth position, but I have my reasons.
First, with his size and questionable speed, I'm not sure he can play anything but the slot position to be truly successful in the league. And, if I'm spending a first-round pick on a WR, I want to make sure he can win in one-on-one matchups against a team's best corner. I shouldn't have to design special plays to get him in favorable spots.
Second, when word came out that Wright was 16 percent body fat at the NFL Scouting Combine, it told me that the former Baylor Bear might not be dedicated in his conditioning.
Another receiver that is getting a lot of attention right now is Brian Quick from Appalachian State, with many even talking about him going in Round 1. Personally, in the few games I saw of his, I didn't see him dominating FCS competition. In addition, like most tall wideouts, he looks to be really tight without much hip or ankle flexion. That, along with his being a very raw prospect, makes me think Quick is a project.
On the flip side, Ryan Broyles was considered a second-round pick until his knee injury kept him out of the latter part of his senior season, the All-Star games, and the combine. Now, even after his knee checking out in Indianapolis last week on the medical re-check, they're talking about him falling into the fourth round.
There are few receivers in this draft that can match Broyles' production while at Oklahoma. Getting him in the third or fourth round as a slot receiver would be a really nice bargain.
Lastly, Florida International's Eugene "T.Y." Hilton is really gaining steam as the draft approaches. The primary reason is the 4.32 40 that he ran at his pro day. And, unlike many, he actually plays to that speed. Furthermore, when you consider his production both on offense and as a returner, and his raw athletic ability, one team is going to get great value in the fourth or fifth round.