NHL 2012 Playoffs: The End for This Version of the San Jose Sharks ?
April 24, 2012

Thearon W. Henderson/Getty Images
Coming out of the season-long 2004/05 lockout, a very competitive San Jose Sharks team made a blockbuster trade for Boston Bruin star Joe Thornton. They gave up Marco Sturm, Wayne Primeau and Brad Stuart for the playmaking Thornton.
At the time just 26 and with one 101-point season already under his belt, Thornton was seen as the player to lead San Jose to a Stanley Cup victory.
Now, six-and-a-half years later, Thornton is the San Jose Sharks' career assist leader. He has racked up an Art Ross and Hart Memorial trophy to his credit (both for the 2005/06 season). His teams have gotten close to the Stanley Cup. The Sharks have won four division titles in the seven years Thornton has played for them. They made it to the Western Conference Finals the last two years in a row. 
San Jose has gone 7-7 in playoff series in his tenure and 38-41 in playoff games.
His contribution to San Jose has been much larger than what Boston got out of five years of Sturm, 103 games of Stuart and 101 of Primeau.
However, the Sharks have not won that Stanley Cup, have not made it to the Stanley Cup Finals.
Now the Sharks seem to be a good aging team, likely to get worse each year without an infusion of new talent.
The Sharks finished seventh this year in the Western Conference. The 96 points was San Jose's worst performance in the regular season since they missed the playoffs back in 2003 with 73 points. Unlike a lot of the other NHL underdogs in the playoffs this year, San Jose played like an underdog, losing quietly to the St. Louis Blues in five games.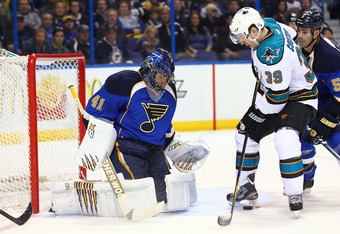 Dilip Vishwanat/Getty Images
It is beginning to look like the opportunity for this iteration of the San Jose Sharks to win a Stanley Cup may be over. The window for Thornton and company to succeed in San Jose may be closed.
The Sharks' lineup is led by Thornton, 32; Patrick Marleau, 32; Doug Murray, 32; and Dan Boyle, 35. They feature a few players who have developed into quality NHLers and are still in their prime, like Joe Pavelski, Brent Burns and Ryan Clowe. Logan Couture has developed quickly into a quality NHL scorer.  
They still have Marc-Eduourd Vlasic, T.J. Galiardi and Jason Demers—good young players who may improve. Beyond that, you really only have the faint hope that Martin Havlat will be able to stay healthy enough to contribute for significant portions of the remaining three years of his contract. The same can likely be said for Michal Handzus and his one year.
A variety of attempts to trade for that one veteran piece that would allow the San Jose Sharks to make it to the Stanley Cup Final has left very little on the farm with which to replace their aging stars. The organization's prospects were ranked last in the NHL by hockeysfuture.com back in November.
The San Jose Sharks find themselves in the unenviable spot of not being good enough to win a Stanley Cup as they are presently constituted, with no help coming from their prospects and little cap room with which to attempt a fix through free agency.
The Calgary Flames found themselves in nearly this identical spot four or five years ago. Their solution was to constantly churn their lineup hoping that somehow it would add up to an improvement.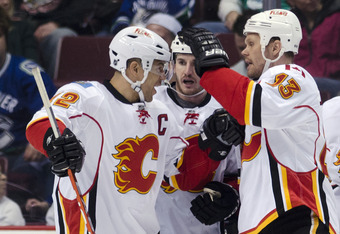 Rich Lam/Getty Images
The result was the Flames have managed to be just good enough to finish seventh, fifth,10th, 10th and ninth in the Western Conference and lose in the first round the two times they made the playoffs. The team has gotten steadily worse over that time and yet has never been bad enough to get a really high draft pick. That fate awaits San Jose if they don't do something quickly.   
There is more bad news for Sharks fans who are ready for a complete rebuild. Unfortunately, their old core of Havlat, Handzus, Marleau and Thornton all have no-move clauses in their contracts. Boyle has a no-trade clause in his. It will be almost impossible for the Sharks to realize any value from or even move these rapidly depreciating assets.
Thornton could possibly be traded for someone else's prospects or picks right now in a free market, but if you aren't even allowed to move him no obvious solution presents itself.  
Thornton, Marleau and Boyle all have two years left on their contracts. Havlat has three. Handzus, one. Will San Jose have to wait that long to even start the rebuild? 
This veteran group could quite possibly drag the Sharks into the bottom tier of the playoffs for the next two years, putting off a renaissance at least that much longer.
The San Jose Sharks had a disappointing early exit from this year's Stanley Cup Playoffs. Things don't look to be getting better any time soon. The big rebuild in San Jose might have to wait for the 2014 offseason. This lineup doesn't seem to be the one that will bring a cup to San Jose.