2012 NFL Draft: Grading the San Francisco 49ers Selection of A.J. Jenkins
April 27, 2012

Jonathan Daniel/Getty Images
When Roger Goodell stated, "with the 30th pick in the 2012 NFL draft, the San Francisco 49ers select A.J. Jenkins," I was very surprised.
Jenkins is a wide receiver out of Illinois who most draft boards had pegged as an early Round 2 selection. This is not to say that Jenkins isn't a worthy pick, because time will tell.
Jenkins was very productive at Illinois, catching 90 passes for 1,276 yards and eight touchdowns, in 2011. For his career, which spanned all four years, Jenkins caught 167 passes for 2,432 yards and 19 touchdowns.
Jenkins stands 6'0 1/4" and weighs in at 188 lbs. His 40 time of 4.37 at the combine most certainly turned some heads. He has very good hands, can get deep and will help in the return game. Jenkins has experience returning kickoffs, which will be a valuable asset for the 49ers.
One other interesting fact is that Jenkins was an Academic All Big-Ten honoree. The 49ers value intelligence with their players, and Jenkins has that trait.
I personally saw Jenkins play in the Kraft Fight Hunger Bowl this past December against UCLA. He was extremely explosive, catching a slant pass and taking it to the house for a key touchdown.   Jenkins had six receptions for a total of 80 yards. UCLA had trouble covering him all day.
Jenkins will also have the luxury of learning from Mario Manningham, Randy Moss and Michael Crabtree, as well as the 49ers' coaching staff. He will not have the intense pressure of needing to come in and be an immediate star.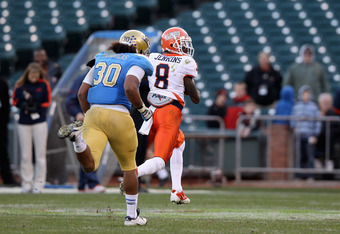 Ezra Shaw/Getty Images
In 2011, I was very critical of 49ers' GM Trent Baalke and his selection of Aldon Smith with the seventh-overall pick. My belief was that they could have traded down a few spots, picked up another pick or two and still selected Smith.
Whether or not that was true is debatable. What cannot be debated is the impact Smith made on the 49ers defense. He bolstered the 49ers pass-rush, collecting 14 sacks on the season.
Head coach Jim Harbaugh has a lot of input into each selection. He knows the type of player he's looking for and whether he believes that player can be coached to greater heights. Harbaugh and his staff are outstanding at coaching up a player to help him improve and fit into the team.
Baalke, along with the 49ers brain trust, made several solid selections in 2011. I have gained a lot of faith and confidence in Baalke and Harbaugh's talent evaluation. The two work well together, and I'm sure they will say that Jenkins is the player they wanted all along.
There were many top quality players available when the 49ers made their choice, so the fact they selected Jenkins means he truly was the man they wanted.
Other highly-regarded receivers, such as Stephen Hill and Rueben Randle, were available. In addition, Stanford tight end Coby Fleener was still on the board.
The 49ers also had the opportunity to select offensive linemen Amini Silatolu, Cordy Glenn, Jonathan Martin or Peter Konz. I thought the Niners would go with Silatolu or Glenn, as the one hole they seem to have is at guard.
The 49ers also could have shored up their depth in the defensive secondary, as cornerback Janoris Jenkins was available. 
Defensive line was another area I felt the 49ers would consider, as Jerel Worthy, Courtney Upshaw and Andre Branch were available. 
Although the selection of Jenkins was a surprise to me, based on the successful track record of Baalke and Harbaugh, I must give them the benefit of the doubt. They obviously went with the player they felt was the best available, as they promised all along.
Draft Grade: A-