TNA Impact: Open Fight Night, Eric Bischoff's Farewell and Results, April 26
April 27, 2012

TNA Impact Wrestling started with a video from last week when Hulk Hogan made the Open Fight Night announcement.
Hulk Hogan was in the back with all the champions. He said that even the champions are going to get called out. Hogan told them that he was still trying to decide who will defend their titles. He addressed all of them separately and had something nice to say about each of them.
He chose Samoa Joe and Magnus and told them to put up or shut up. He told them that he would let them know later on who their opponents would be. Hulk Hogan then welcomed everyone to Open Fight Night.
After the introduction package played, Devon made his way to the ring.
Devon said that he is going to defend his title every week. He said that his opponent is the one person that no one can stand—Bubba. Bully Ray was backstage with the other wrestlers and asked, "Did he just say my name?" Bully Ray said to shut off his music as walked down the ramp.
He said the Devon is stupid. Bully Ray had to be in a ring with Devon for fifteen years and it made him sick. He said that he made and carried Devon. He told Devon to go to hell and walked back up the ramp. Devon attacked him from behind and knocked him back to ringside.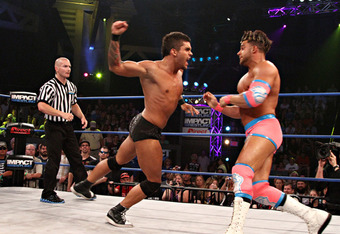 Match 1: Devon vs. Bully Ray (TNA TV Championship)
Devon continued to punch Bully Ray at ringside and used a fan's water bottle to hit him. He threw Bully Ray in the ring and Bully begged him to stop. Bully Ray extended his hand and said he was sorry and they were brothers.
Devon grabbed his hand and clotheslined him. Devon hit a Thesz Press and continued to pound on him. Devon climbed the ropes but was cut off.
Back from the commercial break and Bully Ray took control and had Devon on his back. Bully Ray's face was busted open. Bully Ray hit a body slam and a splash. He covered for a two-count. The crowd started chanting for Devon. Bully Ray went for an Irish Whip but Devon countered with a spear.
Devon and Bully traded some punches. Devon charged in the corner but was stopped with a big boot and a clothesline. Bully covered for a two-count. Bully Ray went for a Bully Bomb but Devon broke out and Bully hit a Diamond Cutter and covered for a two-count. Bully charged from the corner but Devon caught him with a spinebuster and won the match.
Ric Flair was asked about his Eric Bischoff party. He said that he had been partying for sixty-three years and hasn't slept since he was twenty. He put Eric Bischoff over as the greatest promoter in history and made Impact what it is today.
Christopher Daniels and Kazarian approached Kurt Angle in his locker room. They asked him how good it was to see A.J. Styles squirm last week. Kurt said that he doesn't need their help and if they ever get involved with him again they would regret it.
Kurt walked away as Christopher called him an ungrateful a**. Kurt heard him and asked what he just said; Christopher pretended to be on the phone and told the supposed person to watch their mouth.
Jeremy Borash entered the ring and thanked Hulk Hogan for Open Fight Night because it allows for airing grievances. He wanted to call out an employee who has been there awhile, but he said that he himself has been there longer.
He called Eric Bischoff a pr**k. They cut to the back and Velvet Sky looked genuinely surprised. He said that instead of getting liquored-up and ranting on Facebook, he wanted to look Eric in the face and put his fist down his throat.
Eric came out to the ring applauding Jeremy. The crowd started singing "Na Na Na Na goodbye." Eric pulled out his phone to take a picture and Jeremy told him to install a breathalyzer on it. Eric told him to enjoy his fifteen minutes of fame.
Bully Ray came down and hit a low blow on Jeremy from behind. Eric continued the assault. Bully Ray took a picture of Eric standing over Jeremy, and Eric told him that he was going to post it on his Twitter. Eric called for a referee, hooked Jeremy's leg and the referee counted to three.
Eric slapped Jeremy on the back of the head repeatedly. Bully Ray raised Eric's hand in victory and then Eric did a karate pose as Bully Ray continued taking pictures.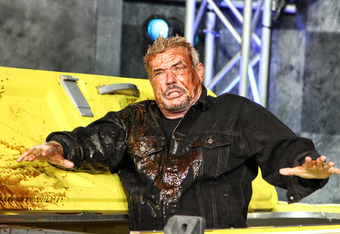 Mexican America was in the ring with Rosita and Sarita. Anarquia complained about not being included in the tag team title picture. He said that nobody could beat them, not even one man. Kurt Angle was shown walking from the back. Kurt got in the ring and Anarquia said that Hernandez would fight him.
Match 2: Kurt Angle vs. Anarquia
Anarquia attacked Kurt from behind and Hernandez left the ring. Anarquia got some moves in but Kurt got the upper hand and hit a German Suplex followed by the Angle Slam, and pulled the straps down. Kurt applied the Angle Lock and forced Anarquia to tap out.
A video of Alex Silva, an independent wrestler, played. He will be in Gut Check for a chance at a TNA Impact contract. Al Snow puts over his talent and passion. Alex is from Ohio Valley Wrestling (OVW) and became their youngest TV Champion in history on his first night.
Al Snow and Alex Silva made their way to the ring. Al Snow said that he is the lead judge for Gut Check. He said that any young talent who wanted a chance to get a contract to log on to impactwrestling.com and sign up. Alex Silva's opponent was Robbie E.
Match 3: Alex Silva vs. Robbie E (with Robbie T)
Al Snow joined commentary. Robbie E slapped Alex who slapped him back and unloaded with some punches and a clothesline. Robbie hit Alex with his own clothesline and choked Alex with his boot in the corner.
Robbie continued his offense. Robbie missed a splash from the top rope and Alex took back over and almost got a pin. Robbie hit a DDT and won the match.
Al Snow encouraged fans to go to Twitter and give their opinions of Alex Silva. Hulk Hogan was at his desk and Taz said that Hulk was deciding who was going to get a shot at the tag titles. Hulk Hogan looked at his phone.
Hulk Hogan welcomed all of the eligible teams into his office. He asked Christopher Daniels and Kazarian why they deserved a title shot. Christopher said that The Motor City Machine Guns lost last week. Out of Eric Young and ODB: one is a man and the other has a bad beard.
He put down Mr. Anderson and Jeff Hardy and said that Kazarian and himself were the only choice. The Machine Guns put themselves over and said that they wanted it more.
Hulk Hogan said that they are right. He said that Jeff Hardy and Mr. Anderson needed to get along. Mr. Anderson said that they could get along, kissed Jeff Hardy on the cheek and told him that he loved him. Hulk said that he is serious.
He asked Eric Young and ODB if they were ready after their honeymoon. Eric said that ODB would be with Hulk for a night if he chose them. Hulk said that he could not afford her. He eliminated The Motor City Machine Guns because of their loss at Lockdown and due to Chris Sabin's injured knee.
Brooke Tessmacher came out to the ring and grabbed a mic. She wanted to prove that her win over Gail Kim wasn't a fluke. She called her out and Gail made her way to the ring.
Match 4: Brooke Tessmacher vs. Gail Kim
Gail Kim did some stretches in the ring as Brooke charged at her but was restrained by Hebner. Gail attacked Brooke from behind with a forearm shot. Gail bulldogged and pinned Brooke before pulling her off the canvas by her hair.
Gail hit an elbow in the corner and did some ground-and-pound. Gail dropped her with a front slam. Brooke fought back with a few clotheslines and a dropkick.
Gail drove Brooke's throat into the rope then choked her with her boot. Gail grabbed the title and shoved it in her face and said that she is not in her league. Gail charged in with a shoulder block and climbed to the top rope. Gail went for a missile dropkick but Brooke moved. Brooke hit a front suplex and won the match.
Christopher Daniels and Kazarian were backstage and said they were confident that Hulk Hogan would choose them. They told A.J. Styles he better be there next week or they will let the cat out of the bag, so to speak.
We saw a video of Hulk Hogan congratulating RVD after his win last week. RVD said that since he has returned, he won't let anything get in the way of the title. Bobby Roode said that he was ready for RVD.
Al Snow was in the locker room with Alex Silva. He said that he would reveal next week whether or not he will get a contract. Bobby Roode interrupted and said that it took him a long time to get a contract. He wished Alex good luck and punched him in the stomach.
Hulk Hogan said that Eric Young made his decision easy. He was looking at something on his phone and said that they are out. He told the remaining teams to go out to the ring.
Samoa Joe and Magnus made their way down to the ring. The remaining teams also made their entrances. Hulk Hogan came out and said that it was wild backstage. He said that as good as Kazarian and Christopher Daniels are, since they are the cohesive unit, he was eliminating them as well.
Match 5: Samoa Joe & Magnus vs. Jeff Hardy & Mr. Anderson (Tag Team Championship)
Samoa Joe and Mr. Anderson started the match. Joe gave Mr. Anderson a series of punches. Mr. Anderson answered with his own tirade. Samoa Joe tagged in Magnus and Mr. Anderson tagged in Jeff Hardy.
Magnus bumped around for Jeff. Jeff and Mr. Anderson had some communication issues as Mr. Anderson yelled at him. Jeff hit the front dropkick on Magnus and he rolled out of the ring. Jeff followed and was clotheslined by Samoa Joe.
Back in the ring, Magnus and Samoa Joe double-teamed Jeff, and Mr. Anderson did not help his partner. Jeff managed to hit Samoa Joe with a Whisper in the Wind. Jeff hit Samoa Joe with the Twist of Fate as Mr. Anderson and Magnus fought outside the ring.
Jeff tackled Magnus from the apron. Mr. Anderson entered the ring and Samoa Joe applied the rear naked choke as Magnus prevented Jeff from breaking it up. Mr. Anderson tapped out.
Christopher Daniels and Kazarian came out and attacked Samoa Joe and Magnus on the ramp.
Christopher Daniels, Kazarian, Bully Ray, Ric Flair and Gunner came down to the ring. Ric said that it is not time to mourn, but to celebrate. He said that no one knows how to do that better than him. He said, "Google me, that's my wife's favorite line."
He put over Eric Bischoff as the crowd loudly interrupted with the "Na Na" chants. Ric said that he doesn't like wrestling fans because they are rude. He then introduced Eric Bischoff.
Eric took a seat on a throne. Ric apologized for the fans. He said that Dixie Carter should be on her knees thanking Eric. There was a large picture of Eric Bischoff in the ring on an easel and Ric Flair asked if there was a woman in the audience that wanted to sleep with it. Ric thanked Eric and said, "God bless."
Gunner said that Eric has been like a father figure to him and thanked him. Ric handed Eric a green box with a Rolex in it. Bully Ray said that Eric was the wind beneath his wings. They hugged.
Garett Bischoff's music played and he came out to the ramp with Jeremy Borash, The Motor City Machine Guns, Austin Aries and RVD. Garett said that Jeremy had a good idea. They wanted to give Eric a farewell gift.
Jeremy said that they wanted to give him something symbolic of who he is; they inducted him into the TNA Shed of Shame. They unveiled an ugly yellow port-a-potty. Eric's boys attacked the "faces" on the ramp. Garett put his father in a headlock and dragged him into the potty.
He chained it up. Jeremy and Garett flipped it over. Everyone could smell it. They unlocked the door and Eric emerged with a brown slime all over him. Eric screamed at Garett and called him a son of a b**ch.
What are your thoughts on the show?