Jerry Jones and His Cowboys Shock the World, Rob St. Louis, Nab Morris Claiborne
April 27, 2012

Al Bello/Getty Images
You can accuse Cowboys owner and general manager Jerry Jones of many things—and I have—but being timid has never been one of them. Especially on the day of the NFL draft.
Last night, the noted oil wildcatter-turned-NFL-general manager was at his root-'n'-tootin', gun-slinging best when he leaped from pick 14 to pick six (yeah, that's a pun, and apropos, because the Rams were robbed).
The guys wearing the star were the biggest bandits on Day 1 of the 2012 NFL draft. To hear son Stephen Jones tell it, he and daddy basically held up the St. Louis Rams and robbed them blind:
"We said, 'Well, what do we need to do to come up?' " Stephen Jones recounted. "And the (Rams) said, 'We may not need as much as we normally would.' "
Stephen said he thought the Rams' pick should have required the Cowboys to yield a second-round and a fourth-round pick along with their 14th pick in the first round. All the Rams required was the 14th and 45th picks overall, the Cowboys' first- and second-rounders.
Just like that, out of the (Cowboys) blue, Claiborne is headed to Dallas. Claiborne never saw it coming. I never saw it coming. None of the talking heads on the NFL Network or ESPN saw it coming.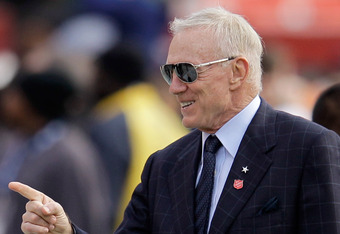 Rob Carr/Getty Images
Neither did you. Right? Nobody did.
Nobody but the wildcatter and his wild bunch of draft-day renegades.
Shock and awe? According to Claiborne, it was.
Claiborne spoke with NFL.com just after he was drafted and expressed amazement that the Cowboys took him, not to mention traded up from No. 14 to No. 6 to do it.

"I was shocked," Claiborne said. "They didn't even talk to me."

It was welcome news. Claiborne said his family is full of Cowboys fans, and he cried when he heard he was drafted by them. Now he's joining a loaded secondary.
Except for the first pick overall, every one of the first seven picks changed hands, either before the draft or during. Thanks to the best component of the new collective bargaining agreement; i.e., the rookie salary cap, the handcuffs are off NFL owners, and drafts are fun again.
Picking in the top 10 is no longer a one-way ticket to a salary-cap jail cell. Consequently, Jerry Jones and his band of draft-day bandits can come out with guns blazing. And that is just what they did.
Welcome to Big D, Mr. Claiborne. In this brave new world of draft-day high jinks and highway robbery, it's good to be a Cowboy. It is good to be a member of the notorious Jones Gang.
Isn't it?