Denver Broncos: The Successor to Peyton Manning Is Brock Osweiler
April 30, 2012

Ethan Miller/Getty Images
There was many questions going into the 2012 NFL Draft for the Denver Broncos, and while there are mixed reviews on how the Broncos performed in the draft, we can all agree they did address needs.
While you can argue that Denver didn't need to draft a quarterback, you can't argue with the potential that the Broncos have with Brock Osweiler.
When you look at the report for Osweiler, the first issue you see is that he only started 15 games in college. Many scouts say that Osweiler is rough, unpolished and hasn't had the proper time to develop into an immediate impact starter in the NFL.
This analysis is accurate. However, Osweiler has been brought into the perfect situation for an under-developed quarterback. He will have the chance to learn from one of the greatest signal-callers to ever take a snap.
Peyton Manning has said that he was on board with the Broncos drafting a quarterback in the draft; in fact, Manning insisted that the organization make sure they have depth at the quarterback position just days after agreeing to sign with Denver.
Manning doesn't want what happened to the Indianapolis Colts this past season to reoccur in Denver. The Colts were exclusively built around Manning, and once he went down, so did the team's season.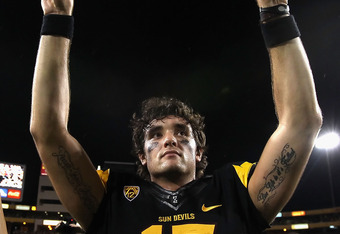 Christian Petersen/Getty Images
This shows that Peyton Manning doesn't mind taking on a "mentor" role to the newly-added quarterback. Of course, he won't be holding Osweiler's hand every step of the way; however, Osweiler can come into training camp not to compete with Manning, but to learn.
One reason young quarterbacks fail in the NFL is because they were drafted into a bad situation, or they were rushed into the pressure of being the face of a franchise.
Is there a better situation for a young quarterback to come into? Brock Osweiler can see how Manning commands and leads an offense on the field. He can see how to carry himself as an NFL starting quarterback, what it takes to win and just how much film study goes into being the best.
John Elway, John Fox and Brian Xanders obviously see Osweiler as the future quarterback for years to come. In a perfect world, Manning has three more years in him, all the time Osweiler needs to develop and accept the torch once Manning decides to retire.
Brock Osweiler was praised by coaches and teammates at Arizona St. for his leadership on and off the field, and he seems to have the right attitude needed to succeed. All he needs is some time to develop, and who knows how far he can take the Broncos in his career.
The plan couldn't be any more perfect, however, just how perfect the plan turns out will be determined within the next few years.