Bryce Harper to Be Called Up by Washington Nationals as Zimmerman Lands on DL
April 27, 2012

Sarah Glenn/Getty Images
The Phenom has arrived.
Bryce Harper's eagerly anticipated debut for the Washington Nationals will happen on Saturday against the Los Angeles Dodgers.
Ryan Zimmerman is on his way to the disabled list, making room for Harper on the roster.
On Sat., the Nationals will place 3B Ryan Zimmerman on the 15-Day DL & recall OF Bryce Harper, who will make his MLB debut at Dodger Stadium

— Nationals PR (@NationalsPR) April 27, 2012
Not only will he be playing this weekend, but he will be given the chance to be the leader of this team while Michael Morse is still recovering and Zimmerman recovers on the disabled list.
Harper was in the minors to improve his center field skills, but will be called on to play left field for now for the Nats.
General Manager Mike Rizzo spoke about Harper's playing time. 
"We didn't bring Bryce up there to sit on the bench. He's going to get everyday reps and get ample at-bats."
The Nationals clearly do not want to lose what they have worked so hard for in the first three weeks of the season. Hopefully the addition of Harper makes Zimmerman's loss a bit easier to overcome.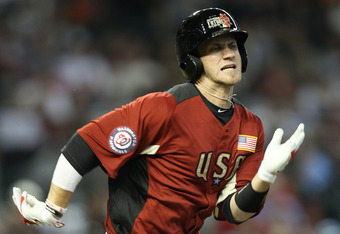 Christian Petersen/Getty Images
Harper has not been too impressive in Triple-A Syracuse, hitting .250 with one homer, and three RBI in 82 plate appearances.
Triple-A is behind him now and he has to make the most out of the opportunity that he is given for the Nats right now. He is going to be looked at as one of the offensive leaders of this team.
Whether he answers the call remains to be seen.