Mike Pelfrey Surgery: Is Mets' Promising Season Already Over?
April 27, 2012

The New York Mets have been one of the surprises of the 2012 season, compiling an 11-8 record going into Friday's play that has them holding third place in the NL East.
The Mets have been an April surprise largely on the strength of their starting pitching. So when one of those starters goes down with a season-ending injury, is that enough to derail their season?
What was originally diagnosed as inflammation in Mike Pelfrey's right elbow has turned out to be far more serious. Pelfrey has a partially torn ligament in the elbow and will undergo Tommy John surgery to repair it.
As the Star-Ledger's Andy McCullough reports, there was some consideration toward trying to repair the injury with the en vogue therapy of a platelet-rich plasma injection. But pitching with an injured elbow didn't seem like a good idea to anyone, especially Pelfrey's agent, Scott Boras.
Pelfrey has one more arbitration-eligible season next year. But the Mets may decide to non-tender him, rather than bring him back for something near the $5.7 million he's being paid this year.
Regardless, this is certainly a blow to the Mets' chances for the rest of the season. Pelfrey was the team's No. 2 starter, with a 2.29 ERA that was lowest among the Mets' starting five. His 19 2/3 innings was also the third-highest total in the team's starting rotation.
Some teams could sustain losing a top starter and continue to contend. But those clubs (for instance, the St. Louis Cardinals) likely have deep, talented rosters with able replacements ready to step in. The Mets don't really enjoy such a luxury.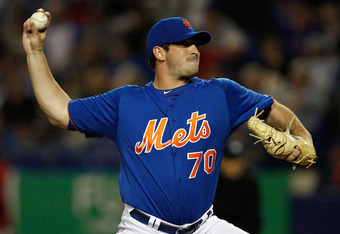 Sarah Glenn/Getty Images
In the short-term, Chris Schwiden was called up from Class AAA Buffalo to take Pelfrey's spot in the rotation. He was off to a decent start with the Bisons, compiling a 2-2 record and 2.05 ERA in his first four outings. 
Later in the season, the Mets could decide to give top pitching prospects Matt Harvey or Zack Wheeler a shot at replacing Pelfrey. (And if either succeeds, Pelfrey can probably kiss his chances of returning to the Mets next season goodbye.) But that could be in June to stall the clock on major league service time. And in Wheeler's case, he probably needs another full season in the minors anyway.
A better option for the Mets to stay in contention might be scoring some more runs and give that pitching staff some support. (Kirk Nieuwenhuis is trying his best!) Or is waiting on the top prospects to develop more realistic at this point?
Follow @iancass on Twitter