New York Mets: Has Mike Pelfrey Thrown His Last Pitch as a Met?
April 27, 2012

Now that New York Mets starting pitcher Mike Pelfrey is almost certainly going to have Tommy John surgery on his elbow, this will end his 2012 season, and most likely, his time as a Met. It's a bittersweet moment for the Mets.
While Pelfrey has been inconsistent his entire career—outside of 2010—the Mets currently do not have any pitchers in the minor leagues that could make a successful transition to the big leagues right now.
The Mets do have three young pitching prospects in Jeruys Familia, Matt Harvey and Zack Wheeler. All three have Cy Young Award potential, but the Mets do not want to rush them. With this being said, the earliest that Familia and Harvey will get called up will be no earlier than July or August, especially if Johan Santana gets traded by then. Wheeler might get a September call up, but regardless, he will be on the Mets in 2013.
With Familia, Harvey and Wheeler atop the Mets' projected 2013 rotation, plus Jonathon Niese and one of Santana, R.A. Dickey or Dillon Gee, there basically will not be a spot for Pelfrey on the Mets in the future. Even if Pelfrey had not gotten injured, it would have been very tough for him to stick around without going to the bullpen.
In all likelihood, Gee is most likely to round out the rotation in 2013, with Santana likely to get traded to a postseason contender this July and Dickey being on the last year of his current contract and not getting any younger.
Ever since Mike Pelfrey made his major league debut for the Mets in 2006, his career has been a roller-coaster. He originally got drafted as the ninth overall pick in the 2005 MLB Draft. After breezing through the Mets' minor league system, Pelfrey made his professional debut on July 8, 2006.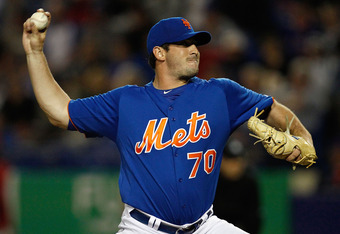 Sarah Glenn/Getty Images
On that day, Pelfrey pitched five scoreless innings and a ton of run support to get his first career win as the Mets demolished the Florida Marlins 17-3 in the second game of a doubleheader. Pelfrey made three other starts in 2006 before getting sent back down to the minor leagues. He finished his major league time with a 2-1 record, but also had an alarming 5.48 ERA.
In 2007, Pelfrey won a spot in the Mets' starting rotation out of spring training but started off terribly with an 0-5 record and a 6.53 ERA. This led to Pelfrey being demoted to the minor leagues.
Pelfrey got called back up and made four starts in July, but his pitching did not improve, as he was demoted again by August after his record fell to 0-7. A month later, he returned as a September call-up and actually pitched decently. In five starts that month, Pelfrey won three games to finish the season with a 3-8 record and a 5.57 ERA.
Pelfrey finally had his breakout season in 2008, which included a 13-11 record, a 3.72 ERA, and two consecutive complete game victories, which was the first time any Mets pitcher accomplished that since Bret Saberhagen in 1995.
Pelfrey was more relaxed on the mound that year and even stopped using his mouthpiece that he previously used due to the TMJ disorder he suffered after getting hit in the mouth by a ball in the past. The mouthpiece may have been enough of a distraction to throw Pelfrey off his game, so without the device being there, it may have helped Pelfrey pitch better.
By 2009, Pelfrey had asserted himself as the Mets' No. 2 starter behind ace Johan Santana. However, he and the entire Mets team completely fell apart, as he was one of the very few Mets pitchers that did not get injured in one of the most injury-plagued seasons in franchise history.
Pelfrey finished the year with a 10-12 record and a 5.03 ERA in what was a very inconsistent season for him. What stood out from this season for Pelfrey, though, was the large number of balks he issued. He had six balks that year, including three in one game on May 17.
In 2010, Pelfrey added a curveball and splitter to his pitching repertoire. He even made a relief appearance on April 17 in a 20-inning game and got his first career save. Pelfrey got off to an amazing start that year and was 10-1 by the All-Star break. However, despite the amazing first-half numbers he had, Pelfrey was surprisingly left off the 2010 NL All-Star team.
His second half was a bit more inconsistent, as he went 5-8 after the All-Star break, which included a very disappointing July. Nonetheless, Pelfrey was arguably the Mets' best pitcher in 2010 with a 15-9 record and a career best 3.66 ERA. Pelfrey also reached career highs in innings pitched (204) and strikeouts (113).
Mets' ace Johan Santana ended up missing the entire 2011 season. As a result, Pelfrey was given the Opening Day start, but got roughed up against the Marlins that day. Things for the most part did not get any better for Pelfrey. He finished with just a 7-13 record, plus a 4.74 ERA.
The Mets and their fan base really started to lose hope for Pelfrey after his inconsistent 2011 season, especially when many people had expected him to pitch even better than he did in 2010. The Mets contemplated releasing Pelfrey during spring training last month, but ultimately decided against doing so. As it turned out, Pelfrey will now have Tommy John surgery, and his time with the Mets is all but certain to have ended.
All in all, Mike Pelfrey had his ups and downs with the Mets. The Mets will certainly miss him right now, as they will have to settle for Chris Schwinden for the time being until either Jeruys Familia or Matt Harvey are ready to get called up.
However, Pelfrey was likely to have gotten traded or released by the Mets if not in July, then certainly in the next offseason. But with the way things happened, Pelfrey will almost certainly not get a contract tendered to him and will become a free agent as he works hard to recover from the Tommy John surgery he will soon have.
Pelfrey will be remembered by the Mets and their fans for his great 2010 season and his commanding 6'7'' presence on the mound. Hopefully, he will be able to resurrect his career elsewhere in the future.