NFL Draft 2012 Results: Biggest Steals of Opening Three Rounds
April 28, 2012

Joe Robbins/Getty Images
After a wild two days of the 2012 NFL draft, the biggest story has been the trades and the steals.
With some big names sliding down the board, many teams saw perfect fits for positions of need that they firmly believed wouldn't be there. Plans were thrown out the window long ago.
Each of the following picks stole the show for that round. Expect each of these players to be major stars in their first season with in their new homes.
Round 1: Pick No. 23—Riley Reiff, OT, Detroit Lions
After being slated as a top-10 pick by almost every expert that had a mock draft, Iowa star offensive tackle Riley Reiff fell all the way to No. 23 overall. He couldn't have fallen to a more perfect team.
With the oldest offensive line in the NFL, the Detroit Lions needed major help protecting Matthew Stafford. A future franchise left tackle Reiff can do that.
The Lions were happy to stop the lineman's slide down the boards, now they need him to return the favor by stopping defenders from squashing their prized QB. Lions need Stafford healthy in the pass-happy NFC North.
Round 2: Pick No. 14—Mychal Kendricks, ILB, Philadelphia Eagles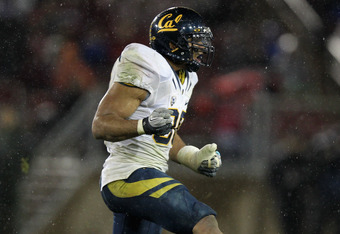 Ezra Shaw/Getty Images
With the addition of DeMeco Ryans in the middle of the defense, Philadelphia further upgraded by taking the second-best inside backer on my board with California's Mychal Kendricks (I had him second Luke Kuechly in terms of grades).
As much as his size (5'11") is a bit of a concern for a team that has to sure up the middle of its defense, his speed is second to none and he is sure tackling; two things the Eagles needed.
The most likely situation for the Eagles would be to have Kendricks slide to the outside and play as a 3-4 outside linebacker. He has the speed for coverage and the ability to fill that wide-nine gap the Eagles play.
Round 3: Pick No. 20—Mohamed Sanu, WR, Cincinnati Bengals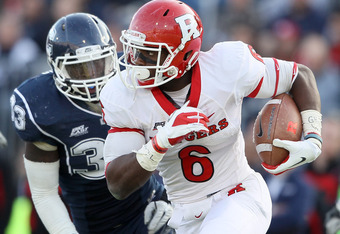 Elsa/Getty Images
With the third round winding down and the hype over the players remaining dwindling, the Cincinnati Bengals may have gotten the steal of the draft with Rutgers wide receiver Mohamed Sanu.
After a stellar combine and a great college season, I had Sanu slated as a first-round pick for the New England Patriots. After slipping all the way to the latter stages of the third round, the Bengals found the perfect complement to AJ Green's deep threat.
Sanu is the top route-running wide receiver out of the 2012 NFL draft, and will be the man Andy Dalton looks to in key situations. The combo of Green and Sanu will give the Bengals a very bright future.
Check back for more on the National Football League as it comes and check out Bleacher Report's NFL Page to get your fill of all things football.