Case Keenum: Former Houston QB Worth a Selection Late in 2012 NFL Draft
April 28, 2012

Ronald Martinez/Getty Images
Forty-eight touchdowns, 5,631 yards, 71 percent completion percentage, passer rating of 174 and only five interceptions is the production of Case Keenum at Houston in 2011.
Forget the height and forget the system; this guy is worth a late-round selection in the 2012 NFL Draft.
Keenum is one of the most productive players to ever play the quarterback position at the college level. He passed for more than 5,000 yards three times in his career, recorded 44 or more touchdowns in three years and has never produced less than a 65 percent completion percentage.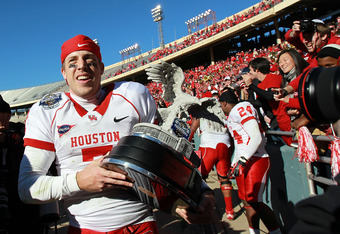 Ronald Martinez/Getty Images
The two things holding him back from being a player drafted in the first round is his height and system at Houston.
Keenum is a shade over 6'0" tall. Scouts would love to see prospects at least 6'2".
But there have been several examples of quarterbacks who succeeded at the professional level under 6'2". One second-round pick that jumps to mind is that guy from New Orleans: Drew Brees.
Brees is a pocket-passer that moves and slides in the parameters of the pocket unlike many in the NFL. He has found great success despite being picked on for the same height issue. Brees didn't get selected in the 2001 NFL Draft until late in the second round.
I don't think Keenum can be like Brees, but I do think he has the ceiling to be a starter in the NFL. His accuracy is deadly, his decision making is great and he can move around within the pocket.
Sounds like a Drew Brees-type of quarterback.
If anything, Keenum can be a reliable backup in the NFL. He is a 24-year-old senior that understands what it takes to play the quarterback position. His accuracy and decision making will be welcomed at the next level.
Keenum probably won't be a star in the NFL, but he deserves a selection late in the NFL Draft. He's a risk worth taking.