WWE Extreme Rules 2012: Complete Card, Live Stream, Predictions, Rumors and More
April 28, 2012

Gallo Images/Getty Images
With the 2012 edition of WWE's Extreme Rules Pay-Per-View being Sunday, April 29, the excitement over the wild event has fans expecting greatness from the post-WrestleMania 28 card that usually means nothing.
Instead of being a throwaway show, the WWE has turned Extreme Rules into WrestleMania 28 with the main event changed to Brock vs. Cena. All WWE did was add a "B".
Where: Allstate Arena, Rosemont, IL
When: Sunday, April 29, 8 p.m. ET
Watch: Pay-Per-View (local cable provider)
Live Streaming: WWE.com has PPV for $44.95.
Complete Card
John Cena vs. Brock Lesnar (Extreme Rules Match)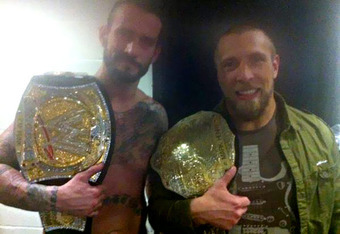 World Heavyweight Champion Sheamus vs. Daniel Bryan (2-out-of-3 Falls Match)
WWE Champion CM Punk vs. Chris Jericho (Chicago Street Fight)
Randy Orton vs. Kane (Falls Count Anywhere Match)
Intercontinental Champion Big Show vs. Cody Rhodes
United States Champion Santino Marella vs. The Miz
Divas Champion Nikki Bella vs. Beth Phoenix
What They're Saying
Beth Phoenix is breaking her own news about a Divas Title rematch because the WWE hates their women's division:
I have been given my rematch this Sunday. Even if I have to wrestle on one leg, I can STILL beat @thebellatwins and win my title back.

— Beth Phoenix (@TheBethPhoenix) April 28, 2012
Ring Rust Radio shows just how extreme this weekend can get, with the show being live from both WWE's Extreme Rules PPV and Extreme Reunion:
With @RingRustRadio LIVE! @ExtremeReunion & @WWE's #ExremeRules and chatting w/ #ECW's #Franchise #ShaneDouglas & #NewJack, #RRR = #EXTREME!

— RingRustRadio (@RingRustRadio) April 28, 2012
Rumors
Former WWE star Batista and his manager have been teasing a huge announcement for the wrestler-turned-actor, with rumors flying that it may be a return to the WWE:
Closing these deals for @DaveBautista with the suits. Will be able to announce soon and it will be worth the wait!

— John Ryan Jr (@JohnnyRyanJr) April 24, 2012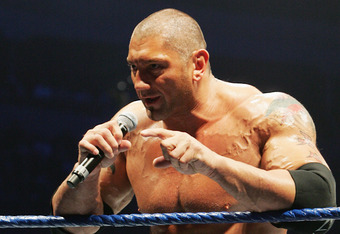 Gaye Gerard/Getty Images
What this means is up for debate, but as long as it is not a return to do a crappy WWE movie I'm fine with a potential return. While I don't like Batista, he could return to feud with Cena and win.
It's the WWE rule of threes. Break John Cena's character down with three straight huge losses and rebuild him in a different way while keeping him face.
Main Event Prediction
John Cena vs. Brock Lesnar (Extreme Rules Match)
If the rumors are true about another possible WWE star returning to feud with Cena, not only does John Cena have to lose his match against Brock Lesnar at Extreme Rules, he has to be destroyed.
With John Laurinaitis making the journey to the ring tough, possibly via a gauntlet match, Lesnar must look like a monster after this PPV. Standing tall over the fallen Cena is definitely a way to do that.
As Cena continues his slide downward, fans will stop viewing him as Super Cena and start rooting for him again. At least that's what WWE is hoping for.
For the latest episode of Ring Rust Radio featuring ECW legends New Jack and "Franchise" Shane Douglas and all the 2012 WWE Extreme Rules talk you could want, catch it here! (Some language NSFW).
Check back for more on the World Wrestling Entertainment as it comes, and visit Bleacher Report's Wrestling Page to get your fill of WWE/TNA. For more Wrestling talk, listen to Ring Rust Radio for all of the hot topics you just can't miss (some language NSFW).