Hopkins vs. Dawson Live Stream: Epic Rematch Leads to Must-See TV
April 28, 2012

Stephen Dunn/Getty Images
The rematch between Bernard Hopkins and Chad Dawson will be must-see TV for boxing fans. It has a little bit of everything you're looking for in a great fight.
Epic Rematch
I need not tell you what happened the last time these fighters squared off, but just in case you need a refresher course, here you go: This past October, these two fighters met in the ring in a bout that finished in the second round, but it also finished with controversy.
Hopkins threw in a hook punch that Dawson ducked beautifully, but in the process of ducking, he literally form-tackled his opponent and threw him down, thus injuring his shoulder.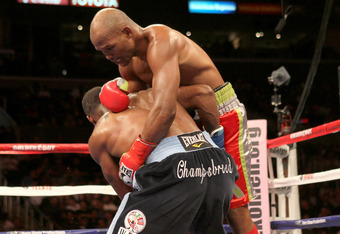 Stephen Dunn/Getty Images
Dawson was initially declared the winner, but that decision was overturned and it was ruled a no-contest.
You don't think that's on Dawson's mind?
Fighting Words
Check out what Dawson had to say about Hopkins' shoulder injury, via George Willis of the New York Post:
Dawson, 29 and a former champion, claims Hopkins faked the injury as a way of escaping certain defeat.

"I really don't believe Bernard Hopkins was hurt," said the southpaw from New Haven, Conn. "He showed that he really didn't want to be in the ring with me that night. I want to pick up right where we left off. I want to make him fight and hopefully we can give the fans what they came to see the last time, a real fight.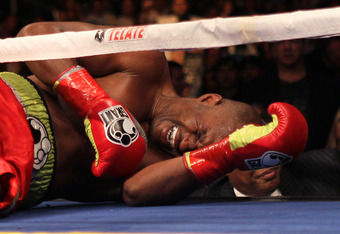 Stephen Dunn/Getty Images
What a statement by Dawson. I can all but guarantee you Hopkins will come out swinging, trying to prove him wrong.
Title Belt on the Line
These two will square off for the light heavyweight championship, which Hopkins currently holds.
The stakes are always high in any bout, but anytime a belt is on the line, they are through the roof. Both fighters are going to be at their best, and both of them know what is at stake.
Somebody is going to go home the champion, while the other will go home with nothing but disappointment.
That will lead to a great bout.
Live Stream: HBO GO