NBA Playoffs: Championship Odds and Previews for All 16 Teams
April 28, 2012

Chris Trotman/Getty Images
The NBA playoffs have begun after a wild regular season. For 66 games, jammed into a 120-day schedule like Twizzlers in Lamar Odom's mouth, NBA fans were treated to more action than a tailgate port-o-potty gets 15 minutes before tip-off.
With most playoff and draft positioning out of the way, the sun set slowly on the regular season's final night on Thursday. As 13 NBA teams and whatever you want to call the Bobcats head for a long, basketball-less summer of extra-long golf clubs and extra-long nights at nightclubs, 16 teams are left with the opportunity to scratch and claw their ways into the annals of NBA lore.
Some teams will have it easier than others. For some, the road is more treacherous.  And for others, the road is blocked by a sign that reads "Do Not Enter: Dwight Screwed You Over."
In order from worst to best, here are my odds for each team taking home the title, plus Vegas' odds. Well, from my seat here in New York, getting odds from Nevada is near impossible, so today "Vegas" really means "an aggregate of sports betting websites online."
THE "JUST HAPPY TO GET OUT OF THE HOUSE" DIVISION
Orlando Magic
No Dwight. Masked Hedo. No chance.
It's going to be a benignly surreal four games of playoff basketball for the Magic. Kind of like eating a BLT without the bacon. And yes, Ryan Anderson is the mayonnaise in this Central Florida blandwich.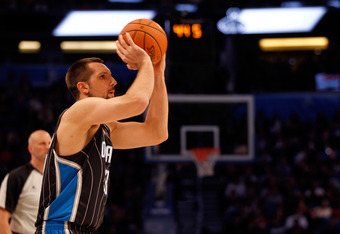 Mike Ehrmann/Getty Images
Vegas odds: 80 to 1
My odds: Highest number I can think of to 1
THE "JUST HAPPY NOT TO BE ORLANDO" DIVISION
Utah Jazz
Not that I'm rooting against them or anything, but the Jazz lack experience and the star power that seems to matter 10-fold once the playoffs roll around, hot as they are. I do love me some Al Jefferson, Paul Millsap, Derrick Favors and Gordon Hayward, but you need guards to advance.
Vegas odds: 125 to 1
My odds: 100 to 1

Atlanta Hawks
It never happened with Al Horford. Why would it happen without him or his replacement in the starting lineup, Zaza Pachulia?
Vegas odds: 100 to 1
My odds: 100 to 1

Dallas Mavericks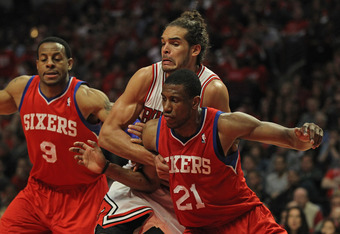 Jonathan Daniel/Getty Images
As Roger Sterling would say, "Don't look so shocked." To gauge the hopelessness of the Mavericks, one needn't cite their low scoring average (19th in the league) or aging core, or anything having to do with their current roster (although that'd be pretty damning, too).
Fifteen hundred miles away, the Mavs' departed center Tyson Chandler is proving to have been the difference between Dallas' past two seasons, lifting the Knicks from 22nd in Defensive Rating a season ago to fifth in 2012.
Vegas odds: 40 to 1
My odds: 80 to 1

Philadelphia 76ers
Even as a born-and-raised Mets fan, I'd be lying if I told you that Philly's first-half success didn't excite me. I'm not even sure why.
Their best player is their fourth-leading scorer and just about every player has the word "versatile" under his name on other teams' scouting reports. And Spencer Hawes was breaking out (when a team has a big man that's a great passer and creates easy buckets—the Brad Millers, the two) Gasols and the Divacs of the world—they're immediately twice as creative (again with the versatility).
A la Indiana (we'll get there), however, they depend way too much on the jump shot, perhaps more than anyone. The 76ers are dead last in free-throw attempts per game.
Vegas odds: 100 to 1
My odds: 80 to 1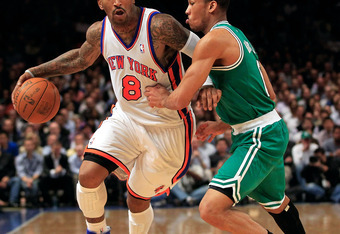 Chris Trotman/Getty Images

Denver Nuggets
Yes, the Nugs have more scoring options than the international dorm at a small liberal arts school (Spanish, Italian, Russian and Greek speakers, too!). And they're deep. Not Mars Attacks-deep, but they can play on a 12-man rotation if the game calls for it. But like Atlanta, Indiana and Philly, there's no alpha dog to stop the bleeding.
Vegas odds: 50 to 1
My odds: 75 to 1

THE PRETENDERS
Indiana Pacers
I like the Pacers. If they were female, they'd be a group of 10 sevens and eights. No Queen Bee but a depth of solid options. Think 2004 Pistons.
But it's not 2004 anymore, and a team's success in the playoffs is very much contingent on their top scorer's ability to get to the line, what with rule changes tempering hand-checking. Danny Granger is a very good player, but he can't carry the scoring load on three-pointers and long twos.
Vegas odds: 40 to 1
My odds: 50 to 1

Los Angeles Clippers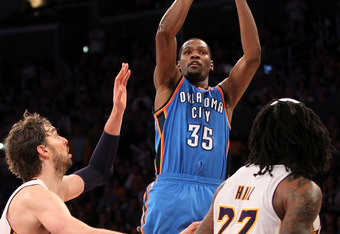 Stephen Dunn/Getty Images
For all the talent and hype entering the season, this team is not ready. They're two years behind the Thunder in their playoff-experience-gaining story arc and one year behind Memphis. As amazing as Chris Paul is, he's been beyond the first round of the playoffs once in his career.
And if Blake Griffin thinks (justifiably) that he gets hammered during the regular season, he might not last two playoff games before getting a Marreese Speights forearm down his throat.
Vegas odds: 20 to 1
My odds: 40 to 1

THE CONTENDERS
Boston Celtics
It's kind of hard to argue with the way Avery Bradley has transformed the team's overall defense. If Jesus Shuttlesworth can play, hopefully Doc Rivers has the good sense to play him off the bench so the second string can, you know, score. But that's a big if.
Vegas odds: 15 to 1
My odds: 20 to 1

Memphis Grizzlies and New York Knicks
Both have game-changing centers (Gasol; Chandler), the sneakily-crucial guys to lock up perimeter superstars (Tony Allen; Iman Shumpert),wildcards off the bench (O.J Mayo; Steve Novak and J.R. Smith) and a "team no one wants to play" status.
And both have glaring questions. For the Griz, can they reintegrate Zach Randolph into a system that was working without him? And for the Knicks, will Robin Williams sneak into the team's locker room before important games and put Flubber on the soles of Amare's shoes?
Vegas odds: 25 to 1 (Memphis); 18 to 1 (New York)
My odds: 15 to 1

Los Angeles Lakers
Tanking in the playoffs, anyone? LA might welcome a few losses in their first-round series with the Nuggets so that a certain rugged defender might come off suspension to guard a certain two-time scoring champion in the second round.
Seems sort of like a conflict of interest for the league, no? Thankfully, there's a simple remedy for that: Suspend any throat-elbowing playoff-bound players for a series or two, not a number of games.
Vegas odds: 12 to 1
My odds: 12 to 1

Chicago Bulls
A healthy Derrick Rose is harder to contain than Joakim Noah's hair the morning after sleeping on a friend's couch. But this isn't a healthy Derrick Rose. He's missed almost 40 percent of his team's games with injuries to some areas particularly crucial to success on the basketball court: foot, ankle, groin and back. A preseason favorite, this "loss" is pretty damning.
Vegas odds: 3 to 1
My odds: 6 to 1

THE FAVORITES
Oklahoma City Thunder
They lose a lot of points for Metta World Peace's elbow being practically inside one of their best three players. And for all their squeaky-clean basketball goodness, they're actually a pretty polarizing team.
Their frontline is menacingly tough on defense (Perkins, Ibaka and the ever-underrated Nick Collison), but pretty helpless offensively. They have three effortless scorers, but an offense that is anything but effortless (dead last in the league in assists per game). And of course there's always going to be the Durant-Westbrook shot-sharing question. Put it all together, and you get dropped to third-favorite.
Vegas odds: 4 to 1
My odds: 7 to 2

San Antonio Spurs
Say want you want about their age. But consider three things. One, a player-coach combo that's won together in three different decades. Two, how many blowouts did they win with the end of their bench leading the way in minutes? They truly are Mars Attacks-deep. And three, which of these names means so much more than the other two: Brooks, Spoelstra, Popovich?
Vegas odds: 6 to 1
My odds: 3 to 1

Miami Heat
Sorry to geek out on you here but the Heat truly are the evil Galactic Empire of Star Wars fame. Always the villainous, web-spinning mastermind, Pat Riley is Palpatine. Once a golden boy and eventually seduced by the dark side, LeBron made an Anakin-to-Vader-esque turn. Wade's Darth Maul, a straight-up assassin who travels, a lot.
And who knows, maybe a few fresh young faces and their Wookiee (Durant-Westbrook-Harden and Serge Ibaka) can topple the dark side. Some new blood on the championship pedestal would be exciting. And yes, Chris Bosh is Jar Jar Binks in this metaphor.
Vegas odds: 3 to 2
My odds: 5 to 2
Bryan Brandom is a contributor and former editor for BleacherReport.com, whose writing has appeared on DailyPygmy.com and CBSSports.com. This article is an excerpt from his basketball blog, TheOffGuard.net, written under the pseudonym Earl Lee Mourning.