2012 NFL Draft: Recapping Day 3 for the Seattle Seahawks
April 28, 2012

Well, all 53 picks have been made; Chandler Tarnish is Mr. Irrelevant, and the Seahawks have decided which 10 players they will bring to camp. Seattle had arguably the most surprising first three rounds, as I highlighted in an article this morning.
Day 3 wasn't as surprising as days one and two, but it brought some players that may have huge impacts on Seattle—if they can make the roster first.
Here is some in-depth looks at the even players picked on day three by the Seattle Seahawks: 
Round 4: Robert Turbin, RB, Utah State
We all knew that Seattle would choose a running back to change the pace from Marshawn Lynch, yet the choice of Turbin may be surprising to some.
But this is a perfect fit and a great pick for the first selection on Day 3 for Seattle. His physical style is what the Seahawks were looking for to complement and spell leading rusher, Marshawn Lynch.
When Lynch could not play for a game last season because of back spasms, the Seahawks scored three points and rushed for 65 yards in a three-point loss.
Turbin was a great pickup, and it looks like Seattle fans should be thanking Utah State for providing them with two of their first four picks.. 
Round 4: Jaye Howard, DT, Florida
Howard is another big, athletic body to add to the competition on the defensive line that already has Red Bryant at defensive tackle, yet still drafted three in Day 3, including Howard.
The Seahawks want to use him in the pass rush from the three-technique tackle spot. He played at Florida for coordinator Dan Quinn, the Seahawks' former D-line coach, which helped the team in its evaluation. 
Round 5: Korey Toomer, OLB, Idaho
Toomer has had an up and down career, but he may be a steal in the fifth round. He was redshirted in 2010 after breaking a hand in fall camp, but returned to be voted team MVP last season when he had 68 tackles, including 10 each against Texas A&M and Louisiana Tech.
He is very versatile, playing on both sides of the ball at some points of his career. He will have competition at linebacker (six were picked in the last two years). Heath Farwell is also trying to play on defense rather than special teams. 
Round 6: Jeremy Lane, CB, Northwestern State
He is one of several versatile players that Seattle got today, starting at corner last season, but actually likes playing as the nickel back better. He is quoted as saying "I like to hit people."
However, Lane will have an incredibly hard time making the 53-man roster. The Seahawks already have Pro Bowl corner Brandon Browner, Richard Sherman, former first-round pick Marcus Trufant, Roy Lewis, third-year corner Walter Thurmond and Byron Maxwell, a draft pick last year. Lane will have to prove better than one of those players to earn a spot on the roster.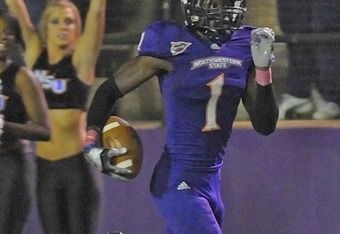 Round 6: Winston Guy, S, Kentucky

He brings versatility, as he played a hybrid safety/linebacker position last season. He is a great tackler and has experience against difficult opponents as a starting safety in the SEC.
Guy could factor in as a replacement for Atari Bigby, the veteran who signed with the Chargers in free agency. Bigby allowed the coaches to use Pro Bowl safeties Earl Thomas and Kam Chancellor as linebackers in the big nickel package.
He will compete for a roster spot as a No. 4 safety and special-teams contributor with the possibility to play consistently if someone in the secondary gets injured. 
Round 7: J.R. Sweezy, DT, NC State
The Seahawks selected North Carolina defensive tackle J.R. Sweezy with their first pick in the seventh round of the NFL Draft.
The 6'4", 298-pound Sweezy started seven games last season, when he had 20 tackles. He made 12 starts in 2010, when he had 50 tackles and 5.5 sacks.
Look for him to fight for a roster spot this year; it will be very competitive because of the abundance of defensive tackles that they already had and that they drafted this year. 
Round 7: Greg Scruggs, DT, Louisville

He was the third defensive tackle taken in the draft for Seattle. He was a hard worker at Louisville and he will have to fight in order to attempt to be a backup to Red Bryant, because the Seahawks will not be able to keep all the defensive ends that they drafted.
He is yet another big body and with some versatility to add to the mix on the defensive line. Being the third defensive tackle to be picked by Seattle puts him at a disadvantage to make the final roster.