Hopkins-Dawson Rapid Reaction: Chad Dawson Wins Light Heavyweight Championship
April 29, 2012

Al Bello/Getty Images
The Bernard Hopkins vs. Chad Dawson fight went as many expected it would. Dawson outworked Hopkins and won a majority decision, due to the fact that one judge had it 114-114, which is ridiculous. I scored the bout 117-111, or nine rounds to three, for Chad Dawson. 
Dawson started the bout cautiously, and through four rounds, I had the fight scored even. Hopkins was making Dawson fight his fight, which was to keep the pace slow. However, over Rounds 4-8, Dawson stepped up his game and increased his work rate. 
After Round 8, the fight was in the bag for Dawson, and he continued to punish Hopkins when he could and simply overwhelmed Hopkins with his activity. 
One thing I really liked out of Dawson is that he was able to fight with cuts above both eyes and keep his composure. In his only career loss to Jean Pascal, he suffered a similar cut and was clearly bothered and got away from his game plan. 
Tonight, he toughed it out and didn't let the cuts bother him. He can learn from this fight and he now realizes that if he stays calm, he can fight his way through adversity. The fact that he is also extremely athletically gifted doesn't hurt either. 
For Dawson, a fight with Andre Ward looms. That would be a great matchup in terms of competitiveness, although it may not be the most fan friendly of fights. But I would like to see it; I admire both of their skills and wouldn't mind seeing who could out-technical the other. 
For Hopkins, hopefully he'll hang them up. He can still defeat a lot of the top guys out there, but he probably can't compete at the highest level. I think his win over Jean Pascal was more of a matchup of styles that was extremely favorable to Hopkins.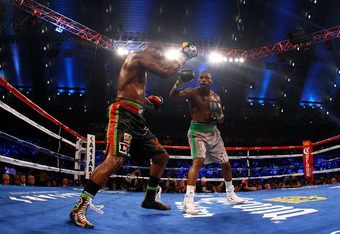 Al Bello/Getty Images
At this point, Hopkins just can't handle a fighter who throws a lot more punches than him. He no longer can keep up with younger guys, but at 47 and with an all-time great career behind him, there's certainly no shame in that. 
I'd also just like to say that the heavyweight fight between Chazz Witherspoon and Seth Mitchell on the undercard was excellent. It was a great brawl with a lot of ups and downs with Mitchell scoring a third-round KO. 
I don't think Mitchell is ready for a Klitschko yet, but he'd certainly make it a fun fight, and with that body work he does, he couldn't be counted out. 
Until next time. 
Follow me on Twitter: @rlongo924