NBA Playoffs 2012 Predictions: Spurs Will End Lakers' Dynasty in Western Finals
April 29, 2012

Harry How/Getty Images
It's been five years since the San Antonio Spurs claimed Tim Duncan his fourth title. In the meantime, the Los Angeles Lakers have made their way to three NBA Finals series, twice walking away with another championship.
That has been the difference between these two dynasties and the reason Kobe Bryant now has one more title than Tim Duncan, five rings to four.
Gregg Popovich's streaking club has no idea who it will run into come the Western Conference Finals—it's still taking one game at a time so as to avoid a repeat of last year's first-round exit. The Spurs may also have to face those same Memphis Grizzlies in a brutal second round match-up.
Meanwhile, the Lakers will have to get through either the Oklahoma City Thunder or Dallas Mavericks once they dismiss the Denver Nuggets from the postseason.
Nevertheless, another classic series between the Spurs and Lakers would be a fitting Conference Finals face-off that seems destined to happen.
The two franchises have met in the playoffs six times since 1999, with the Lakers taking four of those series.
While the Lakers also ran away with the most recent meeting in the 2008 Conference Finals, a lot has changed in the last four years. Tim Duncan looks as spry as he has in recent memory, and his supporting cast is much-improved.
The Spurs' roster is younger and deeper than it's been at any point under Popovich (or probably at any point in franchise history, for that matter).
The Lakers will obviously have a size advantage with Andrew Bynum and Pau Gasol patrolling the paint, but San Antonio isn't looking to win in the post. This team scored over 103 points per game in the regular season and has a slew of guys who can get hot on any given night.
Los Angeles learned as much in 21 and 24-point losses to San Antonio in April. The Spurs scored 112 and 121 in those games, respectively.
To be fair, Kobe didn't play in the first loss, but he was on the court for 30 minutes in the 121-97 dismantling. With or without Bryant, you have to be concerned about a team giving up 121 points without an overtime or two to blame.
The Spurs won't dominate Los Angeles so easily should they meet in the postseason, but they may be able to do what so few teams can: Beat the Lakers when it matters.
If you compare the talent in each of these team's starting lineups, that might sound absurd. But, the more absurd move would be comparing starting lineups in the first place.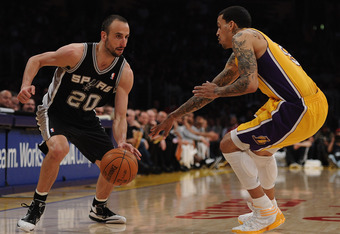 Harry How/Getty Images
When Manu Ginobili and Stephen Jackson are coming off the bench along with sharpshooters like Gary Neal and Matt Bonner, it doesn't really matter who's on the floor for tip-off. In San Antonio's 106-91 victory in Sunday's Game 1 against the Utah Jazz, all six of the Spurs' three-pointers came from the bench unit—along with 44 points overall.
If the Lakers find themselves in a protracted second-round series (as very well may be the case), this depth could make a decisive impact on the series.
Then again, the Spurs' biggest advantage has nothing to do with talent, in the starting lineup or otherwise.
It has everything to do with this team's synergistic ability to play as an organism that's far more effective than the sum of its parts. This organism lives on perfect spacing, selfless passing and crisp timing.
It is far more a testament to the value of a system and its continuity than it is the importance of any single contributor.
The very notion of an MVP is a non-sequitor for this team—its most valuable asset isn't a thing at all so much as it's a shared concept. As hard as it is to find superstar talent, it's even harder to find guys who will buy into such a concept.
Los Angeles may have two All-Star seven footers and a more qualified MVP candidate, and San Antonio can comfortably concede as much. These playoffs won't be determined by talent alone.