2012 NFL Draft Results: Mid-Round Picks That Will Make Teams Look Smart
April 30, 2012

Rob Carr/Getty Images
The only thing more gratifying for a general manager than getting an incredible mid-round pickup in the NFL draft is winning the Super Bowl.
Oddly enough, one seems to lead to the other more often than not.
I'll let you determine which one comes first...
Snagging impact players in the middle rounds is often the difference between the good and great organizations in the NFL. Anybody can take a sure thing in the first round of the draft—it's a diamond in the rough in the middle rounds that allows a general manager to really round out his depth chart.
With that in mind, here are a few teams that got high grades with their mid-round picks:
83. Cincinnati Bengals: Mohamed Sanu, WR, Rutgers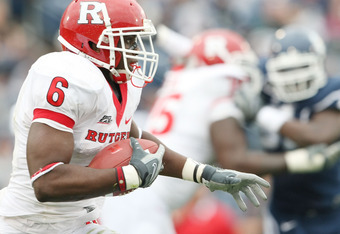 Elsa/Getty Images
Sanu is going to be the perfect fit in this system. He has the opportunity to become very good playing with Andy Dalton and across from A.J. Green.
He's a big receiver at 6'2'', 211 pounds and he has great hands and field vision. He can be a deep threat, but he's also good after the catch and should be pretty dangerous in the slot for the Bengals.
He'll be dangerous enough to draw defenses away from Green, but he will also be the benefactor of defenses focusing on Green. Overall, he's going to be a very productive player.
84. Baltimore Ravens: Bernard Pierce, RB, Temple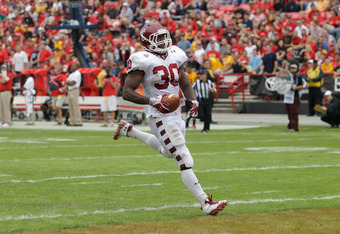 Rob Carr/Getty Images
Just one pick after the Bengals, the Ravens took a player that I believe could end up being a steal. Pierce was the ultimate back during his time with the Owls, notching 3,570 yards and 53 touchdowns in three years at Temple.
He's got a great blend of speed and size, and he's deceivingly shifty. He can run between the tackles, but he's also agile enough to bounce it out and make defenders miss.
He'll be a perfect backup to Ray Rice, and he'd be able to fill in admirably if ever needed.
136. Indianapolis Colts: Josh Chapman, DT, Alabama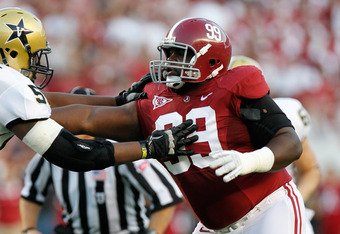 Kevin C. Cox/Getty Images
Chapman has the ability to be a very good player in the NFL, and he's going to make a big impact now that the the Colts are switching to a 3-4 defense.
Chapman is huge, at 6'1'', 316 pounds, and he'll be able to play the role of nose tackle in this 3-4 scheme. He can take up a ton of space and plug the gaps, but he's also aggressive and athletic enough to get into the backfield and cause havoc.
He is also extremely tough, which could be a huge x-factor for him. He played through a torn ACL and meniscus in his senior year, which shows just how dedicated he is to the game.
The Colts got a steal here, especially considering they drafted him in Round 5.