What Did the 2012 NFL Draft Tell Us About Some ACC Myths?
April 30, 2012

Streeter Lecka/Getty Images
The 2012 NFL draft is in the books. There were 31 ACC players picked. Over the last few years we've heard certain myths regarding offenses, general talent level and recruiting that this year's NFL draft opened some eyes about.
Consider Boise St. never recruits any of those elite classes, but they had six NFL players drafted not including QB Kellen Moore. Tells you what talent evaluation will do for you. The ACC has a similar example. Let's get to the myths.
Myth No. 1
Playing in the triple option at Georgia Tech will hurt your chances of playing in the NFL.
Georgia Tech WR Stephen Hill was drafted in the second round of this year's NFL draft making him the second Yellow Jacket WR (Demaryius Thomas—2010) to be drafted in the first or second round since 2010. Throw in RB Anthony Allen in 2011 and RB Jonathan Dwyer in 2010 and that's four offensive players drafted out of Paul Johnson's offense. Heck even little-used WR Kevin Cone was signed as a FA by the Atlanta Falcons in 2011 and made their squad.
That's five offensive players in the last three years that made an NFL roster from Georgia Tech. If you have ability, the NFL will find you.
Myth No. 2

North Carolina's team was loaded with NFL talent.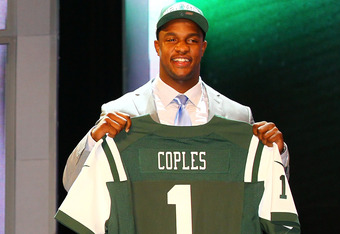 Al Bello/Getty Images
I remember a couple of years ago reading that North Carolina's team had as many as five to seven future NFLers on both sides of the ball. That Butch Davis had created a pipeline to the NFL with his recruiting. No question the Heels talent base improved, but the Tar Heels had only two players drafted (Quinton Coples DE, Zach Brown OLB) this year.
That's not terrible, but it says something, that maybe we overrated the Tar Heels NFL prospects a bit. I certainly expected WR Dwight Jones to get drafted somewhere in the fourth or fifth round. I also thought DE Donte Paige-Moss and DT Tydreke Powell would get picked, but the pros didn't see it that way. They'll have their shot, but it looks like UNC was more limited than most of us thought. 
Myth No. 3
Wake Forest is devoid of NFL-caliber players.
Every year we hear Wake Forest doesn't have much talent and how they shouldn't be able to compete in the ACC. The Demon Deacons usually aren't anywhere near the top 30 in recruiting, but either through superior talent evaluation, a system that builds up players or both, Jim Grobe and Wake Forest are putting players into the NFL.
We know Grobe favors redshirting players and maybe there's something to that. This year Wake Forest had four players (Josh Bush S, Chris Givens WR, Joe Looney G, Kyle Wilber OLB) drafted. Only NC State and Miami had more.
Myth No. 4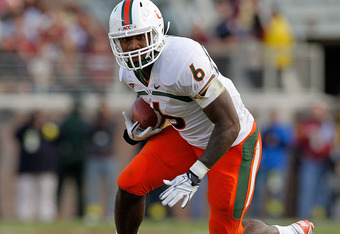 Mike Ehrmann/Getty Images
The more NFL prospects, the more wins. 
Miami led the ACC with six players (Travis Benjamin WR, Lamar Miller RB, Sean Spence LB, Tommy Streeter WR, Olivier Vernon DE, Brandon Washington OG) drafted this season. That would be one NFL pick for each win Miami had this year. Despite the Hurricanes' fairly mediocre record the last few years, the program is still churning out NFL talent.
Now the statement "talent doesn't always translate into wins" isn't really a myth. There are tons of examples of it, but it's still important to note to those that get hung up on it. The bottom line is you better have some good coaching to go along with it.
We'll give Al Golden a pass because it was his first year, but if he could ever get Miami to play to its apparent talent level this is an ACC championship contender year in and year out. Miami is one of the few ACC schools that can consistently get next-level players to go there.
Myth No. 5
The Maryland Terrapin's talent base has dropped off under Ralph Friedgen.
This one is actually true. Randy Edsall had a well-documented nightmare season in his first year at Maryland in 2011. He replaced Ralph Friedgen who was coming off a nine-win ACC COY in 2010. To this day, I still feel that Friedgen was one of the best football minds in the ACC, but he didn't recruit well and the Terrapins were a team that was one of the least talented in the ACC.
The 2012 NFL draft proved this. There were exactly zero Maryland players drafted this year. That's the same number as the perennially undermanned Duke football team. I don't think I would have fired the Fridge, but in some ways I understand that after 10 years at Maryland you'd probably reached a ceiling that the talent level could bring there. Now is Edsall the right guy? That's another question for another time.
Become a fan of the ACC on Facebook and follow the ACC on Twitter.