LSU Football: Plenty of Tigers in Merriman's Way-Too-Early 2013 NFL Mock Draft
May 4, 2012

Joe Murphy/Getty Images
1. Jacksonville Jaguars: Matt Barkley, QB, USC
The Blaine Gabbert experiment will likely come to an end after two years, making way for Barkley to be the quarterback of the future in Jacksonville.
2. Miami Dolphins: Robert Woods, WR, USC
Could two USC players really go one-and-two in the draft? Well, Miami needs a dynamite playmaker and there isn't a better one in this draft than Woods.
3. Cleveland Browns: Sam Montgomery, DE, LSU
Montgomery was a stud during his sophomore season and should only get bigger and better next year. He will be an instant starter for a Cleveland team that continues to search for a true identity.
4. Seattle Seahawks: Tyler Wilson, QB, Arkansas
Finally, Pete Carroll will land the franchise quarterback that he has been waiting for. Wilson is a stud with a live arm and a knack for making big-time throws.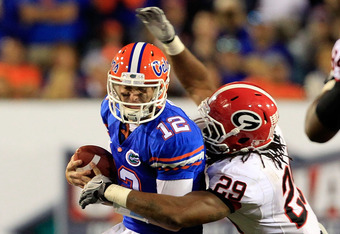 Sam Greenwood/Getty Images
5. Minnesota Vikings: David Amerson, CB, NC State
The Vikings weren't able to land a cornerback until the third round of this year's draft, which means that they should make a splash for one early in 2013. Amerson looks like the early pick to be the top defensive back in the country next year.
6. St. Louis Rams: D.J. Fluker, OT, Alabama
The Rams failed to get an elite-level offensive lineman in this year's draft, so don't be surprised if they jump at the opportunity of adding Fluker, the best tackle prospect in the 2013 class.
7. Indianapolis Colts: Jarvis Jones, OLB, Georgia
Jones would have been the top outside linebacker taken in this year's draft. He has great skills and adds another playmaker to this thin Colts defense.
8. Oakland Raiders: Tyler Brey, QB, Tennessee
The Carson Palmer era isn't going to last much longer in Oakland. In Brey, they get a big, promising quarterback who can learn under Palmer for a year and then take the starting reigns from there.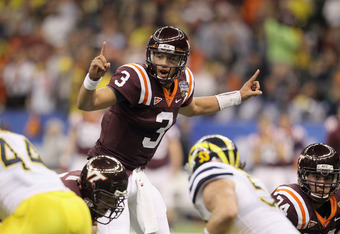 Matthew Stockman/Getty Images
9.St. Louis Rams (via Washington Redskins): Keenan Allen, WR, Cal
The Rams have holes everywhere, but they need to keep building up this offense by adding playmakers. Allen should be one of the best in the country next season.
10. Tennessee Titans: Xavier Rhodes, CB, Florida State
The Titans lost Cortland Finnegan to free agency this past season and didn't address the cornerback position until the fourth round of this year's draft. By taking Rhodes here, Tennessee lands their No. 1 corner of the future.
11. Tampa Bay Bucs: Jonathan Banks, CB, Mississippi State
The Bucs still didn't fill their number one need in this year's draft, which is at cornerback. Assuming Ronde Barber calls it quits after this year, Banks should come in and fill what should be a gaping void for this Tampa Bay team.
12. Arizona Cardinals: Logan Thomas, QB, Virginia Tech
Thomas is a big-time quarterback, and this Cardinals team has been searching for an answer at QB since Kurt Warner retired. This is a perfect match here for Thomas and the Cardinals.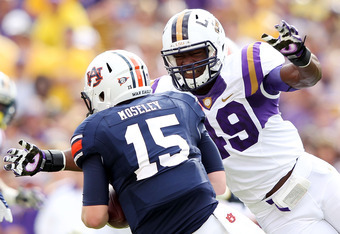 Jamie Squire/Getty Images
13. Kansas City Chiefs: Manti Te'o, ILB, Notre Dame
Kansas City just continues to add to what is already a very good defense. The missing link has been a dominant inside linebacker and now they get their man in Te'o.
14. New York Jets: Ricky Wagner, OT, Wisconsin
The Jets have spent so much time building that defense that they need to finally give Mark Sanchez and co. some help on the offensive side of the ball. Drafting Wagner here ensures that Sanchez can stay upright, assuming he remains the quarterback for this team.
15. Carolina Panthers: Star Lotulelei, DT, Utah
Lotulelei is one of the best kept secrets in college football. He should be a monster for Utah next season and in return land a spot here in Carolina, where they are searching for a big-time player at the defensive tackle position.
16. San Diego Chargers: Barrett Jones, OT/G, Alabama
The Chargers couldn't pass on DE Melvin Ingram in the first round of this year's draft, but that still leaves a void in the offensive line. Jones was the Outland Trophy winner in 2011 and is the best all-around lineman in the 2013 NFL Draft.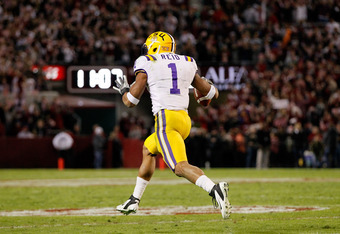 Kevin C. Cox/Getty Images
17. Chicago Bears: Tyler Eifert, TE, Notre Dame
The Bears really struggled at the tight end position this season after losing Greg Olson to Carolina. Eifert is a freak athlete who would look perfect in a Chicago uniform.
18. Buffalo Bills: Landry Jones, QB, Oklahoma
The Ryan Fitzpatrick era will likely come to an end soon, which makes way for Buffalo to land their future franchise quarterback, Landry Jones. He could serve one year learning from Fitzpatrick and then take over in 2014.
19. New Orleans Saints: Barkevious Mingo, OLB/DE, LSU
The Saints need to keep getting better on the defensive side of the ball, and by adding Mingo, they are getting a freak athlete who loves to get after opposing quarterbacks. New Orleans didn't address the linebacker position in this past draft, but they don't make the same mistake here.
20. Dallas Cowboys: Eric Reid, S, LSU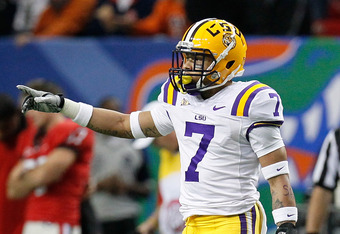 Kevin C. Cox/Getty Images
The Cowboys were rumored to be going after Alabama safety Mark Barron in this year's draft, but after trading up to grab Morris Claiborne, that wasn't the case anymore. Now, in 2013, they get their man in Eric Reid, who is a fearless player out on the field and should bring much needed intensity to this Cowboys team.
21. Houston Texans: C.J. Mosley, ILB, Alabama
Houston lost DeMeco Ryans this past offseason and they didn't find his replacement in this year's draft. Therefore, the Texans go out and grab Mosley, who should be one of the top linebackers in the country next season.
22. Cincinnatti Bengals: Marcus Lattimore, RB, South Carolina
Assuming Lattimore is able to come back from injury in 2012, he should be an absolute stud next season. The Bengals are going to be looking for their next running back, so this could make an ideal fit for Cincinnati.
23. Denver Broncos: Tyrann Mathieu, CB, LSU
Mathieu should be the most dynamic playmaker in college football in 2012, but because of his size limitations, he won't be a top-10 pick. If he does fall this far, it would be awfully hard for a team like Denver, who needs a weapon like this, to pass him up.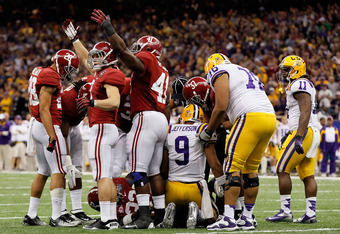 Kevin C. Cox/Getty Images
24. Atlanta Falcons: Jackson Jeffcoat, DE, Texas
The Falcons didn't have the luxury of a first round selection in this year's draft, so they make up for it here by taking Jeffcoat, who many believe could be the top defensive end in the country next year.
25. San Francisco 49ers: Alex Okafor, DE, Texas
Texas has two defensive ends go back-to-back here as the 49ers get some help on that defensive line. Okafor has the skill to compete for an immediate starting job on what is already an elite-level defense.
26. Detroit Lions: William Gholston, DE, Michigan State
Gholston very well could lead the country in sacks in 2012. He has great size and strength, already containing an NFL-ready body as a sophomore. Detroit didn't land a top-notch defensive end in this past draft, but they do now.
27. Pittsburgh Steelers: Montee Ball, RB, Steelers
The Steelers added great depth to their offensive line in this year's draft, but they failed to address the running back position until late. With Rashard Mendenhall banged up, the Steelers go ahead and land a great every-down back in Montee Ball.
28. Philadelphia Eagles: Chris Faulk, OT, LSU
The Eagles need to build depth on their offensive line, and Faulk has the size and skill set of a franchise tackle. This pick is a win-win for both sides here, giving Michel Vick someone to protect him in passing situations.
29. Baltimore Ravens: Luke Joeckel, OT, Texas A&M
If Kelechi Osemele does indeed move to guard, the Ravens are going to be looking for an offensive tackle in this draft. Joeckel is one of the best in the country, and could come in and fill a void right away.
30. New York Giants: Kevin Reddick, LB, North Carolina
With how average this unit was last season, it was surprising to many that the Giants didn't address the linebacker spot earlier on in this past draft. They won't make the same mistake twice, adding Reddick who is considered to be one of the top middle linebackers in the nation.
31. New England Patriots: Johnny Adams, CB, Michigan State
Johnny Adams is one of the most underrated defensive backs in the nation. This kid is an elite playmaker who could come in and help this New England secondary right away.
32. Green Bay Packers: Jake Matthews, OT, Texas A&M
The Packers need to find a replacement for Chad Clifton, and Matthews is one of the top tackles in this draft class.