2012 NBA Playoffs: Previewing Game 2 of Chicago Bulls-Philadelphia 76ers Series
May 1, 2012
Jonathan Daniel/Getty Images
The Bulls protected their home court by beating the Philadelphia 76ers, 103-91 in Game 1 Saturday afternoon. However, as the entire world knows, the entire game was overshadowed by what happened in the closing minutes with Rose's devastating season/playoff-ending injury.
With that injury, Doug Collins and crew were given second life.
The Bulls held the Sixers' leading scorer Lou Williams to just nine points, and held All-Star Andre Iguodala in check. Iguodala had 11 points, but five of those came from the free-throw line, as he went just 3-of-11 from the field.
The only starter that performed well in Game 1 was power forward Elton Brand, who led them in scoring with 19 points while adding seven rebounds and four blocks to the effort.
For the Bulls, besides Rose (who nearly had a triple-double), they got a great game from Richard Hamilton. Rip scored 19 points on 6-of-7 shooting, and made life very difficult on whoever was called upon to guard him.
They also got solid games from both Joakim Noah and Luol Deng. Noah grabbed 13 rebounds and recorded a double-double with 12 points. Deng added six rebounds to go along with his 17 points.
Kyle Korver and Thaddeus Young were the big bench contributors for each team. Young scored 13 points for the 76ers and provided some much-needed energy, while Korver scored 11 and actually provided some solid defense for Chicago.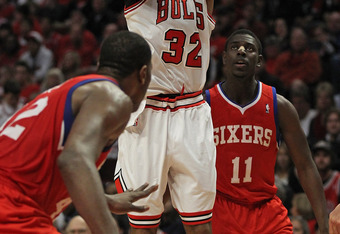 Jonathan Daniel/Getty Images
It will be interesting to see how the Bulls react without their leader and reigning league MVP in the lineup. Rose missed the final matchup of the regular season between these two teams, and C.J. Watson did pretty well in his stead. He scored 20 points and went 4-of-8 from beyond the three-point line as the Bulls won 89-80 in the March 17 contest.
Can the Bulls defend their home court or will the 76ers head back home with the series tied 1-1?
Tipoff is at 7:00 PM central time and will be broadcast on TNT and ESPN 1000 AM.
Make sure to follow me on Twitter @dachicagofan, and check out my weekly Bulls podcast every Wednesday on my site, The MG Experience.