Devin Hester: Are His Days in a Chicago Bears' Uniform Numbered?
May 2, 2012

Jonathan Daniel/Getty Images
No one can doubt the impact Devin Hester can make when the ball is in his hands. He is arguably the best return man in NFL history, and if he keeps it up he might be a Hall of Famer someday.
However, it is looking like this could be his last year in a Chicago Bears' uniform.
The reason for his departure has nothing to do with his return ability and everything to do with his work as a receiver and also the price tag he carries.
Since making the switch from corner to receiver in 2007, he has caught 198 passes for 2,565 yards and 13 touchdowns. Those numbers are almost identical to his punt return numbers. He has had 208 punt returns, and he has averaged 12.9 yards per return and has scored 12 times.
Hester averages only 13.2 yards per catch.
While his punt return numbers make him a great returner, those receiving numbers aren't anything special. Can the Bears afford to pay him over $12 million in 2013?
When Hester signed his four-year extension worth $40 million, it was assumed he would become the Bears' top receiving target. He has yet to catch 60 passes in a single season, and as he is set to turn 30 this season, it is hard to imagine him all of a sudden becoming that guy.
With what general manager Phil Emery has done this offseason, it appears he is already getting ready for life without Hester. The additions of Brandon Marshall and rookie Alshon Jeffery will move Hester further down on the depth chart. Also the signing of Eric Weems to a three-year deal gives the Bears a replacement for Hester already on the roster.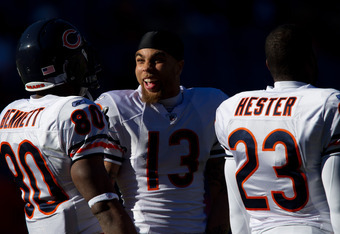 Justin Edmonds/Getty Images
A look at the depth chart would have Hester at fifth behind Marshall, Jeffery, Earl Bennett and a healthy Johnny Knox, who is expected to start the 2012 season on the PUP list. Knox could also replace Hester as a return man, as he did in 2009 when he made it to the Pro Bowl.
With franchise cornerstones Jay Cutler, Matt Forte and Brian Urlacher all in line to receive new contracts in the next few years, it is hard to see the Bears spending so much for a return man. The Bears used the franchise tag on Forte, Urlacher's contract is up at the end of the 2012 season and Cutler's contract runs through the 2013 season.
When you take all these things into account, it sure looks like 2012 might be the last season for Hester to be ridiculous along the lakefront.
Will you be okay with seeing Hester in another team's uniform? Sound off below.
Make sure to follow me on Twitter @dachicagofan, and check out my weekly Bears podcast every Monday on my site The MG Experience.